Friends,
President Trump's rhetoric and policies are endangering the safety and security of Jewish Americans by fanning the flames of anti-Semitism and other forms of hatred, intolerance and bigotry. His policies on immigration, healthcare, gun violence, climate change, reproductive and human rights, and foreign policy are antithetical to our core beliefs. It's no wonder that 80% of Jewish Americans vote for Democrats and that Jewish support for Republicans has been halved in the past five years. Donald Trump is an affront to our Jewish values.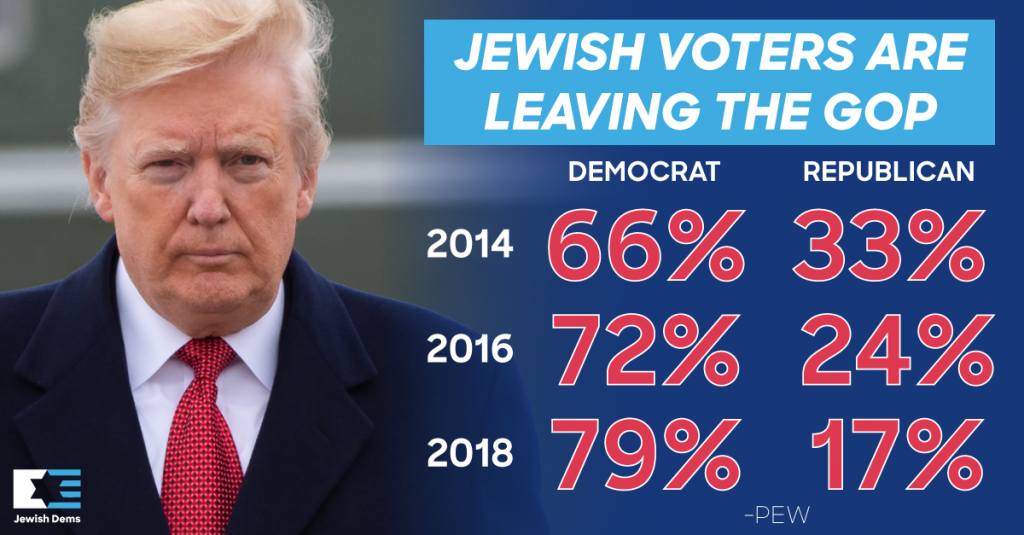 On Monday, we hosted a critically important and timely conference call with former U.S. Ambassador to Israel Dan Shapiro, who shared the following key insights:
Israel has responded in recent days to growing regional security threats. The U.S. posture has been – and should continue to be – to fully support Israel's right of self-defense. The threats warrant our attention  and require U.S. leadership in the region.
Democrats are strongly supportive of Israel, as evidenced most recently by overwhelming Democratic support for a resolution opposing the global BDS movement and supporting a two-state solution, and legislation that codified $38 billion in U.S. military assistance to Israel over ten years. These are the mainstream views among Democrats.
President Trump is imposing his divisive and racially-charged politics into the U.S.-Israel relationship. The cancellation of the recent visit of Reps. Omar and Tlaib – at the urging of President Trump – indicated that Trump wants to draft Israel into his divisive domestic politics. This is a harmful and dangerous way to conduct this relationship. The U.S.-Israel relationship has always been bipartisan, and it should remain bipartisan.
Trump's recent charge of disloyalty echo anti-Semitic tropes that have led to violence against Jews for centuries. It also illustrated how he is trying to instrumentalize the U.S.-Israel relationship for his own political purposes.
Jewish support for Democrats will likely increase in the next election, not only because of Trump's recent statements, but also because "his policies on many, many other issues, are quite antithetical to the views and values and beliefs of so many in our community."
Please click here for a full recording of the call, or on the image below.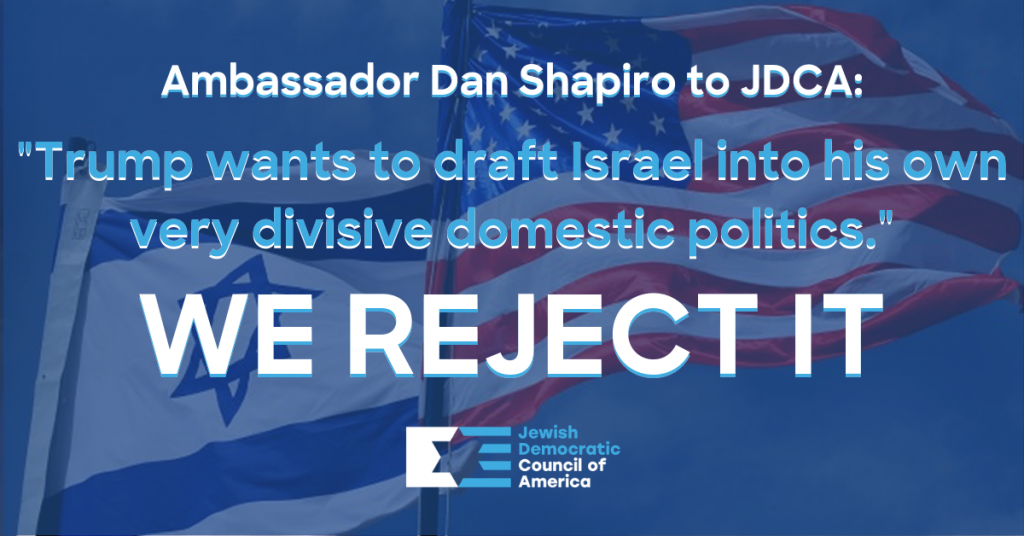 If we learned anything from the 2016 election, it's that we can't take anything for granted. We must mobilize, keep speaking out, and stay engaged to ensure we bring about political change consistent with our values. JDCA is the voice of Jewish Democrats, but we need your ongoing partnership and support to ensure our voices are heard.
Now, more than ever, we need you to join us. Stand proudly with Jewish Dems and fight for our values. Join us by taking the following actions:
Take Action with JDCA

on a range of policy issues, including

gun safety,

the

humanitarian crisis on our border,

and Trump's

weaponization of anti-Semitism.
Follow JDCA on Twitter at @USJewishDems, and use our hashtags: #ProudJewishDem and #LoyalToJewishValues.
Follow us on Facebook (@JewishDems) and Instagram (@JewishDems) and share.
Forward this email to five of your friends and family who should know about JDCA, and ask them to sign-up for our updates by visiting www.jewishdems.org.
Our mission has never been more critical. With your help, we can continue to expand our work and ensure we're successful. We are incredibly grateful for your partnership.
Thank you,
Ron Klein,
Chair, Jewish Democratic Council of America
Halie Soifer
Executive Director, Jewish Democratic Council of America