Article
Tragedy cannot be downplayed
September 11, 2020
Today is the 19th anniversary of 9/11. We 
mourn
 with the families of those lost on that horrific day and honor the heroism of first responders. It's a 
solemn day
, and we continue to be deeply saddened by the enormity of that tragic moment in American history.
We believe in pikuach nefesh – the sanctity of each life – and it's devastating to think that 67 times as many Americans have died due to coronavirus than on 9/11. Even worse, the COVID-19 death count continues to grow.
This week, tapes released confirmed that Donald Trump intentionally "downplayed" the threat of COVID-19 at the outset of this crisis. As if minimizing the threat of this deadly virus that has killed nearly 200,000 Americans wasn't enough, we also learned that the Trump White House intentionally 
downplayed
 Russian election interference and the rise of white supremacist groups, which are direct threats to our democracy and security.
For Donald Trump, his own political agenda comes above all else, including the security, safety, health and lives of the American people. Click on the image below to see our newly updated ad on why Donald Trump is the biggest threat to American Jews, and why he doesn't have the character to keep all Americans safe or put the country first. And keep reading for three steps you can take to make a difference in this critically important election to ensure we elect Joe Biden and other Democrats who share our values.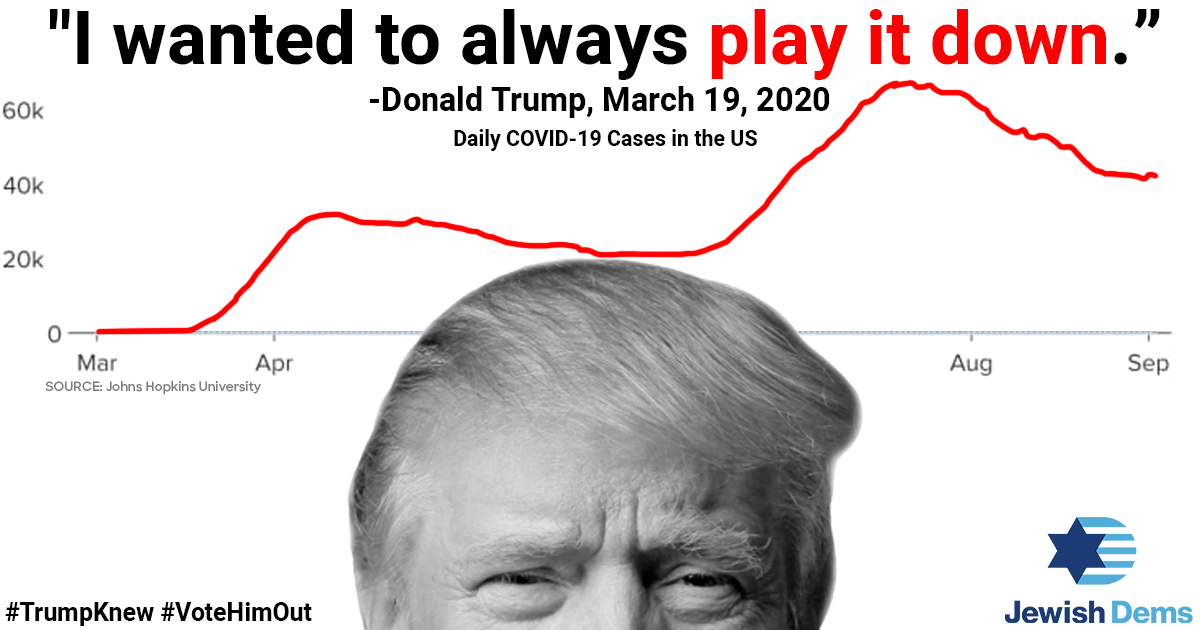 We have three ways for you to 
TAKE ACTION and join JDCA
 in ensuring Democrats are elected in November. First, make sure that you and your family 
have a plan to vote
. Vote by mail or vote in-person early or on Election Day, but either way, 
make sure you know what you need to do
 in your state. Check out JDCA's voter toolkit, and prepare to ensure your voice is heard and ballot is counted by November 3rd.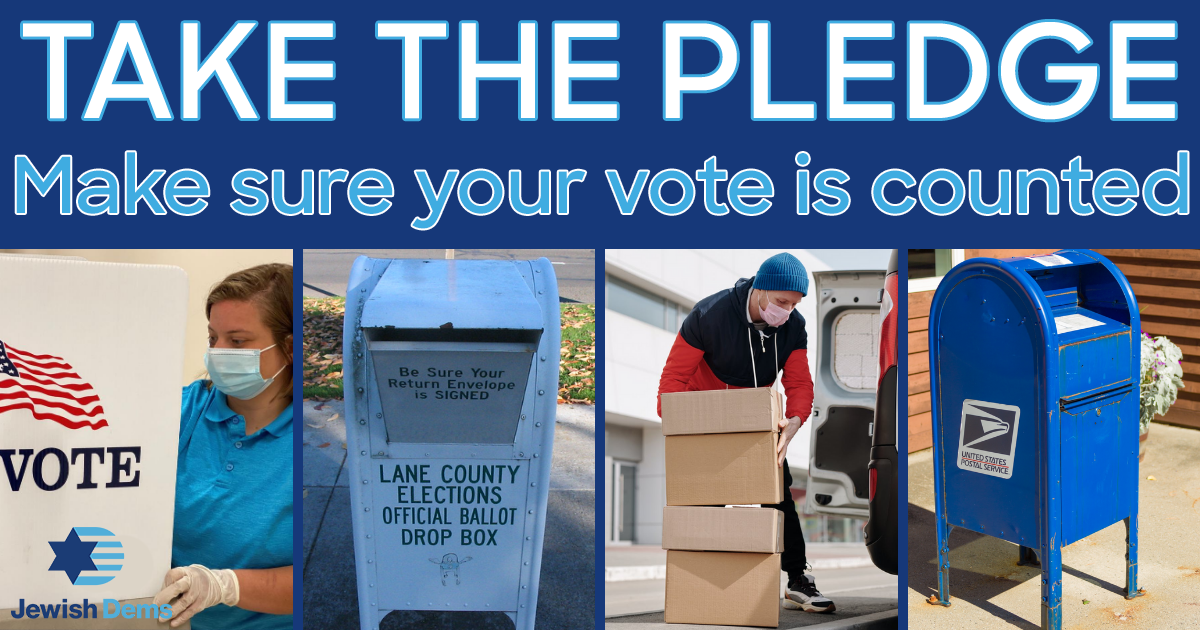 Second, join our phone banks to increase Democratic turnout and win this election. We are hosting upwards of a dozen events a week between now and Election Day, and we are targeting Jewish Democratic voters where it matters the most. Every call will make a difference, and we need your help to reach even more voters. Click on the image below to join us.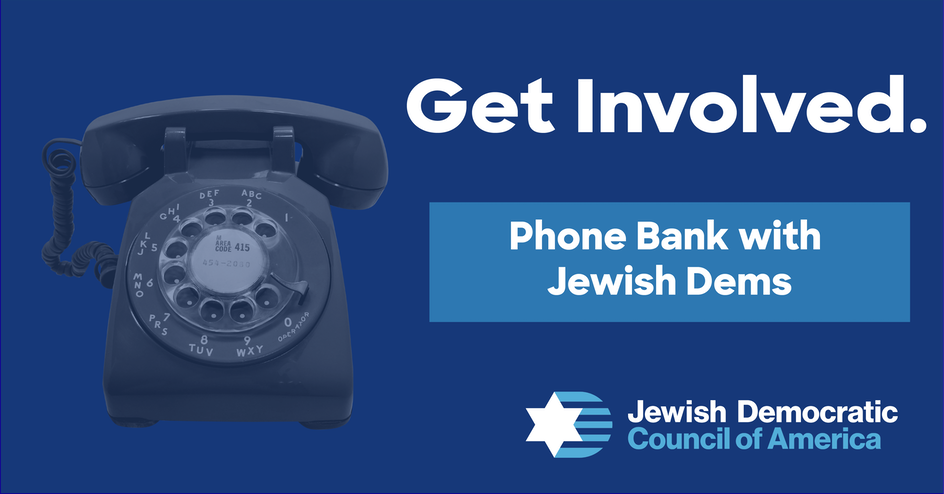 Finally, 
inform yourself and others
 about the facts and what's at stake in this election by sharing our updated backgrounder on where the 
candidates and parties stand
 on anti-Semitism and Israel. And (for good measure), don't forget to 
visit our online store
 to let everyone know who you support.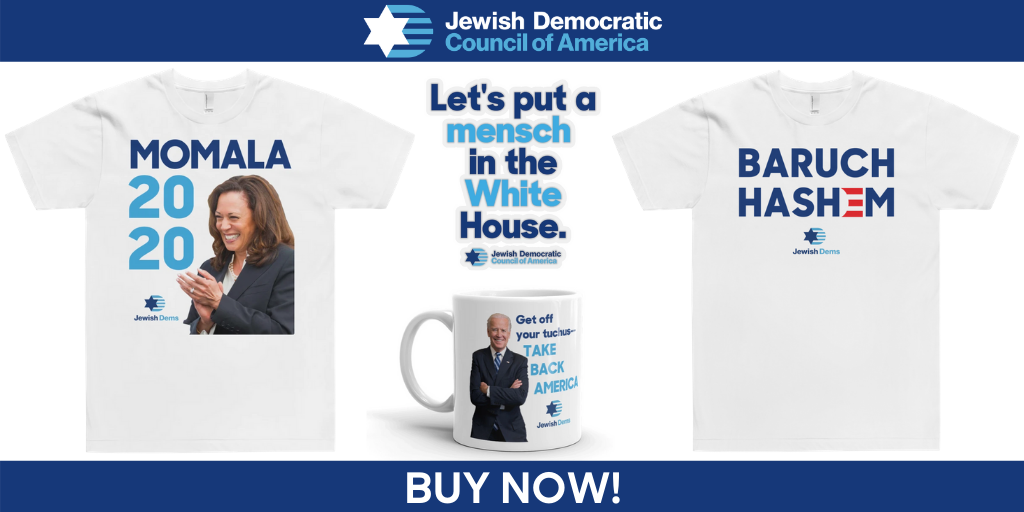 Thank you for your support. Together, we will restore the soul of our nation and ensure a brighter future for all Americans, and we cannot do it without you.
Shabbat Shalom,
Ron Klein,
Chair, Jewish Democratic Council of America
Halie Soifer,
Executive Director, Jewish Democratic Council of America