Article
Top Moments From Biden's Jewish American Heritage Month Celebration
May 19, 2023
This week, President Joe Biden, Vice President Kamala Harris, First Lady Jill Biden, and Second Gentleman Douglas Emhoff honored Jewish American Heritage Month at the White House. Many Jewish leaders and members of Congress were in attendance, including JDCA leaders. It was a meaningful demonstration of President Biden's deep commitment to standing with the Jewish community amid the scourge of antisemitism, and we deeply appreciate his partnership and support.
President Biden is working hard to address issues of concern to our community. He has led the way by providing significant funding to fight hate crimes and antisemitism, increasing support for Israel's security, signing the COVID-19 Hate Crimes Act, appointing Deborah Lipstadt as America's first ambassador-level Special Envoy to Monitor and Combat Antisemitism, and convening the first-of-its-kind White House summit on combating hate-fueled violence. At the event for Jewish American Heritage Month, the President announced a forthcoming White House national strategy to combat antisemitism. This is just one of many ways President Biden is delivering for Jewish Americans. For more, see and share our talking points here.
If you are inspired by President Biden's leadership and are ready to join JDCA in advocating for our values with Congress, we hope you will sign up for our Week of Action. JDCA is the political home and voice of Jewish voters in support of Democrats who share our core values. Our week of action is yet another opportunity we offer to take action and advocate with Congress on the issues Jewish voters care about most. We hope you can join us.
For this week's installment of our Meet the Members series, we are featuring Senator Jacky Rosen (NV), the first-ever former synagogue president in the Senate. Take a look at what makes her a proud Jewish Dem: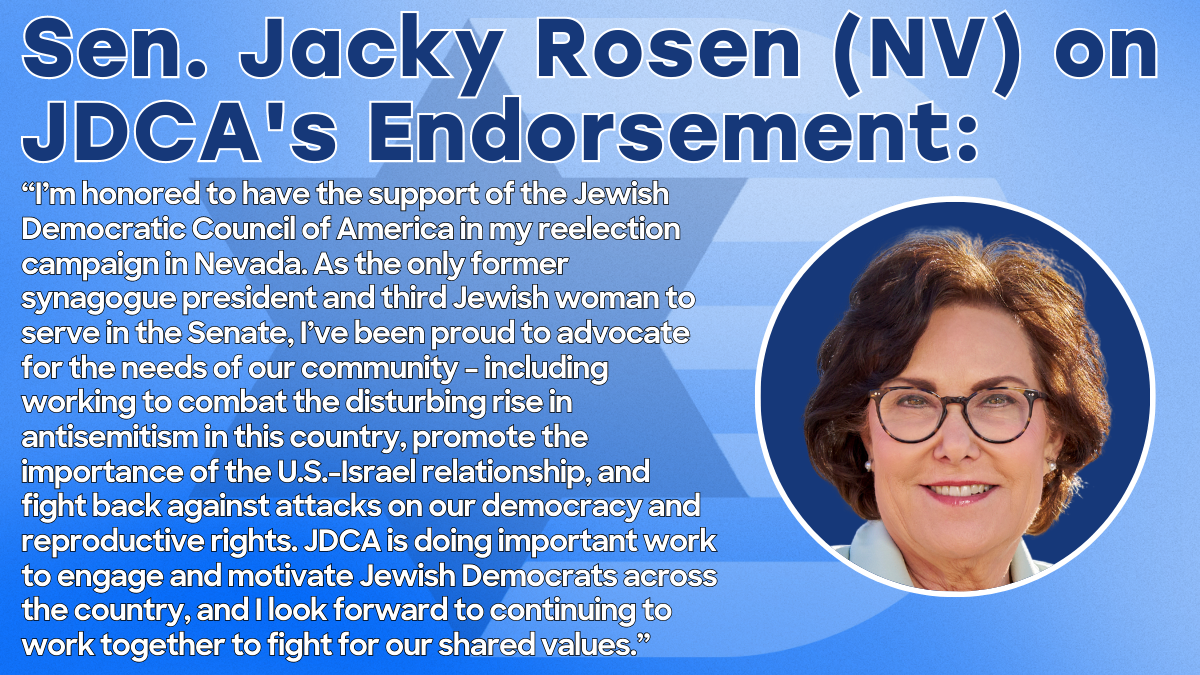 Thank you for your continued support and partnership.
Shabbat Shalom,
Hon. Ron Klein
Board Chair, Jewish Democratic Council of America
Halie Soifer
CEO, Jewish Democratic Council of America