Article
TOMORROW: Senate Hearing for Antisemitism Envoy
February 7, 2022
Tomorrow, Dr. Deborah Lipstadt will appear before the Senate Foreign Relations Committee for a confirmation hearing to serve as Special Envoy to Monitor and Combat Antisemitism. It took 186 days, collective Jewish outrage, and a troubling rise in antisemitism — including the third attack on a U.S. synagogue in just over three years — but Senate Republicans have finally allowed her nomination to be considered. This does not guarantee swift confirmation or a vote, but a hearing is a great place to start.
Watch the hearing live tomorrow at 10:00 a.m. ET/7:00 a.m. PT and take action by telling your Senators you demand Dr. Lipstadt be confirmed as Special Envoy to Monitor and Combat Antisemitism. Keep reading to see why Dr. Lipstadt is eminently qualified to serve in this position.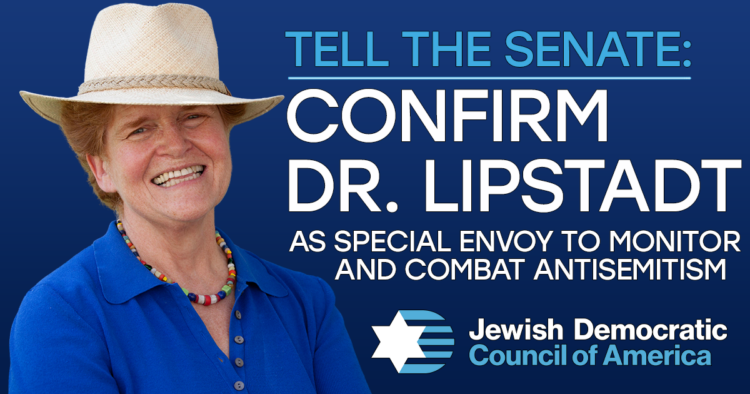 Dr. Lipstadt is one of the most established and respected Holocaust historians in the world, currently serving as Dorot Professor of Modern Jewish History and Holocaust Studies at Emory University. She has written seven books on the Holocaust and antisemitism and 75 scholarly articles. Dr. Lipstadt helped build two of the leading Jewish Studies programs, created one of the earliest Holocaust history courses in the U.S., was awarded the Netherlands Holocaust Committee's highest award, and won the National Jewish Book Award three times.
Presidents Bill Clinton and Barack Obama appointed Dr. Lipstadt to the U.S. Holocaust Memorial Council, and she has received multiple honorary doctorate degrees from universities and rabbinical institutions for her work combating antisemitism around the world.
Dr. Lipstadt famously fought a libel suit brought against her by one of the world's leading Holocaust deniers. She won the case, a major legal victory in the fight against Holocaust denial. Recently, Dr. Lipstadt testified before Congress on the issue of contemporary antisemitism, and she served as an expert witness in the court case against the organizers of the Charlottesville Unite the Right rally.
All it takes is a glance at Dr. Lipstadt's resume to understand that she is the right person at the right time to serve in this crucial role. Each day that goes by without her confirmation, the U.S. is hampered in its ability to combat antisemitism around the world. Join us in urging the Senate to confirm her so she can begin her important work.
BIDEN TO ISRAEL
Jewish Dems welcome the announcement yesterday from the White House that President Biden will visit Israel later this year. We remain grateful for President Biden's commitment to strengthening the U.S.-Israel partnership, and for reiterating his commitment to replenish Israel's Iron Dome. The president made this pledge last May, but Republican Senator Rand Paul continues to block the funds. Join us in urging Republicans to lift their dangerous hold.
Thank you for your continued support and partnership.
Sincerely,
Halie Soifer,
CEO, Jewish Democratic Council of America