Article
This is why we exist
July 19, 2019
Friends,
So many moments this week sent chills down our spine and the moral backbone of our great nation. Moments such as President Trump's incendiary and racist attack on four Democratic congresswomen, which were orchestrated by the president to divert media attention away from the humanitarian crisis at our border.
Moments such as the inexcusable failure of 187 House Republicans to condemn the president for his vile remarks. Moments such as the incitement of hate at a Trump rally in North Carolina, culminating in their chants of "send her back," with Trump standing silently for 13 seconds as the crowd echoed his racist sentiment and remarks.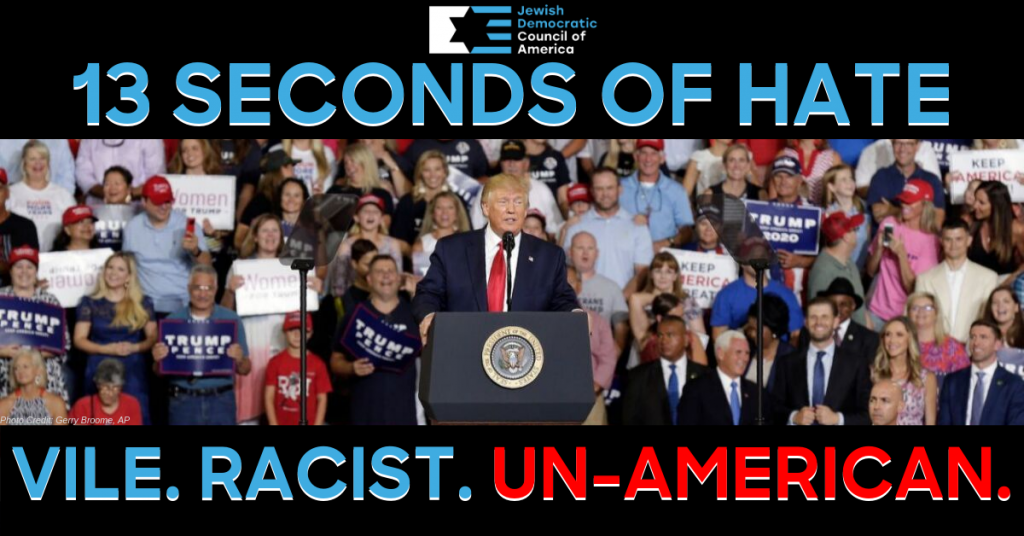 This week has underscored for us just why the Jewish Democratic Council of America (JDCA) exists – to give voice to our values when they are under attack. We call it like we see it, and we lead with our Jewish, Democratic, and American values.
JDCA is the only national Jewish Democratic organization sending a clear message that the use of Israel and anti-Semitism as an excuse for racism is utterly unacceptable. Click on this link to read the op-ed by JDCA Executive Director Halie Soifer on CNN.com entitled "American Jews don't want to be Trump's political pawns."
President Trump, Republicans in Congress, and the Republican Jewish Coalition continue to use Israel and anti-Semitism as a shield for Trump's incendiary remarks and racism. We have disagreed with three of these four members of Congress on Israel, and have previously condemned them for anti-Semitic remarks. Their policies, views, or even past remarks are no excuse for the president's hatred.
This moment is exactly why JDCA exists – because our community is being used to justify racism targeting members of Congress, and it must be our community who responds strongly and swiftly, leading with our principles and Jewish values.
Our values are under attack, our community is being used as a shield for hatred, and this is when it matters the most.
Shabbat Shalom,
Halie Soifer
Executive Director
Jewish Democratic Council of America
Ron Klein
Chairman
Jewish Democratic Council of America