Recent polling confirms what we already know: the vast majority of Jewish Americans are Democrats, and the vast majority of Jews are committed to Israel. In addition, President Trump's incendiary remarks have not benefited him – or Republicans – when it comes to the Jewish vote. Click on the link below to read JDCA's "Frequently Asked Questions About the Jewish Vote."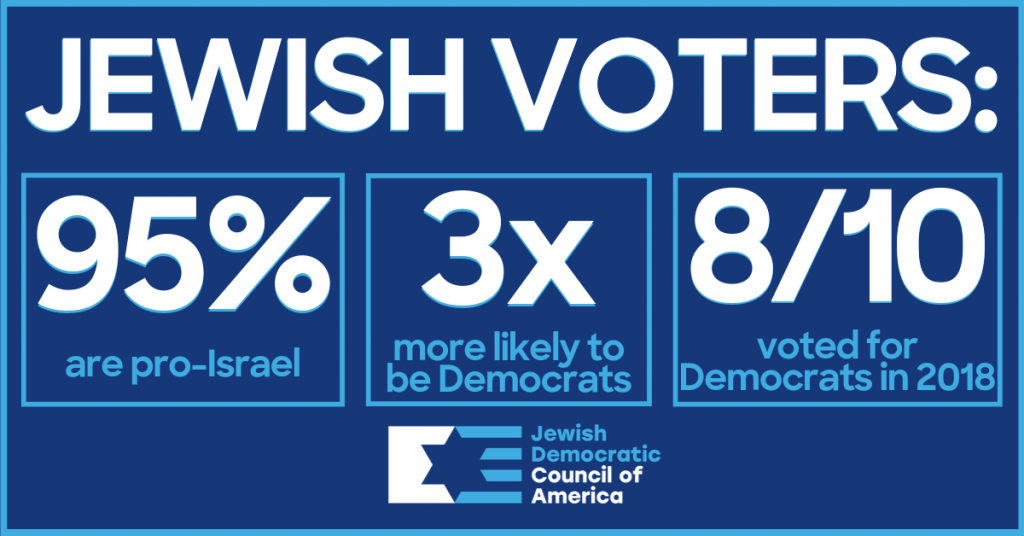 The Democratic Party remains the political home for American Jews. That is because Democrats support policies that are aligned with our values on Israel, as well as other critically important domestic policy issues – which actually shape the Jewish vote – such as preventing gun violence, enacting humane immigration reform, combatting anti-Semitism and other forms of bigotry and discrimination, defending against climate change, providing access to affordable healthcare, and protecting reproductive rights.
According to new analysis from Gallup, 95% of Jewish Americans "have favorable views of Israel." In addition, "American Jews are aware of Trump's actions [on Israel], and the data clearly shows that Jews have strongly positive views of Israel. Nevertheless, Trump's actions in support of Israel to date have done little to shift Jews' political allegiance."
That is because Jews are confident in where Democrats stand on Israel and every other issue they care about, and they know that Trump does not share their values.
Recent polling by Morning Consult found that 59 percent of Jews disapproved of the president's recent comments calling Democrats "disloyal." Among Democrats, 86 percent "strongly disapproved." That is because the president's comments were offensive, incendiary, ignorant, and demonstrated that he is attempting the use our community for his own political gain, even if that means repeating false narratives and other mistruths.
When asked about this data by the New York Jewish Week, JDCA's Executive Director Halie Soifer explained "The president wants to run in 2020 against a false portrayal of the Democratic Party, but Jewish voters know the difference between fact and fiction. Approximately three-quarters of American Jewish voters have supported Democrats for decades, and all signs indicate that will continue in 2020."
Jews are Democrats, Democrats are pro-Israel, and a small handful of members of Congress whose views on Israel are outside the mainstream do not represent our party. This is the truth.
If anything, Jewish support for Democrats will increase in 2020 because of the president's rhetoric and policies, as well as his emboldening of white nationalism, which directly contributed to 73 percent of Jewish Americans feeling less secure today than they did two years ago.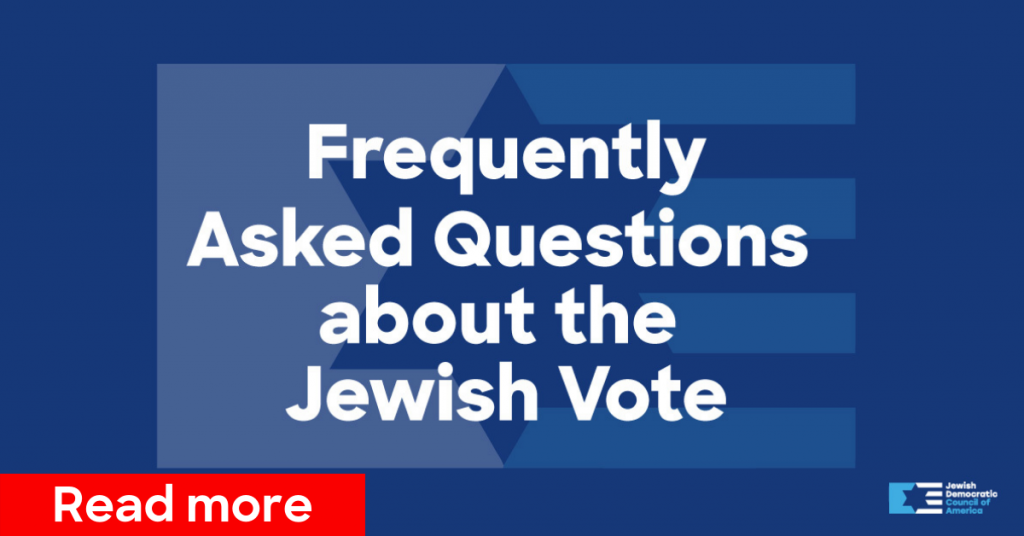 If we learned anything from the 2016 election, it's that we can take nothing for granted. We need to combat false narratives with truths, mobilize, speaking out, stay engaged, and continue to give voice to our values. That's how we will win in 2020.
Now, more than ever, we ask that you join us. Stand proudly with Jewish Dems and fight for our values. Join us by taking the following actions:
Visit our store, and support JDCA by purchasing a Proud Jewish Dem tee-shirt!
Visit our Take Action page and get involved by writing or calling your member of Congress on a range of policy issues.
Follow JDCA on Twitter at @USJewishDems, on Facebook @JewishDems, and on Instagram @JewishDems and share our posts.
Attend upcoming events with JDCA in Philadelphia on September 15, Chicago on September 19, and Atlanta on October 2. Email

[email protected]

for more with the city in the subject line.
Forward this email to five of your friends and family who should know about JDCA, and ask them to sign-up for our updates by visiting www.jewishdems.org.
Our mission has never been more critical. With your help, we can continue to expand our work and ensure we're successful. We are incredibly grateful for your interest.
Thank you,
Ron Klein,
Chair, Jewish Democratic Council of America
Halie Soifer
Executive Director, Jewish Democratic Council of America