Article
The State of Our Union is Strong Because of Pres. Biden
March 4, 2022
As we heard on Tuesday during President Biden's first State of the Union address, the state of our union is strong and the president's agenda is benefiting the American people. After four years of chaos, we agree with President Biden: "We are stronger today than we were a year ago. And we'll be stronger a year from now than we are today." President Biden and Democrats have made America stronger over the past year:
– After today's strong jobs report, unemployment is down to 3.8%, back at pre-pandemic levels.
– The American Rescue Plan alone reduced unemployment by 2%.
– GDP growth of 5.7%, the only G7 country back to pre-pandemic GDP.
– 7.4 million new jobs created.
– The fastest-growing economy in over 40 years.
– Most workers are being paid more than they were before the pandemic.
– The Bipartisan Infrastructure Law is investing billions of dollars into local communities.
– Over 215 million fully vaccinated Americans.
– Widespread COVID testing and treatment are available.
President Biden and the Democratic Party continue to deliver results for the American people. Republicans continue to deliver nothing but obstruction, extremism, threats to our democracy, and misinformation. The alarming report issued this week by the January 6th Committee points to Trump's criminal attempt to overturn the results of the 2020 election. We're also disappointed by the news this week that another pro-Israel organization endorsed more than three dozen Republicans who refused to certify the results of the 2020 election. Friends don't let friends support insurrectionists – we have stickers, shirts, and hats to prove it. Buy yours today. All proceeds go toward electing candidates who support our democracy.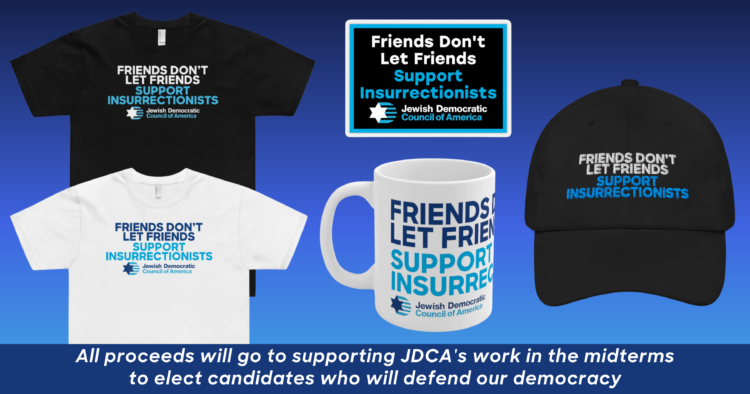 In this crucial election year, we cannot afford complacency, and we cannot afford to allow Republicans to win control of Congress in November. We know that in close races, the Jewish vote can make a difference and deliver victory for Democrats who align with our values and defend against Republican threats.
That's why, in response to President Biden's inspiring address earlier this week, JDCA announced its endorsement of 17 House incumbents who embody Jewish and Democratic values and support President Biden's agenda and progress for the American people. Read more about our endorsements here.
Thank you for your continued partnership and support.
Shabbat Shalom,
Hon. Ron Klein,
Board Chair, Jewish Democratic Council of America
Halie Soifer
CEO, Jewish Democratic Council of America