Article
The battle for the soul of our nation continues
May 27, 2021
The startling rise of antisemitic attacks in recents weeks has made clear that the battle for the soul of our nation continues. The Israeli-Palestinian conflict should never be used as a pretext for hatred, and it's appalling that antisemitic incidents have increased by 63% in the United States since May 10. Jewish Dems unequivocally condemn all acts of antisemitism, and we applaud President Biden, Vice President Harris, Senate Majority Leader Schumer, House Speaker Pelosi, Majority Leader Hoyer, and so many other Democrats for their unequivocal condemnations of antisemitism, and read JDCA's statement here. 
The deeply offensive Holocaust references made by Rep. Marjorie Taylor Greene (R-GA) require more than condemnations. Republicans must stop emboldening, enabling, and aligning with right-wing extremists, and stop using both Israel and antisemitism as political wedge issues. The GOP has politicized support of Israel and antisemitism, including in a series of deceptive House votes last week, has allowed Greene to espouse dangerous and antisemitic conspiracy theories and Holocaust comparisons for too long. Read more here about Republicans' concerted effort last week to misrepresent the positions of Democrats on Israel, and click here to join us in calling for Greene's removal from Congress.
We're grateful for a President who refuses to politicize Israel and understands the threats facing the Jewish community, and who celebrates the contributions Jewish Americans have made to our nation's history. Join us tonight, Thursday, May 27 at 5pm ET for a special, off-the-record briefing on hate crimes with Biden administration officials hosted by the White House. Join us again this Friday, May 28th at 1pm ET for the White House's Jewish American Heritage Month Event.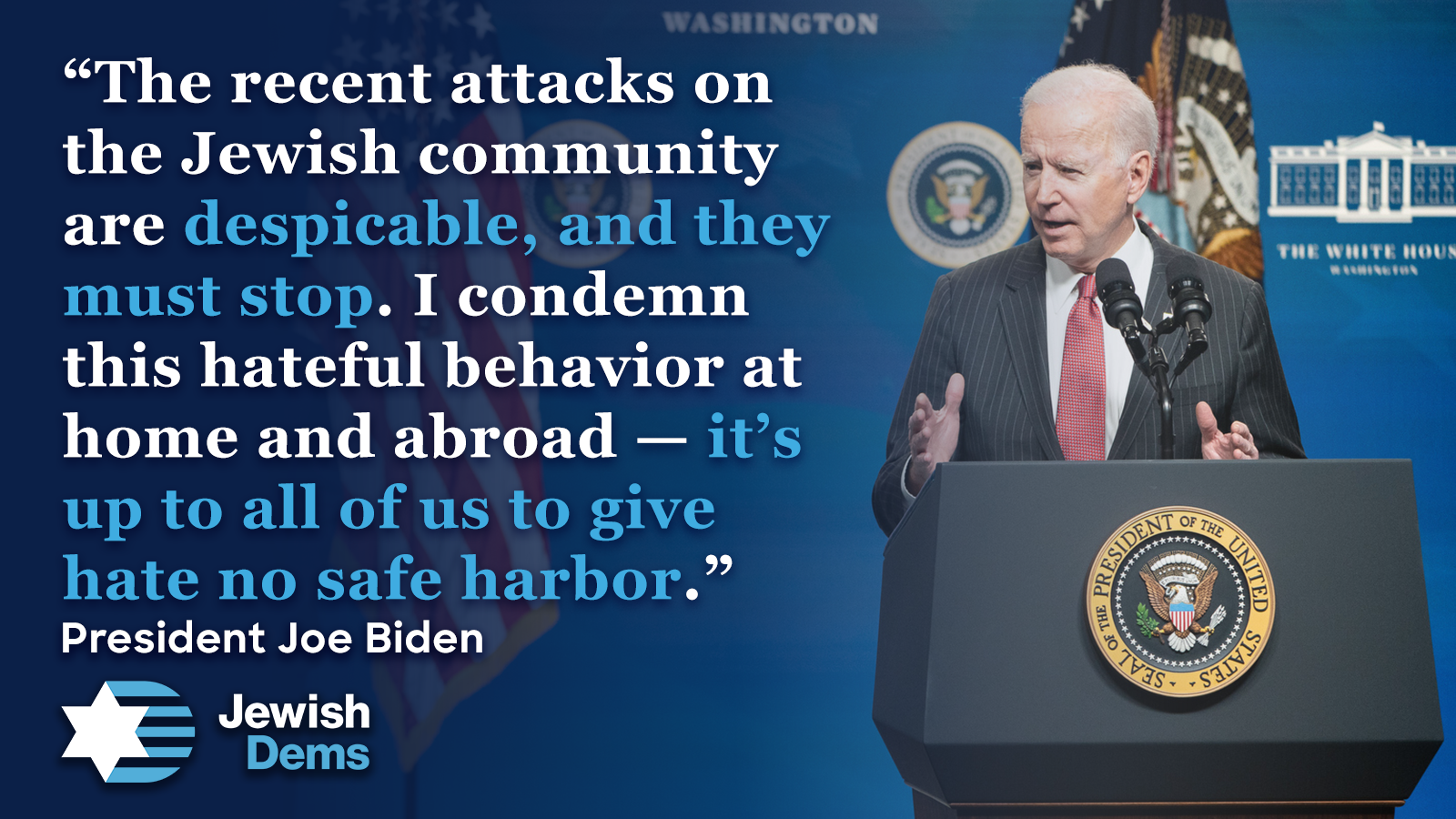 Hundreds of Jewish Dems joined us Tuesday night to help launch the new Jewish Dems New York Chapter. We were thrilled to be joined by Senate Majority Leader Chuck Schumer, who discussed the importance of fighting for our values. Senator Schumer told us that we must "restore the American Dream – and we need big bold action to do it." We're grateful for Senator Schumer's support of JDCA and our mission, and for his kind words praising the work of our committed members and volunteers. Click here to watch the chapter launch.
Our Week of Action is almost here! Sign up for the Jewish Dems Week of Action to join other JDCA supporters to meet virtually with your members of Congress to advocate for the policy priorities of Jewish Democrats. Join our advocacy training on June 3 before meeting with members of Congress the week of June 14. Click below to sign up and learn more about fighting for our values during the Week of Action.
Thank you for your continued support of JDCA, we look forward to seeing you at our upcoming events.
Sincerely,
Hon. Ron Klein,
Board Chair, Jewish Democratic Council of America
Halie Soifer,
CEO, Jewish Democratic Council of America