Article
STOP THE GOP RECALL IN CALIFORNIA
August 25, 2021
Have you heard about the Republican attempts to recall California's Democratic Governor Gavin Newsom on September 14? Did you know it's being driven by right-wing extremists, including anti-vaxxers and QAnon conspiracy theorists? Keep reading to better understand this Republican effort in California to oust Governor Newsom in order to roll back COVID protections, appoint Republicans and right-wing extremists to high ranking positions, and restrict access to healthcare, including reproductive freedom. 
This recall vote is a serious threat to Governor Newsom's future in office, and potentially threatens Democratic control of the Senate. Jewish Dems are mobilizing to make sure this ballot initiative is defeated, and we encourage you to join us. TAKE ACTION with Jewish Dems to make sure Californians VOTE NO on September 14. Join us this Sunday to stop the recall of Governor Newsom.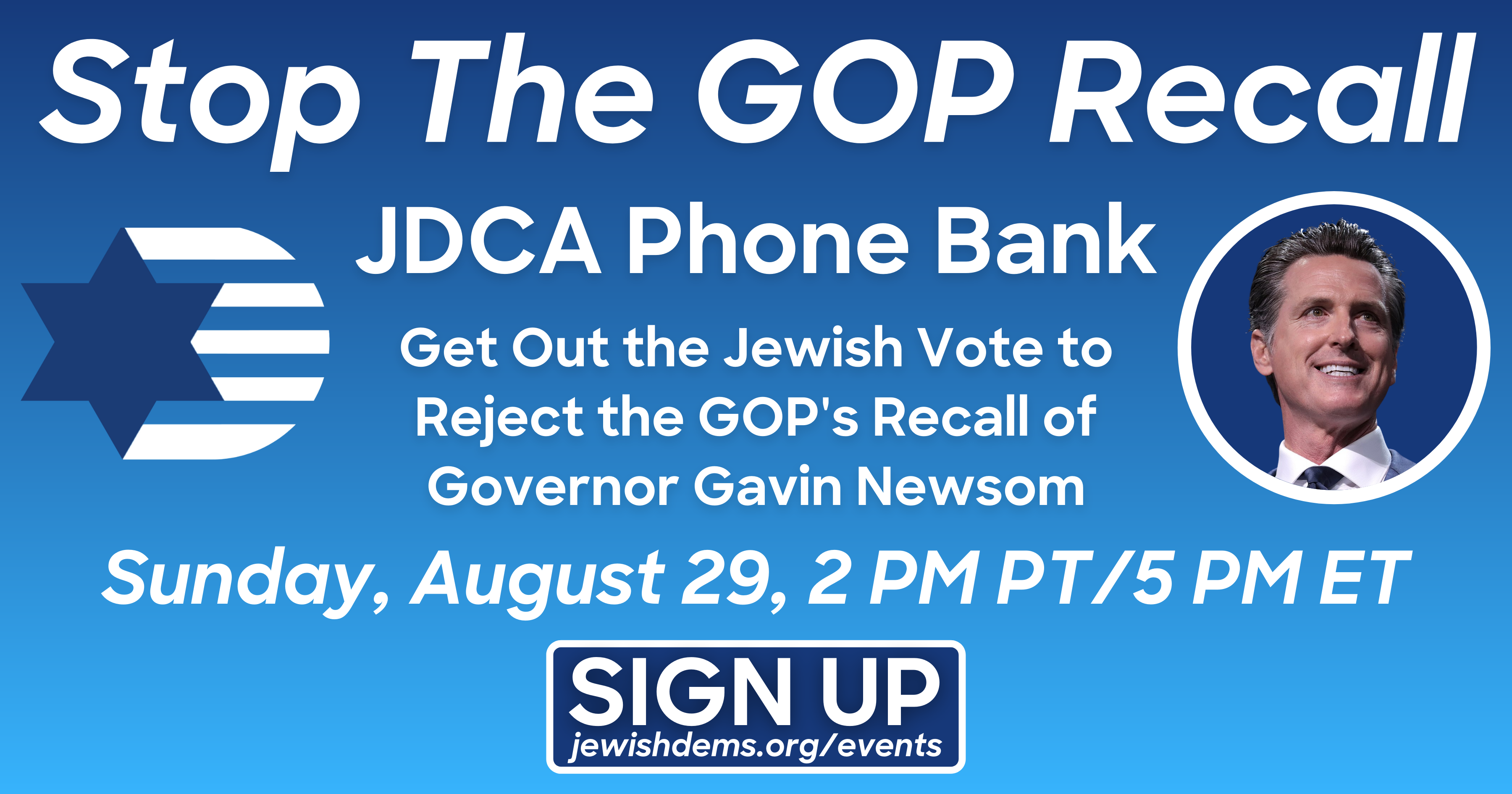 WHO IS BEHIND THE RECALL?
The recall campaign against Governor Newsom has been organized by far-right, Trump-aligned Republicans with ties to QAnon, anti-vaxxers and anti-maskers, and the violent right-wing militia, the Proud Boys. An investigation by the LA Times found that "they helped energize the campaign with large and often inflammatory rallies over masks, in support of Trump and against the election they falsely say was stolen from the former president — ripe venues to harvest petition signatures."
WHY ARE THEY TRYING TO RECALL GOV. NEWSOM?
Right-wing extremists in the California Republican Party have been trying to recall Governor Newsom since he signed an executive order to halt all executions in the state. Extreme elements of the GOP are using racist, anti-immigrant rhetoric and COVID-19 misinformation as avenues to spread conspiracy theories. By organizing anti-mask and anti-social distancing rallies, they were able to get enough signatures to include the recall on the ballot. 
Every Governor in California since 1960 has faced a recall challenge – but this case is different. Republicans are using lies, misinformation and extremism in a sophisticated, well-funded media campaign to unseat a Democratically-elected governor.
COULD THE GOP ACTUALLY RECALL GOVERNOR NEWSOM?
YES. This is a serious threat to Governor Newsom's future in office – simply because of the GOP's misinformation and lack of awareness about the upcoming election. Polls are close, the right-wing extremists leading the recall effort are depending on low voter turnout, and we know the California GOP is willing to use questionable tactics to win (in 2020, they admitted to placing over 50 fake drop boxes in California for mail-in ballots). 
The arcane recall rules in California – which require a majority to recall a governor but only a plurality of votes for the replacement candidate – also present a challenge. This means that if less than 50 percent of Californians vote NO on the recall, Governor Newsom would still be replaced by a Republican, even if the leading Republican receives a relatively small percentage of the vote.
Conservative radio host Larry Elder is currently in the lead to replace Newsom. According to the New York Times, "Democrats call him the agent of a far-right power grab. Republican rivals say he is an inexperienced, debate-dodging opportunist…Fueled by a combination of arcane recall rules, name recognition and partisan desperation, [Elder's] rise to the top of a pack of some four dozen challengers has stunned and unnerved many in both parties." 
WHAT WOULD HAPPEN IF REPUBLICANS SUCCEED?
Despite the strong Democratic majority among California elected officials, a Republican governor would have the power to cause devastating harm. The Republicans running have expressed disdain for Roe v Wade and access to abortion; they have denied climate science; and they would have the power to make important political appointments. Don't forget – this year, Governor Newsom appointed Senator Alex Padilla to replace Vice President Kamala Harris as California's junior Senator. If one of the Republican candidates challenging Governor Newsom had that opportunity, they would appoint a Trump-loving Republican, and Democrats would lose the Senate majority.
WHEN IS THE RECALL ELECTION?
Early voting has already started in California, and election day is September 14, 2021. The deadline for voter registration is August 30, and mail-in ballots must be postmarked by or dropped off by 8:00 p.m. PT on September 14.
WHAT CAN YOU DO TO STOP THE REPUBLICAN RECALL?
Join us TODAY and make sure Governor Newsom wins on September 14 by taking the following actions.
Contact your friends and family in California and make sure they are prepared to vote NO on the recall. Voting NO is a vote to keep Governor Newsom in office. Send this link

to everyone you know in California to make sure they understand how to vote in this recall election.

GET OUT THE VOTE – join Jewish Dems this Sunday at 2:00 p.m. PT / 5:00 p.m. ET for a Jewish Dems phone bank, where we will call thousands Jewish Democrats in California to make sure they are prepared to vote. Encourage your friends to join!
Support JDCA's work so we can reach as many California voters as possible.