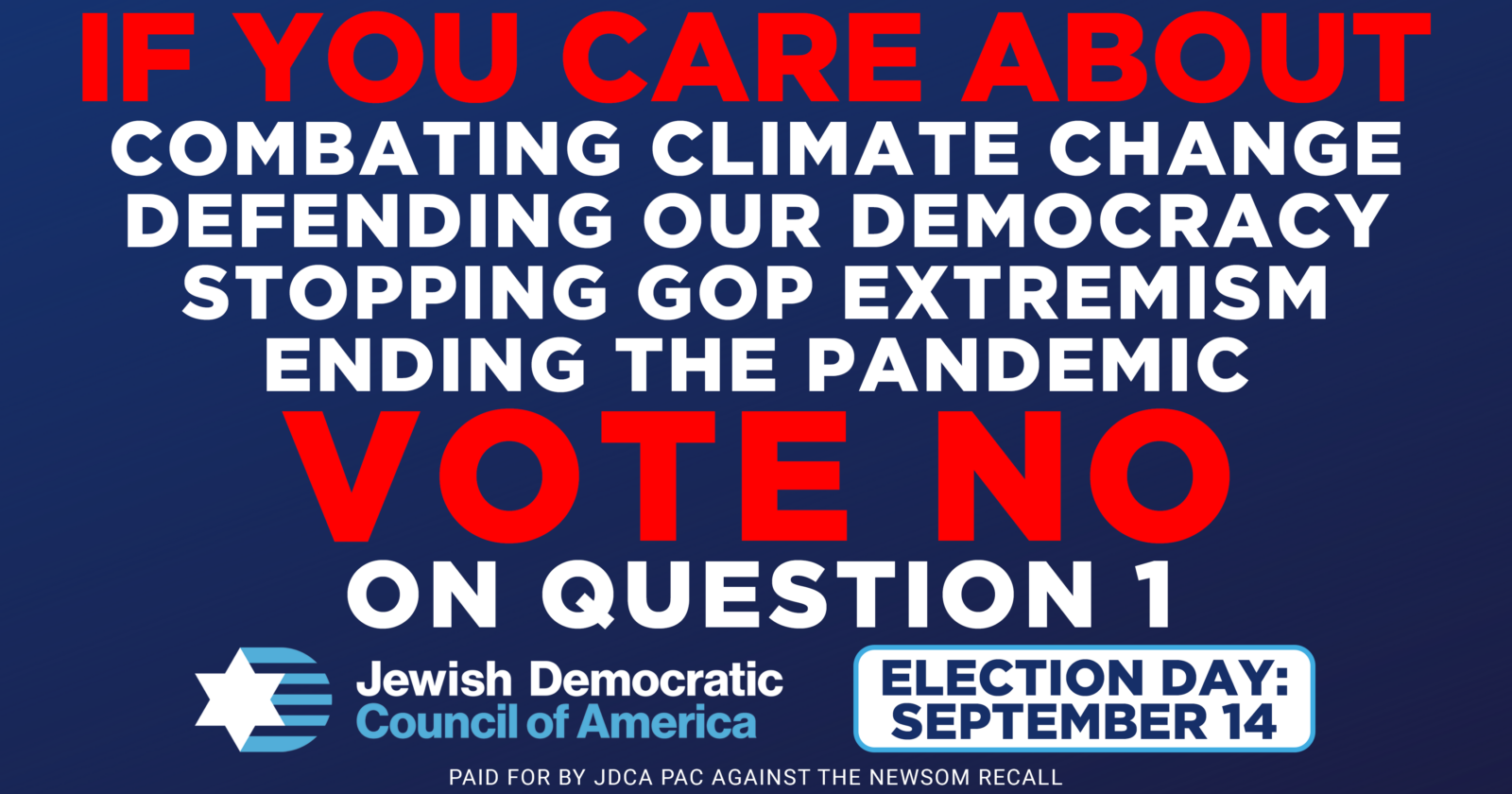 Protect California from Republican Extremism, Vote No on Question 1
Election Day is September 14 - make sure Californians reject the GOP recall and vote NO on question 1.
The September 14 GOP recall in California is being driven by right-wing extremists, including anti-vaxxers and QAnon conspiracy theorists. This recall vote is a serious threat to Governor Newsom's future in office, and potentially threatens Democratic control of the Senate. Take action Jewish Dems to make sure to make sure this ballot initiative is defeated.
Who is Behind the Recall?
The recall campaign has been organized by far-right, Trump-aligned Republicans with ties to QAnon, anti-vaxxers and anti-maskers, and the violent right-wing militia, the Proud Boys. The LA Times found that "they helped energize the campaign with large and often inflammatory rallies over masks" and "in support of Trump and against the election."
The GOP is using racist, anti-immigrant rhetoric and COVID-19 misinformation as avenues to spread conspiracy theories. Republicans are using lies, misinformation and extremism in a sophisticated, well-funded media campaign to unseat a Democratically-elected governor.
YES! The GOP's misinformation campaign, and lack of awareness about the upcoming election, are serious threats to Governor Newsom's future in office. Polls are close, the right-wing extremists leading the recall effort are depending on low voter turnout, and we know the California GOP is willing to use questionable tactics to win.
A Republican governor would have the power to make important political appointments. This year, Governor Newsom appointed Senator Alex Padilla to replace VP Harris. If one of the Republican candidates challenging Governor Newsom had that opportunity, they would appoint a Trump-loving Republican, and Democrats would lose the Senate majority.
Jewish Dems Mobilize California Voters in Recall Election
Paid for by JDCA PAC Against the Newsom Recall. Committee major funding from Michael Bloomberg and Herbert Gelfand.