Article
Stand-Up for Our Values in 2020
January 17, 2020
Friends,
If there was any doubt about the importance of the 2020 election, this week's news has made it abundantly clear – elections matter. Who we elect as president and to Congress shapes the character of our nation, determines whether our democracy functions as the Founding Fathers envisioned, and establishes the trajectory for our future.
The 2020 election may be the most important of our lifetime, and it could go two ways. We could continue on our current path with a president who acts with impunity and wins re-election, OR we could defeat this president and win back the Senate majority, re-establish checks and balances to government, and bring about change consistent with our values.
We are committed to bringing about positive change consistent with our values, and we'd like you to join us. Below are some specific ways you can get involved.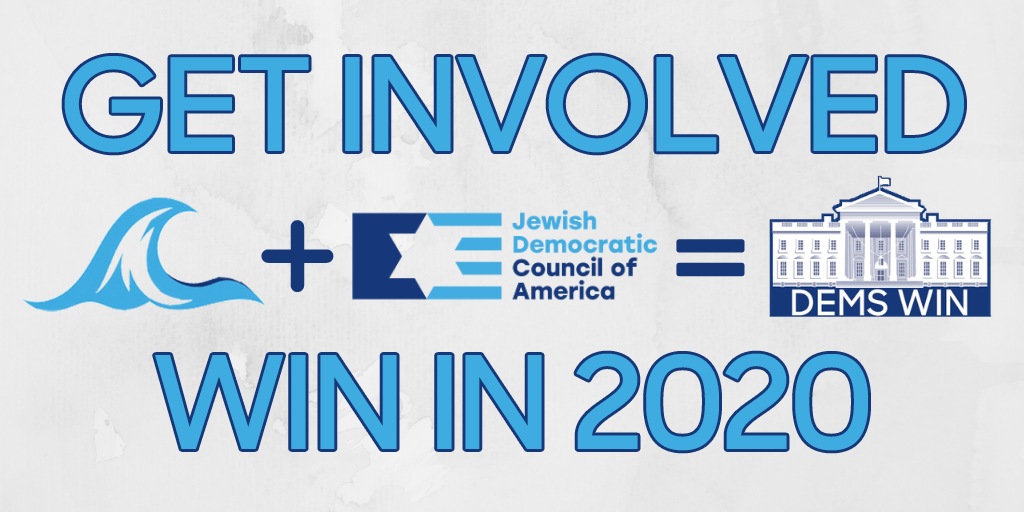 No one has a greater stake in this election than young Americans. Connecting with young voters remains a top priority for JDCA not only because this election will determine their future, but because their turnout will determine the outcome of races from local office to the White House.
In the 2018 midterm election, voter turnout among college students doubled from the previous midterms in 2014. Younger voters supported Democratic House candidates in 2018 by a two-to-one margin, or 35 percentage points, which was the largest difference in the past quarter century. This promising data has laid the groundwork for our strategy of mobilizing younger voters.
For 2020, JDCA has created a College Campus Initiative and Fellowship Program to engage college students in key states such as Arizona, Colorado, Florida, Georgia, Michigan, Ohio, Pennsylvania, Minnesota, Wisconsin, and others. Through this program, we will involve Jewish students in the electoral process, encourage civic action and voting, and ensure younger voters and voices are represented in this election cycle.
Unity does not necessarily mean unanimity. We don't know who the Democratic nominee for president will be, but we know that, despite their differences on certain policies, the Democratic candidates are more aligned with our values than Donald Trump. Every candidate on the stage at the seventh Democratic debate on Tuesday night agreed that President Trump's reckless and irresponsible foreign policy, including his withdrawal from the Iran nuclear deal, has put our national security at risk. All of them expressed a promising vision for the future.
Meanwhile, this week we continued our efforts to oppose bigotry and hate in all its forms. This week we closely monitored and applauded the House hearing examining anti-Semitic domestic terrorism, which provided concrete recommendations for combating the scourge of hatred that has afflicted our community, including treating violent acts of anti-Semitism as what they are – acts of domestic terrorism.
Finally, the House delivered articles of impeachment to the Senate this week. All Senators were sworn in by Chief Justice Roberts to conduct an impartial impeachment hearing, which will start next week. We don't know if the Senate will convict Trump, but we are certain that the Constitution requires a fair trial.
If we are serious about preserving the rule of law and fighting for our values, we must do all we can to preserve the Democratic House majority and elect a Democratic president and a Democratic Senate. If you agree, help us win in 2020 by supporting JDCA today so we can expand our work. We are incredibly grateful for your partnership and support.
Shabbat Shalom,
Ron Klein,
Chair, Jewish Democratic Council of America
Halie Soifer
Executive Director, Jewish Democratic Council of America