Article
Sprint Through the Finish Line
October 16, 2020
Have you ever run a marathon? Us neither, but we've watched in admiration as runners sprint toward the end. After completing more than 26 miles, marathon runners must be exhausted, but in order to finish the race, they run as fast as possible through that tape at the finish line. And if you have run a marathon, you know what we mean.
That's how we see the final weeks of this election, except we aren't standing on the sidelines. We are in the race. This election has felt like a marathon that started the day after the 2016 election, and we're all a bit exhausted. But we distinctly remember the way we felt the day after the last election – wondering what more we could have done to change the outcome – and have vowed to ensure we won't wake up on November 4 feeling that way again.
That's why we at the Jewish Democratic Council of America are sprinting in the next 18 days to elect Joe Biden, Kamala Harris, and other Democrats who share our values, and we need you to run with us. In recent weeks, JDCA digital ads have reached voters 25 million times, we've called over 100,000 voters via phone, and we've sent more than 150,000 texts. We plan to more than double these numbers before Election Day, and we encourage you to join us, either as a volunteer or a donor.
The most important election of our lifetime has already begun, and more than 21 million Americans have already voted. The election is over on November 3, and we've never had so much at stake in the outcome of a political race. Click on the image below to find an opportunity to volunteer and join us running through the tape between now and November 3.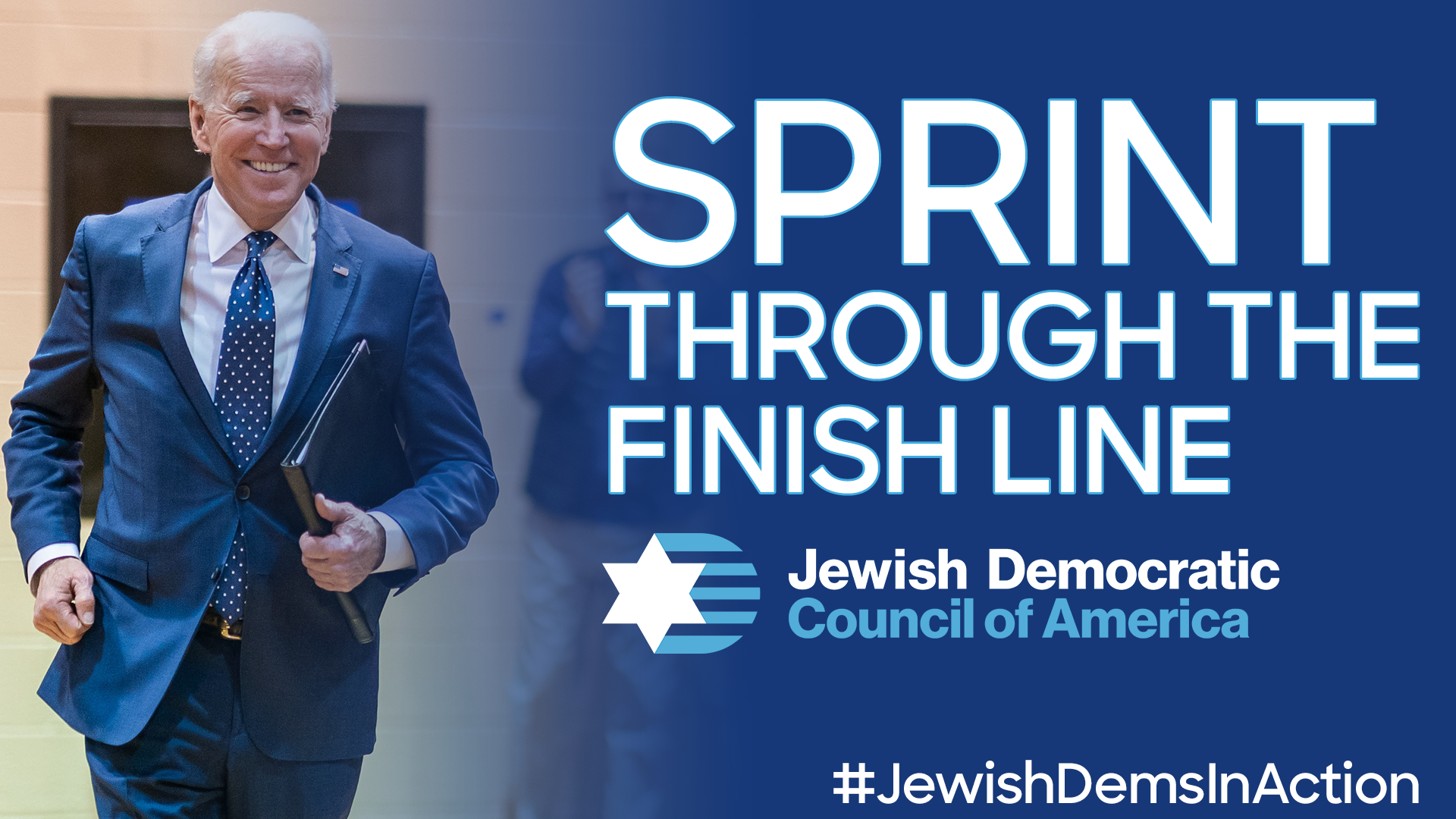 We are thrilled to announce that Mayor Mike Bloomberg has recognized the value of JDCA's efforts, and this week announced his support of our digital outreach efforts in Florida. We are the only Jewish organization partnering with Mike Bloomberg, and we encourage you to join us in helping to expand these efforts even further.
We don't know yet if the presidential debate scheduled for Thursday in Nashville will proceed as planned, but either way, we're planning our third pre-debate schmooze on Thursday, October 22 at 7:30pm ET with special surprise guests. Sign-up by clicking on the image below and join us. We'll gather and schmooze with or without Trump joining the debate!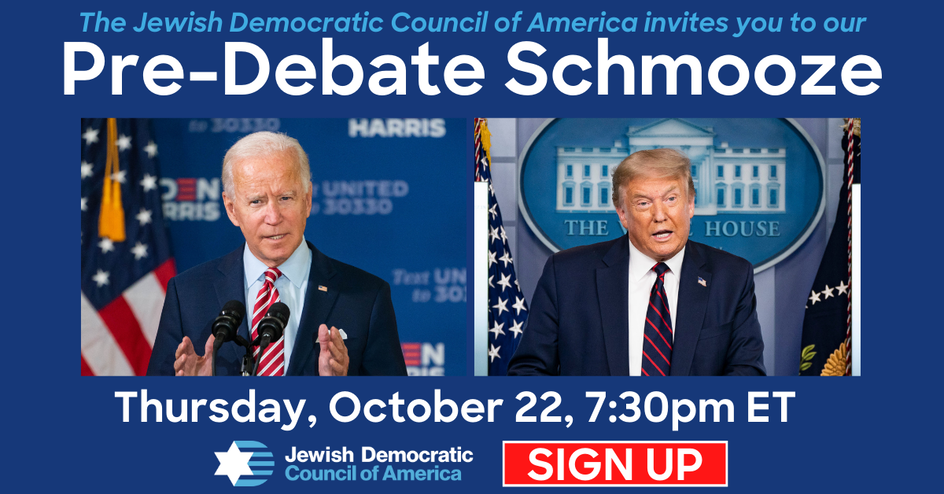 Most importantly, don't get exhausted by the news and don't let the craziness of the past few months stop you from doing everything you can to help shape the outcome of this election. There's a reason that marathons are run in groups, and we plan to run through this tape together, right alongside you. Thank you for being on our team.
Shabbat Shalom,
Ron Klein,
Chair, Jewish Democratic Council of America
Halie Soifer,
Executive Director, Jewish Democratic Council of America