Article
SIGN UP: Cory Booker & Mallory McMorrow Join JDCA Week of Action
April 26, 2022
In recent weeks, we have been inspired by the words of Senator Cory Booker and Michigan State Senator Mallory McMorrow. During the confirmation hearings for Justice Ketanji Brown Jackson, Senator Booker refused to let Republican extremism and conspiracy theories overshadow Justice Jackson's qualifications and historic confirmation to the Supreme Court. Last week, Sen. McMorrow also called out the Republican Party's embrace of extremism, conspiracy theories, fear-mongering, and attacks on marginalized communities. Her speech was a powerful call to action and a reminder that "hate will only win if people like me stand by and let it happen."
Jewish Dems refuse to stand by and allow Republican extremism to win. Instead, we choose to speak out and advocate for our values, and we're inviting you to join us for a special virtual event on Tuesday, May 10, at 5:00 p.m. ET kicking off JDCA's second annual Week of Action. We will hear directly from U.S. Senator Cory Booker, Michigan State Senator Mallory McMorrow, Amy Spitalnick, whose organization sued and defeated the neo-Nazis from Charlottesville, and other special guests taking action consistent with our values. You don't want to miss it. Sign-up by clicking below.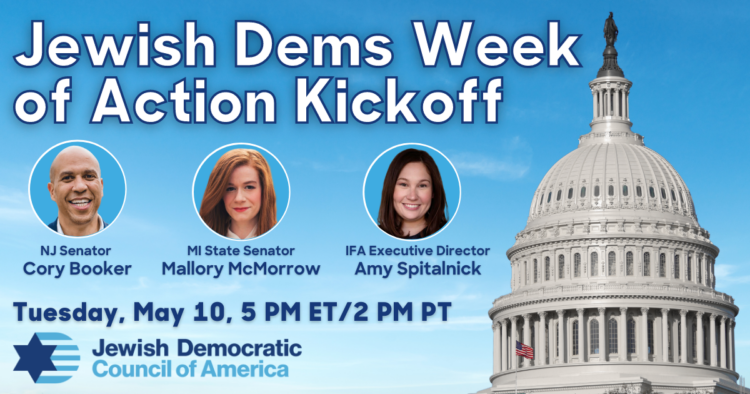 We're also inviting you to join us for JDCA's 2022 Week of Action when you'll have the opportunity to meet with members of Congress to discuss key issues of importance to Jewish Americans: combating antisemitism, domestic extremism, and white supremacy; protecting our democracy and voting rights; supporting a strong U.S.-Israel relationship, supporting Ukraine, and preventing a nuclear-armed Iran.
JDCA is the only national organization where you can ensure your voice is heard and engage members of Congress with a specific agenda that combines our Jewish and Democratic values. Don't miss this exciting opportunity to take action ahead of the midterms, sign up for our meetings with members of Congress on May 11 and 12.
Thank you for your continued support of JDCA and our work. We look forward to taking action together during our Week of Action and hope you can join us for the kickoff event with Senators Booker and McMorrow on May 10 at 5:00 p.m. ET.
Sincerely,
Halie Soifer
CEO, Jewish Democratic Council of America