Article
Shana Tova From Jewish Dems
September 2, 2021
As we prepare for Rosh Hashanah, Jewish Dems wish you a Shana Tova U'metuka, a happy and sweet new year. Rosh Hashanah brings us the opportunity to put our values into action, especially as so much is under threat given Republican efforts to suppress the right to vote, ignore science, and deny reproductive freedom. That work starts in California, where Jewish Dems are mobilizing to stop the GOP recall, to avoid a right-wing extremist from becoming California's next governor. Join us TONIGHT, Thursday, September 2 at 5:00 p.m. PT/8:00 p.m. ET for a phone bank calling Jewish voters in California featuring actor and Broadway star Jonah Platt. This election will be close, the consequences are serious, and JDCA is the only organization focused on mobilizing the Jewish vote. Join us.
The new year will be full of meaningful work and opportunities to advocate for our Jewish and Democratic values. By defending democracy we can stop Republican voter suppression and ensure the promise of the equal right to vote for all Americans. By building back better we can rebuild our country after the pandemic, combat climate change, and provide economic opportunity to more people. By supporting the resettlement of Afghan refugees and others seeking refuge, we can welcome the stranger. And by electing leaders who share our values, we can restore the soul of America. As we enter the new year and prepare for the 2022 midterm elections, we call on you to join us in taking action, joining a state chapter, and supporting JDCA as we continue to grow.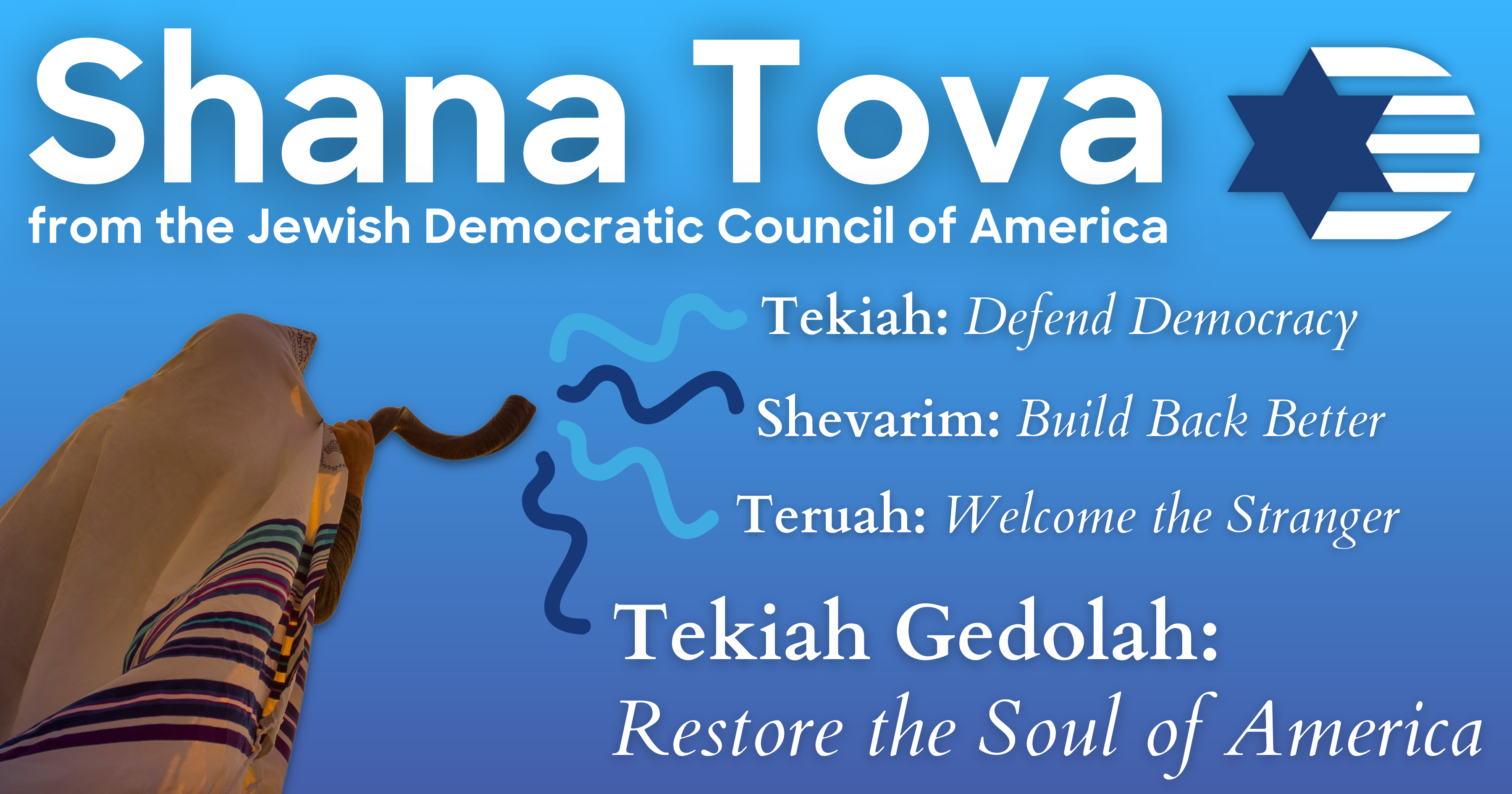 HOW YOU CAN TAKE ACTION IN THE NEW YEAR
STOP THE GOP RECALL IN CALIFORNIA: The CA recall election poses a serious threat of replacing Governor Newsom with a right-wing extremist. Sign up to phone or text bank with Jewish Dems to get out the vote for this crucial election.
JOIN A JDCA STATE CHAPTER: Our 15 state chapters are a key part of our grassroots mobilizing and play an important role in our successful advocacy. Stay engaged in the new year and join your state's JDCA chapter today.
BECOME A JDCA MEMBER: Membership allows JDCA supporters to expand our efforts advocating for Jewish and Democratic values and support candidates and elected officials who share our values. Read more about becoming a member today.
SUPPORT JDCA: Deepen your engagement and membership level by supporting JDCA today, so we can continue to expand the impact and scope of our work.
We wish you an early Shabbat Shalom and Shana Tova U'metuka.
Sincerely,
Hon. Ron Klein,
Board Chair, Jewish Democratic Council of America
Halie Soifer,
CEO, Jewish Democratic Council of America