The Jewish Democratic Council of America (JDCA) mourns the tragic loss of life in El Paso, TX and Dayton, OH this past weekend. We pray for the families of those tragically lost and injured, and our statement immediately following the shooting can be found here.
We're clear about the root causes of this horrific violence, and know that the president has played a role in fueling the fire of hatred and xenophobia in our country. That is why we are holding a conference call on white supremacy marking two years since the Charlottesville protest with former Virginia Governor Terry McAuliffe this Friday, August 9, at 2:30PM EDT. Join us here.
We also know that President Trump and the Republican-controlled Senate have refused to take any action to enact sensible gun safety measures. That is why we're demanding the Senate immediately reconvene to pass the gun safety legislation that passed the House. Join us here.
The epidemics of gun violence and white supremacy that have plagued our communities, schools, and places of worship must come to an end. These are the real national security emergencies in our country, not migrants on our border.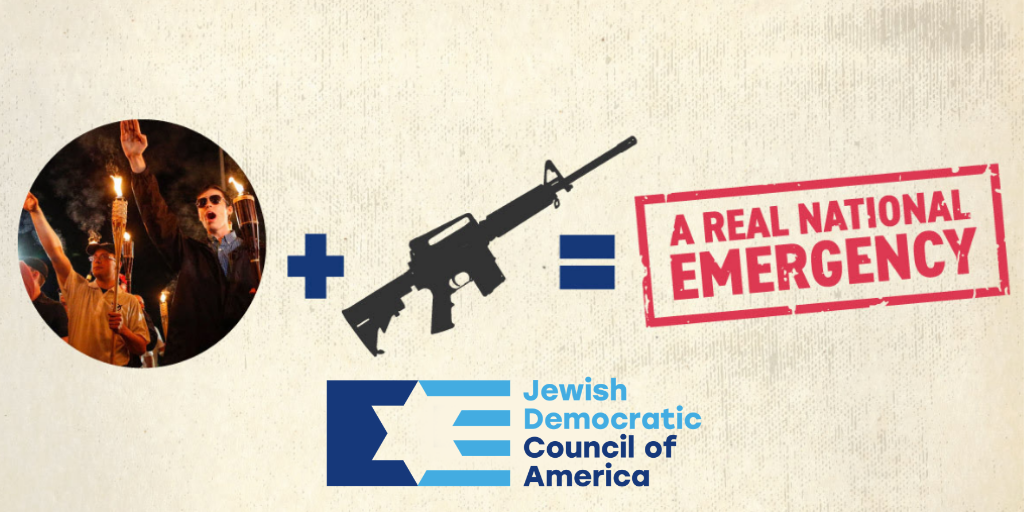 Earlier today, President Trump addressed the nation. While he recognized the threat of white supremacy – for the first time in 2.5 years – he refused to recognize or apologize for his own role in inciting, emboldening, and legitimizing white nationalists with his hateful rhetoric.
Read our full statement below, and join in demanding the Senate take action to pass gun safety measures. Also, join JDCA in a conference call marking two years since the Unite the Right rally in Charlottesville, VA, by joining a conference call with former VA Governor Terry McAuliffe on Friday, August 9 at 2:30 PM EDT.
Next week marks two years since the white supremacist rally in Charlottesville, VA where chants of "Jews will not replace us" shook our community to its core. President Trump's response was equally harrowing, when he equated neo-Nazis with those peacefully protesting them, legitimizing and emboldening white supremacists, including those who had murdered an innocent protestor.
JDCA is honored to host former Virginia Governor Terry McAuliffe or our next community conference call on Friday, August 9, at 2:30 PM EDT to mark two years since Charlottesville, and discuss white supremacy in America. Governor McAuliffe is the author of a new book, "Beyond Charlottesville: Taking a Stand Against White Nationalism."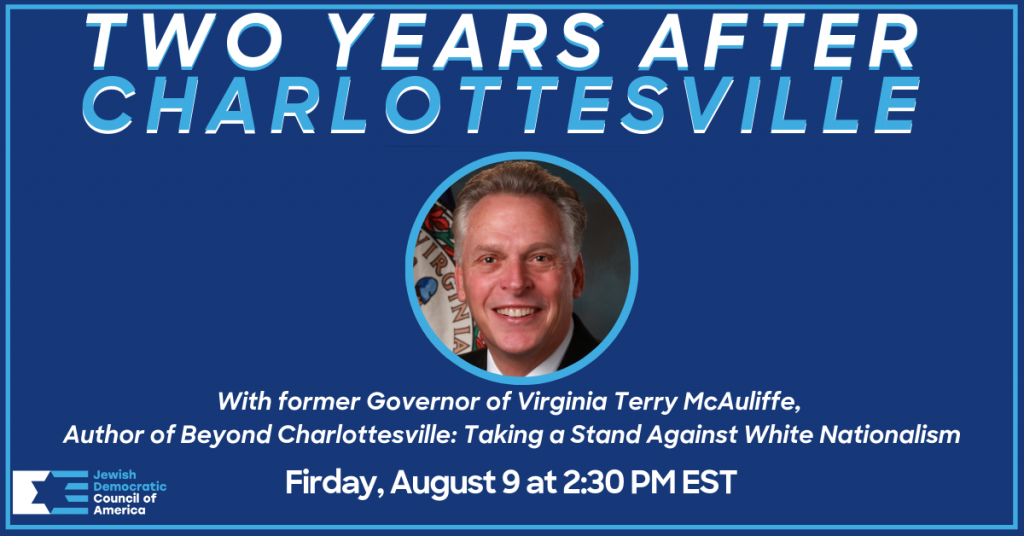 We look forward to you joining us as we continue to give voice to Jewish and Democratic values. Our mission has never been more critical, and your partnership has never been more important.
Thank you,
Ron Klein,
Chair, Jewish Democratic Council of America
Halie Soifer
Executive Director, Jewish Democratic Council of America