Article
Profiles in Courage
October 4, 2019
Friends,
Despite the joy of the new year, this past week has been difficult for those who of us value the rule of law and democracy. With each passing day, the web of corruption and lies emanating from the White House grows. Amidst this darkness, the Jewish Democratic Council of America (JDCA) remains focused on the glimmers of light providing hope as we look to the future.
Bright spots in Washington include the many Democrats in Congress who continue to demonstrate the courage of their convictions. This week, we have seen a growing list of Democrats – including all Jewish Democratic House Members – support a formal impeachment inquiry of President Trump.
The decision to support an impeachment inquiry does not come lightly, and it's about far more than politics – it's about our country's future. Many freshman Democrats who flipped red districts to blue in the midterm elections are risking their political future in service of our country. For a handful of these freshman Democrats, it is not the first time they have put their service to America above all else.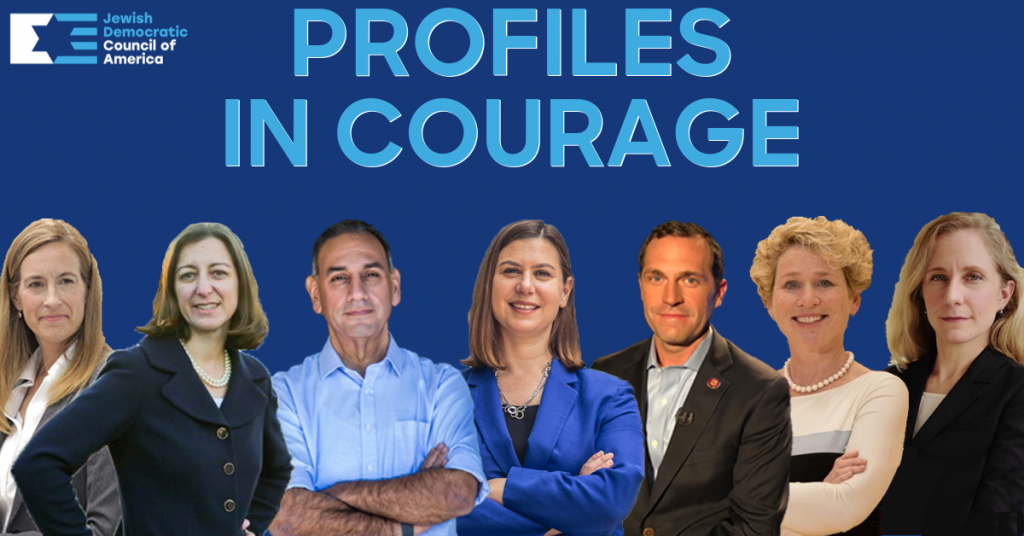 In a recent op-ed in the Washington Post, a group of seven freshman Democrats who had all previously served in various national security roles wrote, "We have devoted our lives to the service and security of our country, and throughout our careers, we have sworn oaths to defend the Constitution of the United States many times over. Now, we join as a unified group to uphold that oath as we enter uncharted waters and face unprecedented allegations against President Trump." Their support of an impeachment inquiry at this critical time epitomizes political courage and gives us hope.
These seven members of Congress – Reps. Gil Cisneros of California, Jason Crow of Colorado, Chrissy Houlahan of Pennsylvania, Elaine Luria of Virginia, Mikie Sherrill of New Jersey, Elissa Slotkin of Michigan, and Abigail Spanberger of Virginia – all won their races in 2018 in toss-up or Republican-leaning districts. These seven veterans of the military and intelligence agencies turned red districts to blue in 2018 by representing their values.
These seven Democrats have taken a principled stand against corruption in the White House out of a commitment to our country — it may not be the politically expedient path, but it's the right thing to do. Unlike the overwhelming majority of Republicans, these Democrats have demonstrated political courage in support of our democracy, and we applaud them for it.
We are proud that JDCA helped to elect many of these freshman Democrats, and we will do all we can to ensure they win again in 2020. But we can only succeed with your help.
With your help, JDCA will continue to expand our work and ensure we're successful, and we hope you'll join us. Please email us at [email protected] to get involved with a JDCA chapter in your area. We look forward to hearing from you and are incredibly grateful for your partnership and support.
Shana Tovah and G'mar Tov,
Ron Klein,
Chair, Jewish Democratic Council of America
Halie Soifer
Executive Director, Jewish Democratic Council of America