Article
Patriotism is Removing the Divider in Chief
July 6, 2020
We hope you had a safe and relaxing Fourth of July weekend. While most Americans commemorated America's birthday with family, BBQ, the film rendition of Hamilton, and some well-deserved time off, President Trump proved yet again why he is a "divider in chief."
From Mt. Rushmore to the White House lawn, Trump spent the weekend sowing division and hatred across America, reminding us yet again that the most patriotic thing we can do is to vote him out in November. If you agree, click on the link image below to join our movement, and keep reading to get involved with our efforts elect Joe Biden and other Democrats who share our values to the House and Senate.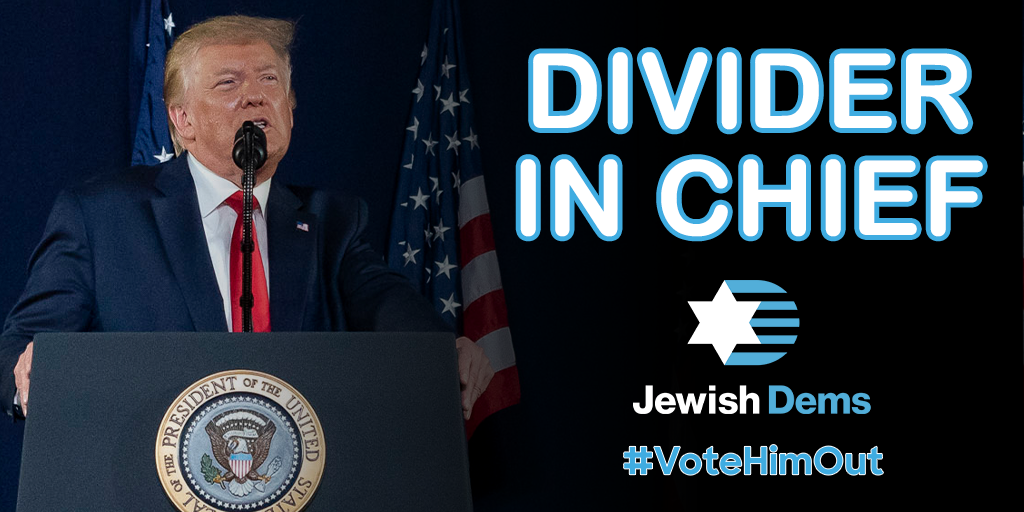 Over the weekend, Trump repeatedly amplified racist references to the Confederacy that even some Republicans are now belatedly recognizing may not be to their political advantage. Trump's rhetoric on July Fourth was divisive, hateful and dangerous, perpetuating an "us versus them" white nationalist vision of America. We reject it, but that's not enough. We must end his term as president by electing Joe Biden in 119 days.
As if Trump's vile speeches glorifying the Confederacy weren't enough, he also perpetuated lies about COVID-19, again misleading Americans about this lethal virus and ignoring social-distancing recommendations. Meanwhile, over the weekend, Trump's white nationalist followers took to selling swastika masks on Amazon. The fact that there is a market for these symbols of hate is further proof that Trump has emboldened the rise of anti-Semitism and racism.
Trump's America is not our America and we can't risk four more years of Donald Trump. The election in November is the most important of our lifetimes.
Join JDCA and Jewish Dems across the country every Wednesday from 5:30 to 8:30 PM ET as we call and text voters in key swing states. With your help, we will mobilize voters to make a difference in 2020. Sign up to join us by clicking here or on the image below. Our next phone bank is this Wednesday, July 8. Join us and make a difference!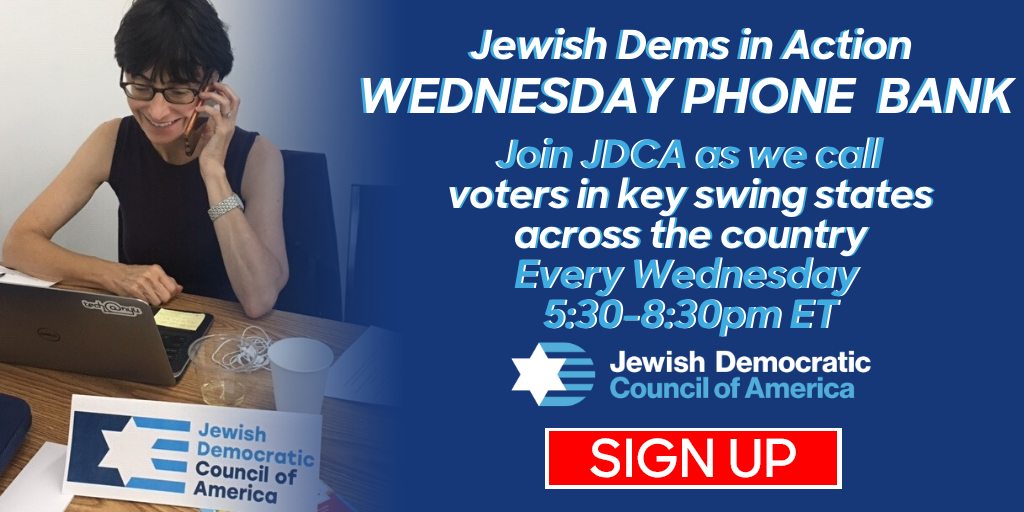 JDCA is mobilizing to elect Joe Biden, flip the Senate to Democratic control, and expand Democrats' House majority, and we need you to join us. Become a part of our growing movement by signing-up for a state chapter in our efforts to ensure a better and brighter future for all Americans.
Sincerely,
Ron Klein,
Chair, Jewish Democratic Council of America
Halie Soifer
Executive Director, Jewish Democratic Council of America