This week, JDCA was on the ground for both nights of Democratic debates in Detroit. Our biggest takeaway from the debates is that our diversity is our strength.
The diversity in views, policies, and backgrounds in the second round of debates represents our strength as Democrats. At a time when President Trump has used hate, fear, racism, and xenophobia to divide Americans, we are embracing our diversity and those candidates who share our values and policies.
As Speaker Pelosi has said, "our diversity is our strength, and our unity is our power," and we look forward to unifying behind the strongest nominee in 2020.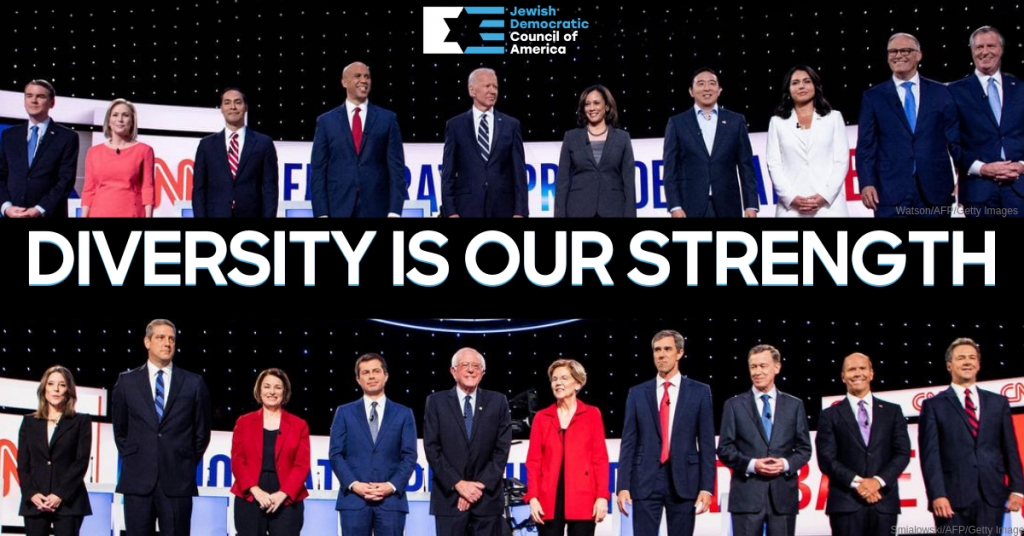 Read our reflections from the debates here.
Listen to our reflections from the debates here and by clicking on the image below.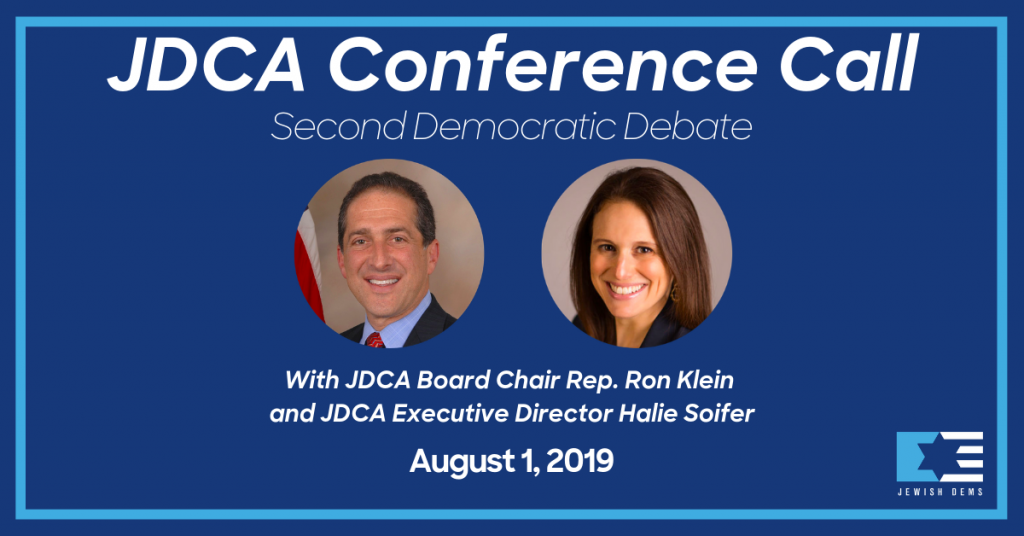 While JDCA will make no endorsements during the primary season, we look forward to continuing to hear from all the candidates about how they will take our country in a new direction, consistent with our values, which have been under attack under Trump.
That said, we cannot take victory in 2020 for granted.
JDCA Speaks Out
● We were featured on the Jewish Journal podcast, talking about the Jewish vote, anti-Semitism, Congress, Bob Mueller's testimony, and the 2020 elections.
● We condemned Trump's racist comments targeting Rep. Elijah Cummings.
● We warned of the danger of Trump's nominee for Director of National Intelligence, John Ratcliffe.
● We spoke out against Senate Majority Leader Mitch McConnell's obstruction of election security legislation.
● We called out the Flint water crisis as an unconscionable dereliction of duty on the part of Republicans.
This is only a snapshot of our weekly activities. Stay informed in real-time by following JDCA on Facebook, Twitter, and Instagram so that you don't miss anything, including briefing calls and events. And be sure to visit our online store.
Our work is not possible without you, and we thank you for standing with JDCA as we fight for socially progressive, pro-Israel, and Jewish values.
Thank you,
Ron Klein,
Chair, Jewish Democratic Council of America
Halie Soifer
Executive Director, Jewish Democratic Council of America