Friends,
Early yesterday, we learned of reports that Israeli Prime Minister Benjamin Netanyahu, under pressure from President Trump, would bar Reps. Ilhan Omar (D-MN) and Rashida Tlaib (D-MI) from visiting Israel. We spoke out with a message that preventing U.S. lawmakers from visiting Israel was unwise and counterproductive.
We share the government of Israel's concern with regard to Reps. Omar and Tlaib's support of BDS, but are deeply troubled by two unprecedented developments: the Israeli government denying members of Congress entry into Israel, and doing so at the urging of the U.S. president. We stated:
"The best way to fight falsehoods about Israel is with truth, and the best way to refute charges that Israel is anti-democratic is uphold democratic principles. Moreover, the best way to deepen an understanding of the complex dynamics surrounding the Israeli-Palestinian conflict is for individuals to visit."
JDCA was one of the first organizations to speak out in support of our values, and our statements received extensive press coverage in the U.S. and around the world. Once the decision was final, we issued a second statement rejecting Israel's decision to ban the congresswomen, and denounced Trump's interference in Israel's democracy. According to credible reports, Prime Minister Netanyahu reversed his earlier decision to allow the visit due to the public pressure from President Trump. We stated:
"As strong supporters of Israel and the U.S.-Israel relationship, we are deeply troubled that this unprecedented decision came at the urging of President Trump. Once again, President Trump has inappropriately interfered in Israel's democracy, to the detriment of the U.S.-Israel relationship."
Make no mistake: Trump deliberately put the democratically elected leader of Israel in the position of having to choose between what was best for Israel – showing the world that Israel's democracy had nothing to fear from its critics – and what Trump believed was most political advantageous to him. In an unprecedented development, the U.S. president interfered in Israel's democracy to further his own political self-interest.
Trump insists on continuing to politicize Israel by drawing attention to two members of Congress whose views on Israel are outside the Democratic mainstream. This is because President Trump wants to run a campaign against a fictional version of the Democratic Party instead of the actual Democratic Party – which is overwhelmingly supportive of Israel – that the vast majority of Jewish Americans support. This is not in Israel's interest, it's not in America's interest, and we reject it.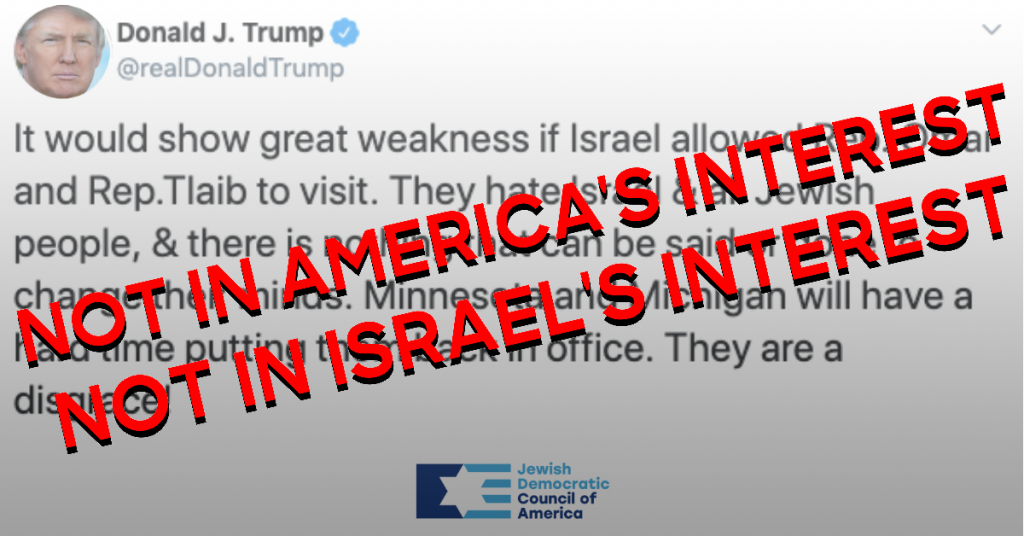 In the past few hours, we learned that Rep. Tlaib canceled her visit to the West Bank after the Israeli government granted her permission to visit her grandmother on humanitarian grounds. But the fact remains that the two congresswomen were banned from their official visit because President Trump taunted Prime Minister Netanyahu with allegations of "weakness." Nothing could be further from the truth. If Netanyahu had allowed the visit to go forward, he would have demonstrated strength by doing what he clearly knew was in the best interest of the U.S.-Israel relationship.
We have no say in Israel's upcoming elections, and we will support the outcome because – unlike President Trump – we respect Israel's democracy and democratic process. But we do have a say in our upcoming elections, and we will do everything in our power to bring about political change consistent with our values, including strong support for the U.S.-Israel relationship.
Shabbat Shalom,
Ron Klein,
Chair, Jewish Democratic Council of America
Halie Soifer
Executive Director, Jewish Democratic Council of America