Article
New Poll Shows Importance of Our Work
July 16, 2021
The latest poll from the Jewish Electorate Institute (JEI) emphasizes that an overwhelming majority of Jewish voters share the progressive and pro-Israel values and political priorities of the Jewish Democratic Council of America (JDCA). President Biden has a staggering 80% job approval rating among Jewish voters, and Jewish Americans trust him – by a three to one margin – more than Donald Trump on Israel, Iran and antisemitism. The poll also shows that domestic policy issues are driving the Jewish vote, including – for the first time – overwhelming (83%) concern for Republican efforts to suppress the vote. Issue by issue, the data show that Jewish voters are overwhelmingly aligned with the policies at the core of both the JDCA and Democrat Party platforms.
This is why JDCA's work is so crucial in creating lasting political change. Reflecting on the JEI poll, Jennifer Rubin wrote in the Washington Post, "Today's Jews mostly reflect the overwhelming concern for the protections a diverse democracy offer them, as their community did when Rabbi Abraham Joshua Heschel joined the Rev. Martin Luther King Jr. in his fight for civil rights." We know the Jewish vote can make the difference in tight races, and overwhelming Jewish voter alignment with Democrats proves the importance of our work.
Support alone does not win elections – it's turnout, and that's a core element of JDCA's election work. It's what we're doing in the OH-11 primary in support of Shontel Brown, and we have a lot more work to do to make sure Democrats expand our majorities in the House and Senate in 2022. Now is not the time for complacency, especially as Republicans engage in an unprecedented attack on the right to vote. Stay engaged with JDCA and help continue our crucial work to get out the Jewish vote for Democrats, and to protect our democracy.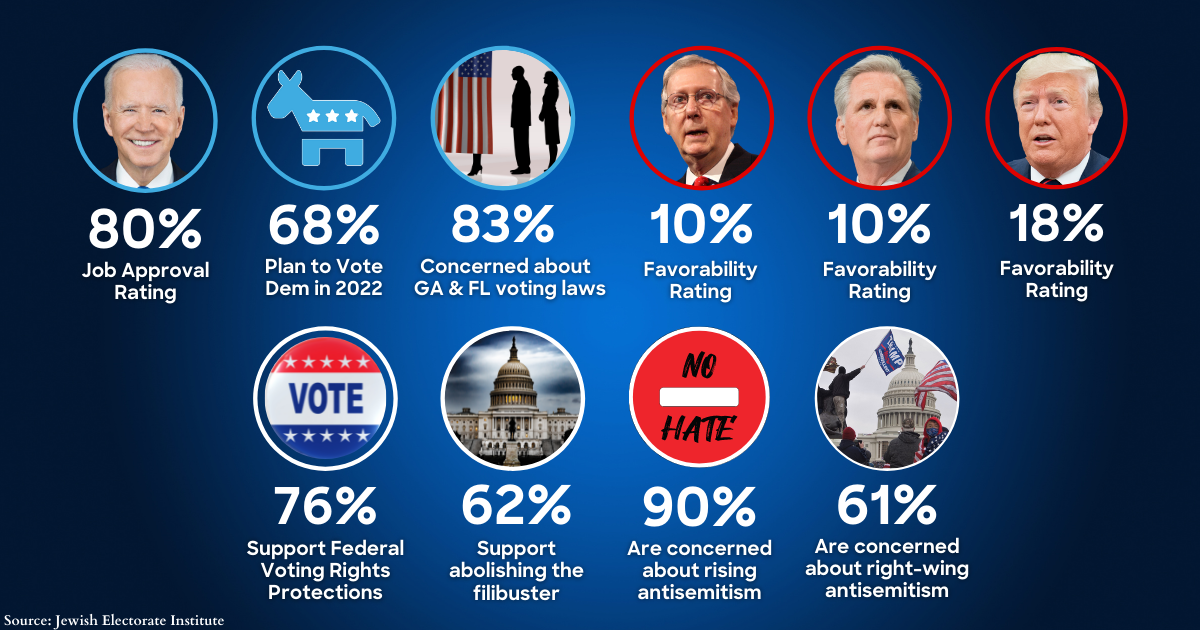 The poll also showed that a strong majority of Jewish voters are emotionally attached to Israel, support aid to both Israel and the Palestinians, and support a two-state solution to the Israeli-Palestinian conflict. Respondents also expressed concern for Palestinian rights – these results should not be ignored, and we must continue the important work. here is no binary choice to be made between Israel's security and right to self-defense and Palestinian rights and safety, and Jewish Dems support both.
SAVE THE DATE! COMMUNITY CONVERSATION ON ECONOMIC JUSTICE
Mark your calendar for Thursday, August 5th at 2:00 P.M. ET / 11 A.M. PT to join Jewish Dems for an in-depth discussion on economic justice, how Democrats are leading on this issue, and what actions we can take to be part of the solution. Click below to sign up for this important call.