Article
Judge Jackson Represent Our Values
March 25, 2022
JOIN JEWISH DEMS IN SUPPORT JUDGE JACKSON
This week, Judge Ketanji Brown Jackson proved that she is eminently qualified to serve on the U.S. Supreme Court. Judge Jackson demonstrated poise and grace in the face of egregious and offensive questioning by Republican senators, and we were inspired by the depth and breadth of her experience. At a time when so many of our Jewish and Democratic values are under threat, we are confident that Judge Jackson will represent the best of America as the Court's next associate justice, and we're proud to strongly support her historic nomination. 
Join us in urging the Senate to swiftly confirm Judge Jackson as the first Black woman on the Supreme Court. Keep reading about other news this week, including how the Republican Jewish Coalition (RJC) endorsed Sen. Ron Johnson after he blocked Dr. Deborah Lipstadt's nomination to serve as Special Envoy to Monitor and Combat Antisemitism, JDCA's MI-11 issues forum with Reps. Andy Levin and Haley Stevens, and the tragic loss of Secretary Madeleine Albright.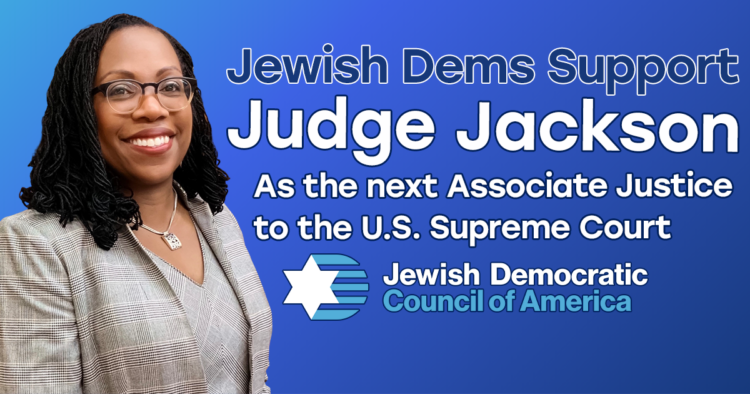 For months, Republican Senators have senselessly and recklessly delayed consideration of Dr. Deborah Lipstadt's nomination to serve as U.S. Special Envoy to Monitor and Combat Antisemitism. This continued this week, with Senators Risch and Johnson's opposition to Dr. Lipstadt, delaying the scheduled committee vote to send her nomination to the full Senate. 
Johnson's dangerous obstruction, which is actively preventing the U.S. from committing resources to fight global antisemitism, appears to have earned him an endorsement from the Republican Jewish Coalition's PAC. Recognizing their endorsement would not be popular with Jewish voters, the RJC explained they "never make decisions based on what outside individuals or organizations think." As we said in response, "extend that notion to the overwhelming majority of Jewish voters, and that pretty much sums up the RJC."
We're no longer surprised by Republicans' willingness to support candidates who attack our democracy, obstruct progress, and embolden extremists. That's why it is critical that we elect more Democrats who share our values. By supporting JDCA today, you can help us reject Republican obstructionism and extremism, and ensure we elect those who share our values to Congress.
Yesterday, JDCA hosted Representatives Andy Levin and Haley Stevens for a forum to discuss issues of importance to Jewish voters. Because of redistricting, these two incumbents are facing off head-to-head in the Democratic primary later this year. JDCA was proud to host Reps. Levin and Stevens for the first forum in this important primary. We encourage you to watch and share the recording — especially with voters in MI-11 — and read more about the forum in Jewish Insider.
This week, Jewish Dems mourned the loss of former Secretary of State Madeleine Albright. Sec. Albright broke glass ceilings and paved the path for women at the highest levels of the U.S. government. Having discovered her Jewish roots later in her life, Sec. Albright shared a special bond with the Jewish community and served as a leader advancing our cherished values including the promotion and preservation of democracy and justice. Read JDCA's remembrance in our full statement and in Haaretz.
May Secretary Albright's memory serve as a blessing, and may her legacy light the way for those working to promote freedom, equality, and peace.
As our movement continues to gain influence and grow, so does our team. JDCA is hiring for positions critical to our work advocating for Jewish and Democratic values. Click here to read more about these great opportunities and share them with a Jewish Democrat who is ready to fight for our values.