Article
Join our COVID-19 call series Tuesdays & Thursdays
March 23, 2020
We hope you are staying healthy and safe during these uncertain times. As we all adapt to social distancing, we're grateful for digital tools that can bring us together. Starting tomorrow, you can join us on Tuesday and Thursday afternoons for our new call series, Democrats Responding to Crisis, as we convene to hear from leading Democrats and experts about the impact of COVID-19 on every aspect of our life, including elections, national security, the economy, education, and healthcare, as well as the response of Congress, states, and the international community.
Our first call on the impact of COVID-19 on elections will take place this Tuesday, March 24 at 3pm ET with Marc Elias, the leading election and voting rights lawyer in the country who represents the Democratic Party and dozens of Senate, House, and gubernatorial elected officials and candidates. Last week, Marc wrote in the Washington Post about how the coronavirus will change the way we conduct elections. He has also written about steps we must take to safeguard voting rights with vote by mail in the wake of the COVID-19 pandemic. Just yesterday, former GA gubernatorial candidate Stacey Abrams posted a short video about protecting our voting rights amidst this pandemic, which recognized Marc for his critically important work. You don't want to miss this call.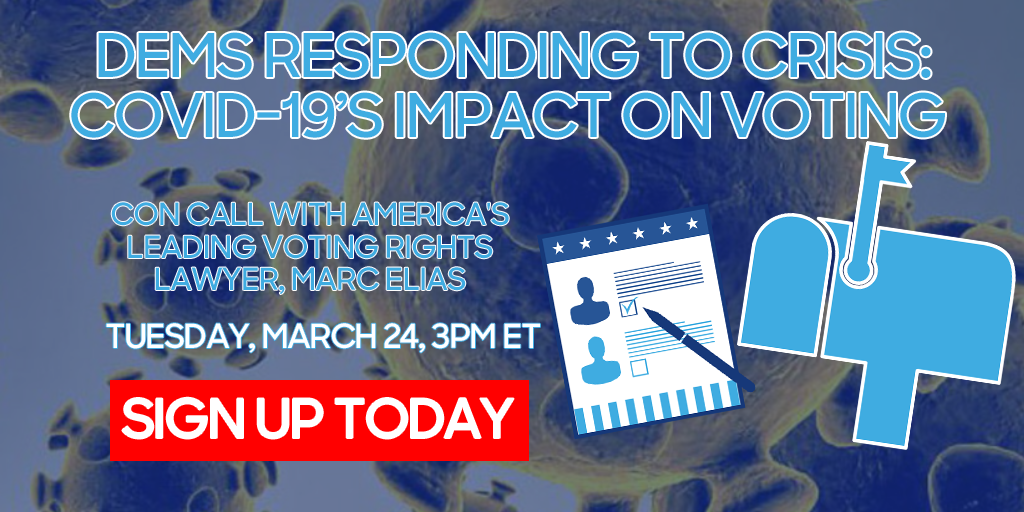 On Thursday, March 26 at 3pm ET, we will have a call on the international response to the COVID-19 pandemic and the national security implications of the virus. We will consider the coronavirus from the global perspective, and examine the consequences of President Trump's decision to eliminate the National Security Council (NSC) office responsible for pandemic response, as well his reluctance to invoke the Defense Protection Act (DPA) to provide needed medical supplies. The call will feature Jeremy Bash, former Chief of Staff to the CIA Director and Secretary of Defense, and Ned Price, former Special Assistant to the President, NSC Spokesperson, and CIA analyst.
Stay tuned for more information about next week's calls, but here's a preview, so you can save the times now. On Tuesday, March 31 at 3pm ET, our call will focus on the economy featuring the Honorable Sarah Bloom Raskin, former Deputy Secretary of the U.S. Department of the Treasury and former Governor of the Federal Reserve Board. On Thursday, April 2 at 3pm ET, our call will focus on education featuring Randi Weingarten, the President of the American Federation of Teachers (AFT), AFL-CIO.
In case you missed it, this morning JDCA was featured in Jewish Insider as we announced an expansion of our leadership and staff, and well as our digital grassroots organizing efforts and engagement with supporters across the country. We also issued a press release about our growing movement and efforts. Check it out below.
We wish you much health in the weeks ahead, and hope you can join us on our calls. Together, we will get through this and create the change our country needs in November.
Warmly,
Halie Soifer
Executive Director, Jewish Democratic Council of America