Article
Jewish Voters Support Voting Rights & Filibuster Reform
January 12, 2022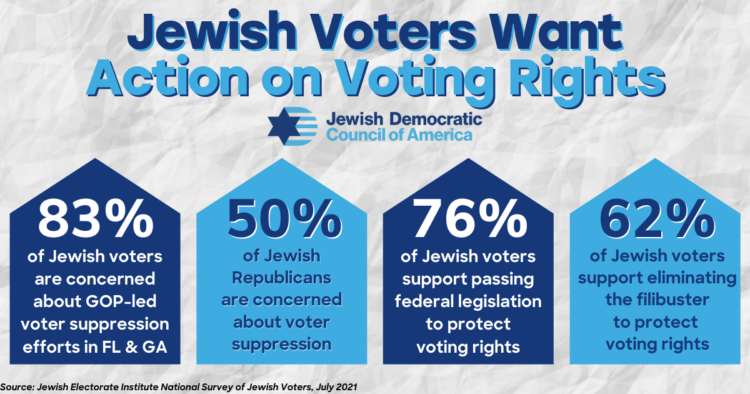 Yesterday, President Biden gave a historic address calling on the Senate to change its rules in order to defend our democracy and protect voting rights. As he said, "we have no option but to change the Senate rules, including getting rid of the filibuster" to pass transformative voting rights legislation. An overwhelming majority of Jewish voters stand with the President on this issue, and want to see the Senate act to defend against Republican-led voter suppression and election subversion in nearly every state.
According to a national survey last year by the Jewish Electorate Institute, 83% of Jewish voters — including 50% of Jewish Republicans — are concerned about Republican-led voter suppression efforts in states like Florida and Georgia. An overwhelming 76% of Jewish voters support passing federal legislation to protect voting rights, and 62% of Jewish voters support eliminating the filibuster to pass voting rights legislation.
In an increasingly polarized political environment, the Jewish community is overwhelmingly united on protecting our right to vote and defending our democracy. We stand with President Biden and call on the Senate to abolish or reform the filibuster in order to pass voting rights legislation.
At his speech yesterday in Atlanta, which included JDCA Board members and activists, President Biden said, "I've been having these quiet conversations with members of Congress for the last two months. I'm tired of being quiet!" Silence is not an option when our democracy is on the line, and words are not enough. It's time for action.
Click below to call on your members of Congress to take five measures to defend our democracy, including passing voting rights legislation, even if it means abolishing or reforming the Senate filibuster.
We cannot let arcane Senate procedure be the reason Republican election subversion and voter suppression efforts succeed. Too much is at stake, and this is an inflection point in American history. As we said earlier today:
History will look back on this moment and ask — how did we act when everything was on the line? Did we stand up and defend our democracy when it was under attack? Let's make sure the answer is YES.
Sincerely,
Halie Soifer
CEO, Jewish Democratic Council of America