Article
Jewish Dems Welcome Ceasefire
May 21, 2021
JDCA welcomes the ceasefire between Israel and Hamas, which we're hopeful will bring an immediate end to Hamas terrorist attacks and restore calm on both sides of the Israel-Gaza border. We are grateful to President Biden for exerting the leadership required to help bring about a ceasefire, and for his remarks last night, in which he reiterated his ongoing support for Israelis and Palestinians to live in security and peace, as well as his commitment to Israel's right to self-defense. He vowed to replenish Israel's depleted supply of Iron Dome interceptors, and committed to continuing "quiet and relentless diplomacy" in the region. Keep reading to learn about the action taken by JDCA this week, and how you can join us in taking our voices to Capitol Hill next month.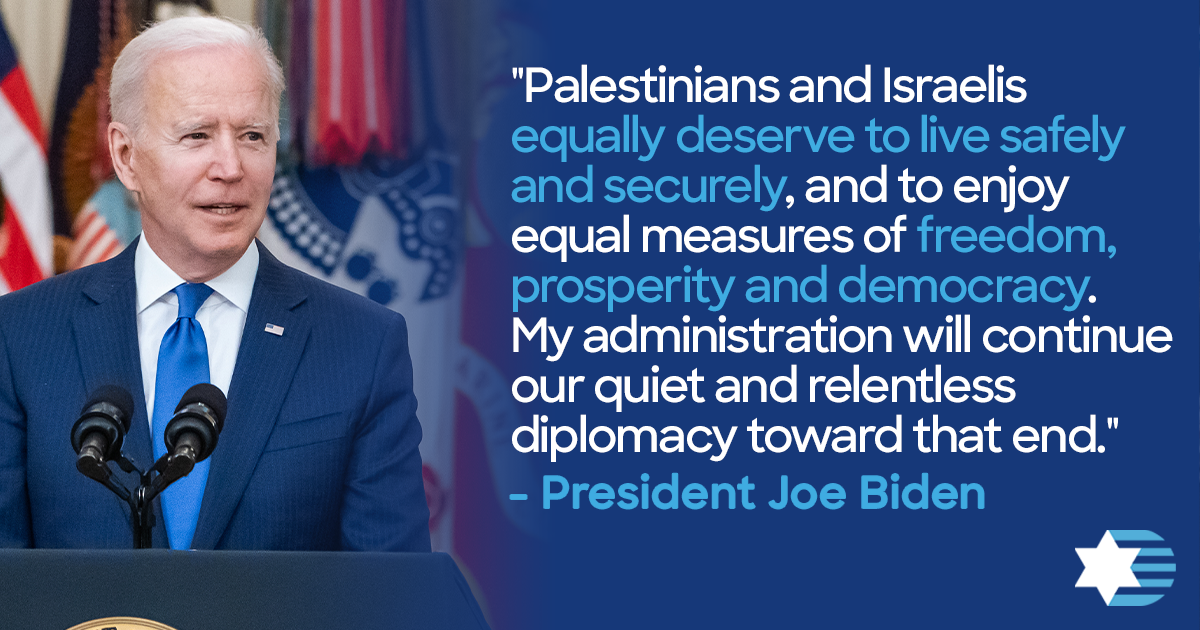 JDCA IN ACTION AND IN THE PRESS
JDCA responded to the crisis in Israel by exerting leadership, including in the press. We were in frequent touch with members of the Biden administration and Congress, and hosted an in-depth briefing for congressional staff. We expressed our support of Israel's right to self-defense and opposition to any effort to block arms sales to Israel. We also clarified that "there does not have to be a binary choice" between supporting Israel's security and right to self defense, and expressing concern about Palestinian rights and safety. 
As JDCA CEO Halie Soifer said in the Washington Post, "Jewish Americans and Democrats support a two-state solution to the Israeli-Palestinian conflict and support U.S. military aid to Israel." We were quoted in The Hill opposing efforts to block arms sales to Israel and opposing the use of "military assistance to Israel, which is saving lives, as leverage to influence the Israeli-Palestinian conflict."
We pointed out in The Forward that "the overwhelming majority of Democrats strongly support Israel's security and right to self-defense against Hamas terrorist attacks, while also supporting Palestinians' safety and human rights." And we were quoted in Time explaining that while Donald Trump "politicized the U.S.-Israel relationship while recklessly neglecting the Israeli-Palestinian conflict," that dynamic has changed with the Biden White House. With President Biden, policy toward Israel "is not a political calculation…. It's a policy being determined by our national security interest." We've seen our interests – as well as that of Israel – furthered with this ceasefire, and we're grateful to President Biden for his leadership.
NEW YORK JEWISH DEMS: Join us Tuesday, May 25th at 6:00pm ET for our New York State Chapter launch with Senate Majority Leader Chuck Schumer! Meet fellow Jewish Dems in New York and learn about JDCA's critical work and grassroots activism.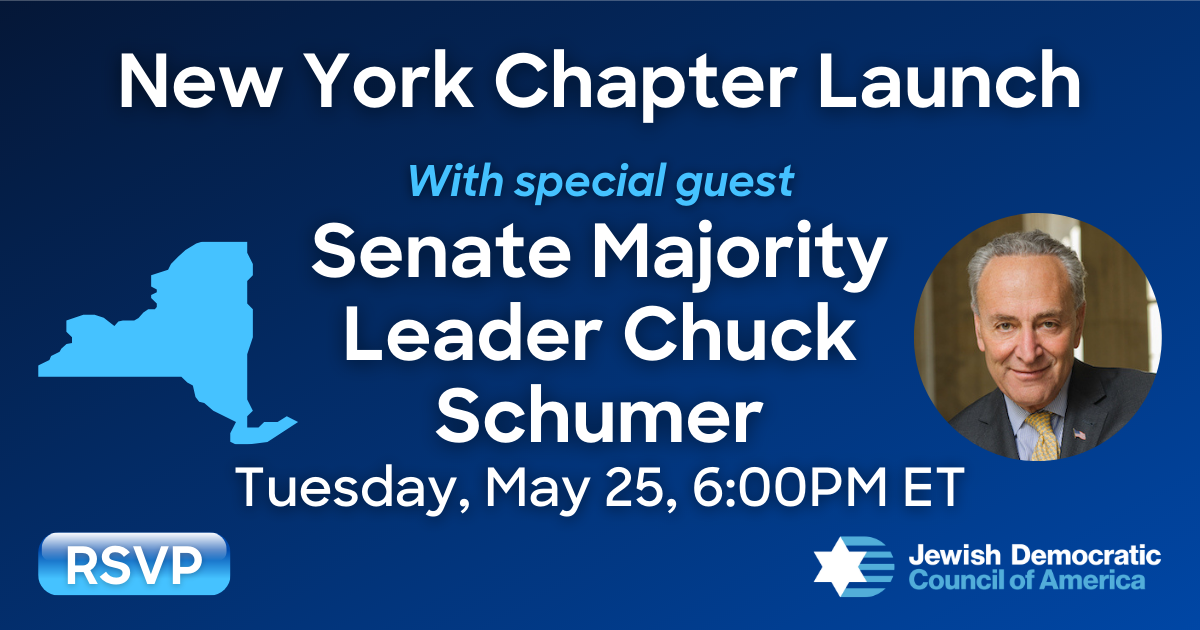 JOIN A CHAPTER TODAY: Our chapters play a key role in our advocacy and in our work to expand Democratic majorities in the House and Senate in 2022. Click here to find your local chapter! Does your state not have a chapter? Email [email protected] to start one!
In 2020, JDCA launched chapters in key states and regions where the Jewish vote most impacted the outcome of the election. In 2021, JDCA's chapters will continue to play a central role in our advocacy efforts across the country and in building our voter mobilization efforts for future elections. This week we were thrilled to launch our Southern California chapter and we're grateful for Senator Alex Padilla's kind words welcoming our chapter launch. Watch the Senator discuss the tradition of Jewish activism in American history and thank JDCA for carrying that torch. Yesterday, we also hosted our Nevada chapter's organizing kickoff, where Senator Catherine Cortez Masto spoke about the importance of our grassroots work and fighting for our values.
JEWISH DEMS WEEK OF ACTION: Next month, Jewish Dems will host a Week of Action for JDCA chapter activists and supporters to meet virtually with their congressional delegations to advocate for and discuss our policy priorities as Jewish Democrats.
We will host a launch event and advocacy training on June 3, followed by meetings with members of Congress the week of June 14. Click below to sign up and learn more about fighting for our values during the Week of Action.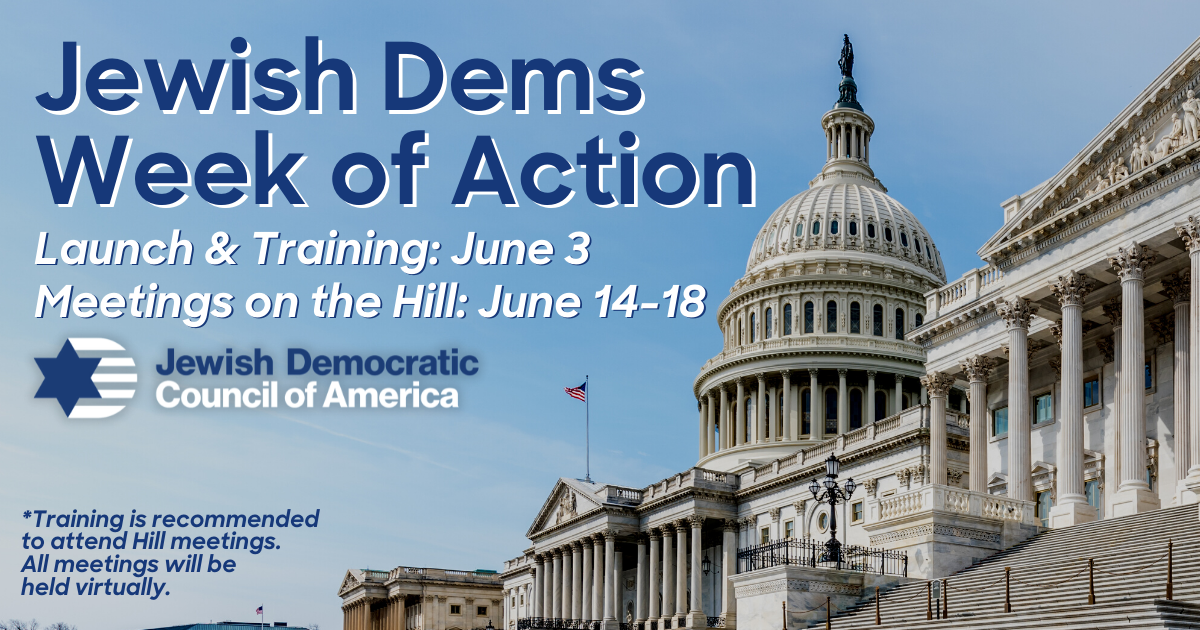 Thank you for your continued support. We wish you a peaceful Shabbat.
Shabbat Shalom,
Hon. Ron Klein,
Board Chair, Jewish Democratic Council of America
Halie Soifer,
CEO, Jewish Democratic Council of America