Article
Week in Review: What You Missed With Jewish Dems
December 17, 2021
Republican members of Congress confirmed this week that the GOP is the party of obstruction, hypocrisy and hate. Jewish Dems refuse to stay silent in the face of the GOP's bigotry, contempt for our democracy, and disregard for Israel's security. We're speaking out every day in defense of our Jewish and Democratic values.
Read more about what Jewish Dems were focused on this week and sign up for JDCA's upcoming event, One Year Later: Reflecting on Trump's Insurrection and the State of our Democracy on the one-year anniversary of the January 6 insurrection. We will be joined by Sen. Ben Cardin (D-MD) and Reps. Susan Wild (D-PA), Brad Schneider (D-IL), and other special guests.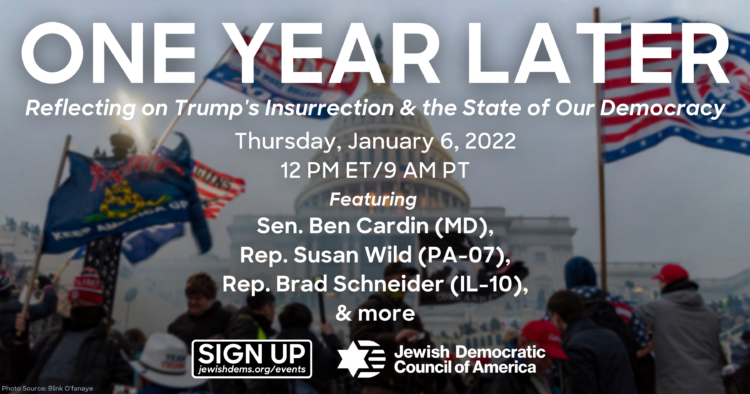 JDCA HOSTS REP. ADAM SCHIFF: JDCA was proud to host Rep. Adam Schiff (D-CA) this week in Los Angeles for an informative discussion on the threats to our democracy posed by the GOP. We deeply appreciate Congressman Schiff's leadership defending our democratic institutions and Jewish values. Read more about our discussion in The Forward and sign up for the new "Letter from California" weekly newsletter.
SUPPORT CANDIDATES WHO SUPPORT DEMOCRACY: JDCA and JDCA PAC pledged not to support any candidate who aligned with the January 6 insurrectionists, refused to certify the 2020 election, endorsed conspiracy theories about the election, and/or supports voter suppression, and we urge other Jewish organizations to do the same. Read The Forward's and share our statement.
JEWISH DEMS CALL OUT REPUBLICAN BIGOTRY: Twice this week, Jewish Dems were compelled to draw attention to the GOP's blatant bigotry and Islamophobia. While debating the establishment of a government envoy to monitor and combat Islamophobia, the GOP proved exactly why such a position was necessary. We rejected their attempt to promote hate in the name of Jewish Americans, and we support the establishment of an Islamophobia envoy. 
We called out Rand Paul and Senate Republicans for continuing their bigoted block of Dilawar Syed's nomination to the Small Businesses Administration. Dilawar's confirmation would make him the highest ranking American-Muslim in the Biden administration, but Republicans have specifically cited his background as a pretext to boycott his nomination. Jewish Dems told Republicans to end their boycott and confirm Dilawar.
UYGHUR FORCED LABOR PREVENTION ACT PASSES: Jewish Dems strongly welcomed the Senate passing the Uyghur Forced Labor Prevention Act, sending it to President Biden's desk. This bill is an important step in holding the Chinese government accountable for genocide, atrocities and human rights violations against the Uyghurs. The work to end this genocide must continue. 
PROTECTING DEMOCRACY: The January 6th Committee released text messages from Republican members of Congress sent to the Trump administration about the January 6th insurrection and strategies to overturn the 2020 election. Jewish Dems called out this egregious behavior and will not stop calling out the real and present threat Republicans pose to our democracy.
Thank you for continuing to take action with Jewish Dems.
Hon. Ron Klein,
Board Chair, Jewish Democratic Council of America
Halie Soifer,
CEO, Jewish Democratic Council of America