Article
Jewish Dems Got Out The Vote in Georgia
January 5, 2021
We've reached the first milestone of 2021: Election Day in Georgia. The runoff elections today will not just decide control of the Senate – they'll decide the future of our country. Donald Trump and the GOP are attempting to overturn a free and fair election and subvert the will of the American people. In 15 days, Joe Biden will become the next President of the United States, but Trump and the GOP have damaged our democratic institutions.
That's why it is so important that we win today in Georgia and send Jon Ossoff and Reverend Raphael Warnock to the Senate. JDCA has done more than any other organization to mobilize the Jewish vote in Georgia. We updated our voter files every day to indicate who's already voted, so we could effectively phone bank and maximize our impact by mobilizing voters who still need to get to the polls.
Jewish Dems hosted 33 phone banks and events, including a community conversation with Jon Ossoff and Rev. Warnock, a discussion on Black-Jewish relations, and even a game show. Over 1,000 volunteers made phone calls and sent text messages to Jewish Georgians, making over 70,000 voter contacts. We ran 54 ads, including direct mail, digital ads, and print ads, reaching voters over 3.8 million times. Join our last event today!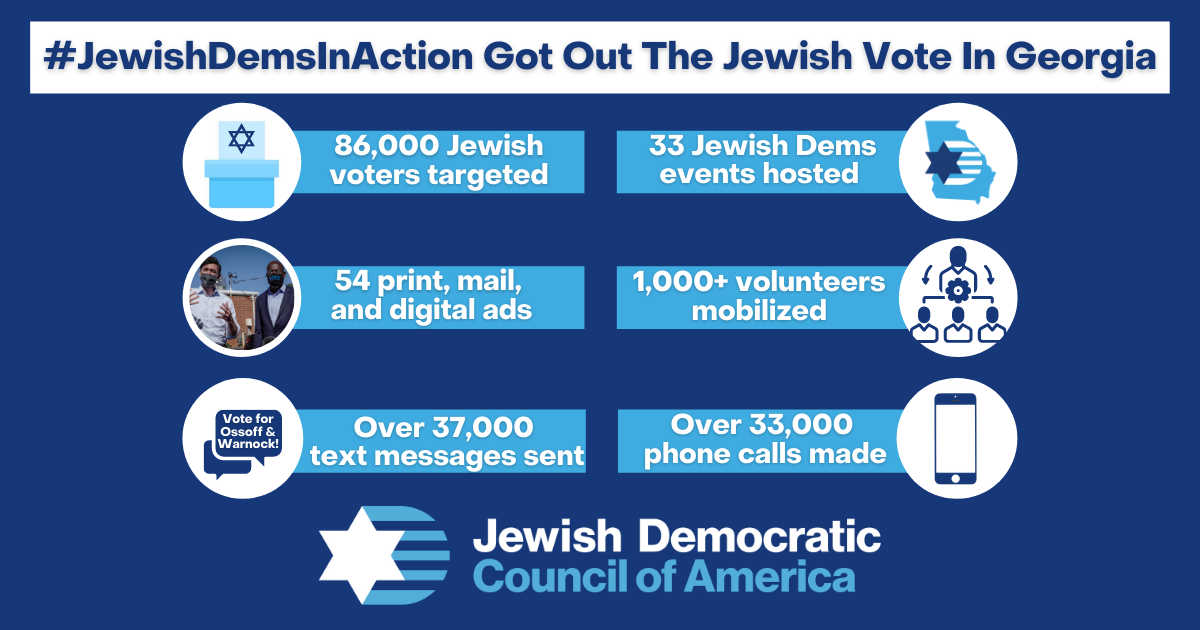 READ MORE ABOUT JDCA IN GEORGIA
SUNDAY, JANUARY 17, 5 PM ET/2 PM PT: Join Jewish Dems for a special celebration of our democracy and the Inauguration of the Biden-Harris administration! We'll be joined by elected officials, activists, and celebrities and will present esteemed voting rights attorney Marc Elias with JDCA's first Ruth Bader Ginsburg Justice Award in honor of his tireless work preserving and protecting our democracy.
Sign up now by clicking the image below.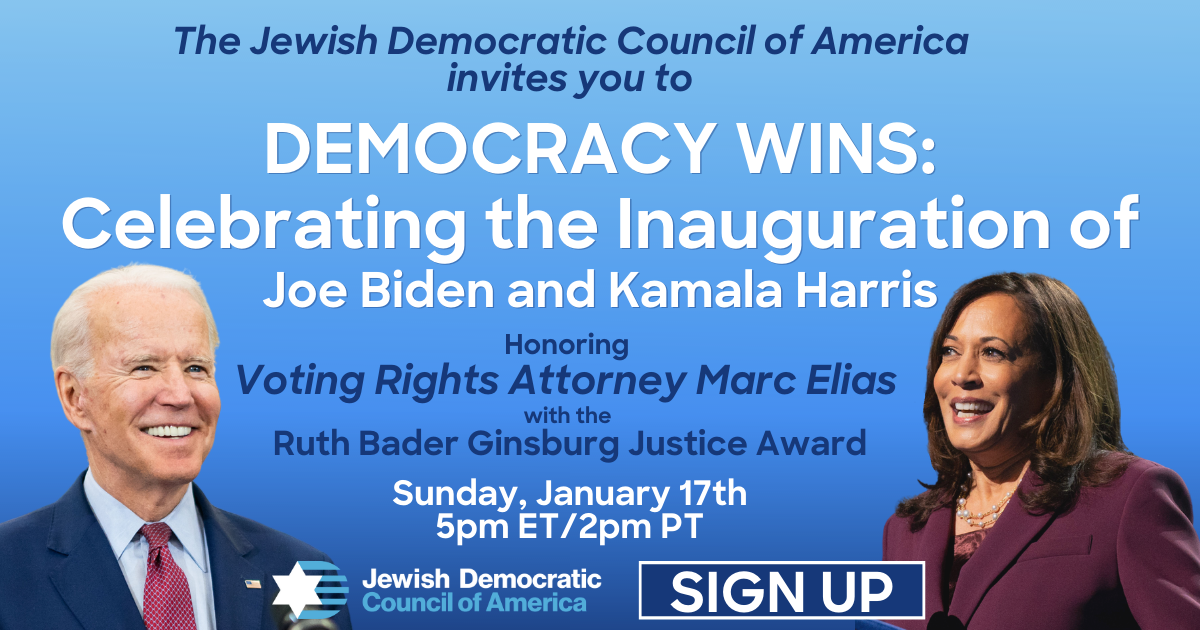 As the only national organization combining Jewish values with a Democratic political agenda, JDCA has delivered the Jewish vote for Democrats, which proved essential to flipping the House in 2018 and the White House in 2020. In 2021, JDCA will continue to give voice to Jewish values, and help to ensure Joe Biden is successful in taking back the soul of America with a policy agenda aligned with our values.
From expanding our grassroots movement to building out our ability to influence future elections, Jewish Dems will continue to take action in 2021 to ensure a better future for our country. Invest in JDCA today so we can continue to grow as a movement, engage key policy-makers, advocate for our values, and amplify Jewish voices in 2021 and beyond.
Warmly,
Halie Soifer
JDCA CEO