Article
Jewish Dems Endorse Shontel Brown in OH-11 Primary
July 6, 2021
Over the holiday weekend, the Jewish Democratic Council of America (JDCA) continued to prove the importance of our movement and our commitment to advocating for candidates who reflect our Jewish and Democratic values. Jewish Dems are proud to announce our endorsement of Shontel Brown in the OH-11 Democratic Primary.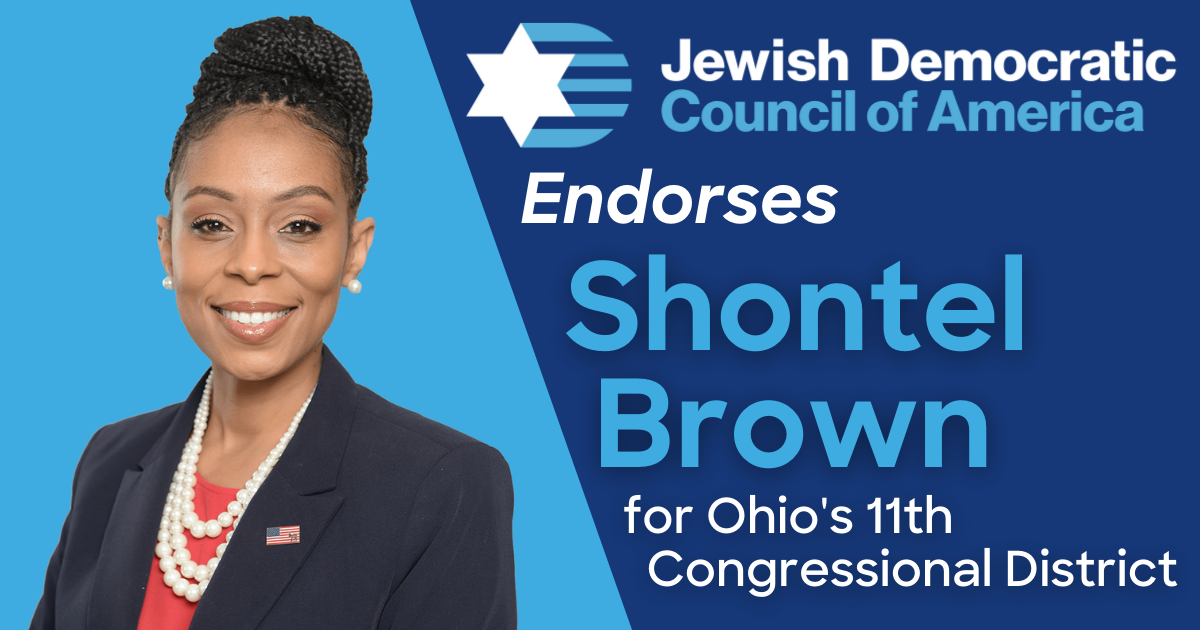 JDCA CEO Halie Soifer said: "We are proud to endorse Shontel Brown in the OH-11 primary because she shares our Jewish and Democratic values on a wide range of issues, including access to affordable, quality health care, ensuring jobs that pay fair wages, supporting public education, taking action to end gun violence, protecting our democracy, and ensuring equity and justice for all."
JDCA hosted the first candidate forum in this primary earlier this year, and it was clear at that time – as it is today – that Brown is the strongest candidate who most closely aligns with Jewish Dems in OH-11. JDCA plans to mobilize its Ohio Chapter in support of Brown, and to sponsor ads targeting Jewish voters. 
On Israel, Brown supports a two-state solution to the Israeli-Palestinian conflict and does not support conditioning of U.S. aid; she has publicly voiced her support for the ten-year, $38 billion U.S.-Israel Memorandum of Understanding (MOU), including at JDCA's candidate  forum. Brown supports President Biden's efforts to reach a "longer and stronger" nuclear agreement with Iran.
JDCA Chairman Rep. Ron Klein, who is originally from Cleveland, said: "We are proud to endorse Shontel Brown in this primary, and to organize Jewish Democrats across Ohio in support of her. Shontel shares our views on a range of issues, including the importance of protecting our democracy, ending the epidemic of gun violence, and supporting – not politicizing – the U.S. relationship with Israel."
JDCA is the only national organization that combines Jewish values advocacy with a Democratic political agenda. Your investment in JDCA allows you to diversify your political giving in an efficient, effective and impactful way, while supporting multiple Democrats across the country who align with Jewish values – including Shontel Brown in OH-11. 
Help mobilize Jewish voters in OH-11, chip in any amount to support JDCA's PAC today!
DONATE: MOBILIZE THE JEWISH VOTE
As we continue the battle for the soul of our nation, we're grateful for your partnership and commitment to our Jewish and Democratic values.
Sincerely,
Hon. Ron Klein,
Board Chair, Jewish Democratic Council of America

Halie Soifer,
CEO, Jewish Democratic Council of America