Article
Jewish Dems Meet with Douglas Emhoff and Congress
November 18, 2021
This week, the leadership of the Jewish Democratic Council of America gathered in D.C. to hear from party leaders from the DNC and many members of Congress to discuss the importance of our work mobilizing Jewish voters, and how we can, and will, help Democrats win in 2022. We were also thrilled to be joined by Second Gentleman Douglas Emhoff, who spoke about his Jewish upbringing and how the policies of the Biden administration align with our shared Jewish values.
Maintaining and increasing our House and Senate majorities in the 2022 midterms will require hard work, but this week proved that both Democrats and JDCA have the tools to energize and mobilize the Jewish vote to make the difference where it matters. It also demonstrated the essential role of Jewish Dems and JDCA, which was a message we heard loud and clear from leaders in Washington including the administration and members of Congress.
The case for the Democratic Party is strong. The one-two punch of the American Rescue Plan and the recently signed Bipartisan Infrastructure bills have made and will make a real difference for the vast majority of Americans, and signing the Build Back Better Act into law is just around the corner. With your continued partnership, Democrats will deliver even more progress in 2022. Read about our meetings with party leaders this week.
This week, JDCA leadership was honored to meet with Second Gentleman Douglas Emhoff and White House Liaison to the Jewish Community Chanan Weisman. The Second Gentleman spoke about how his Jewish values and upbringing shape his core beliefs, and how those values relate to the policies of the Biden White House. Our discussion highlighted the fact that our Jewish values inform our political views, and that's why the Democratic Party is the home of the overwhelming majority of Jewish Americans. Read more about our meeting with the Second Gentleman in Jewish Insider.
Jewish Dems also presented Rep. Jamie Raskin (MD-8) with JDCA's inaugural, Defender of Democracy Award. Rep. Raskin's leadership in the fight against Donald Trump and the GOP's attacks on our democracy has been unparalleled. We are grateful for his continued efforts to uphold our democracy and constitution, and for serving as a model of Jewish and Democratic values in Congress and beyond.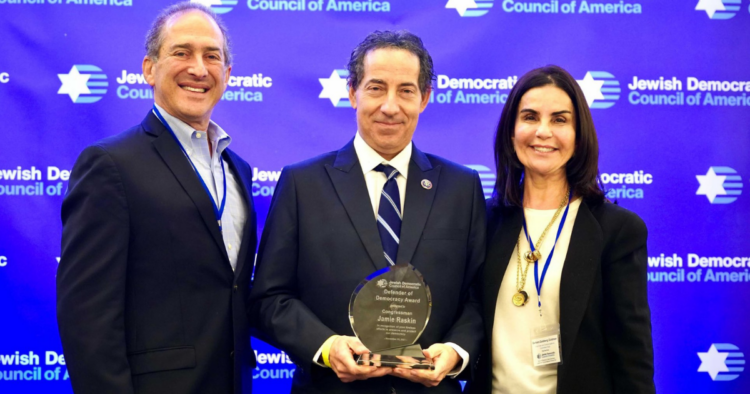 Our meetings with other members of Congress included Senator Sherrod Brown and Representatives Jake Auchincloss (MA-4), Josh Gottheimer (NJ-5), Elaine Luria (VA-2), Kathy Manning (NC-6), Jerry Nadler (NY-10), Jan Schakowsky (IL-9), Brad Schneider (IL-10), Kim Schrier (WA-8), and Debbie Wasserman Schultz (FL-23), where we discussed Democrats' commitment to Jewish values, support for Israel, and understanding of the necessity to fight antisemitism wherever it arises.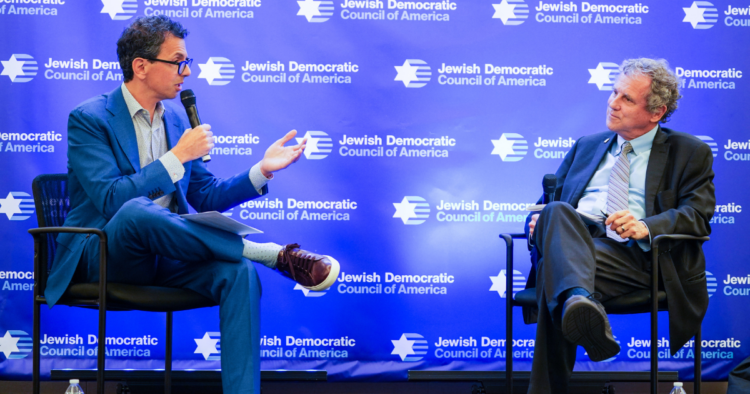 With just under a year left until the midterm elections, Jewish Dems are ready to fight as hard as we can for the candidates and policies that will create positive change in the lives of all people in our country. We're grateful for your partnership, and we're excited to bring you more opportunities to put your values into action in 2022.
We wish you an early Shabbat Shalom,
Hon. Ron Klein,
Board Chair, Jewish Democratic Council of America
Halie Soifer
CEO, Jewish Democratic Council of America