Article
Jewish Dems Celebrate Hanukkah and Our Success in 2022
December 20, 2022
As we celebrate Hanukkah and bring 2022 to a close, Jewish Dems are looking back at all we accomplished together this year. We defied historic odds by expanding Democrats' Senate majority and nearly maintained control of the House. Jewish Dems played a critical role in mobilizing Jewish voters to elect Democrats who share our values, especially in key states that determined the Senate majority. JDCA was effective and impactful, and we made a difference in 2022.
We are incredibly proud of this work and grateful for your support and partnership. Celebrate our shared success by watching JDCA's 2022 highlight reel (a 1.5-minute video), and check out some photos from JDCA's Hanukkah celebrations below.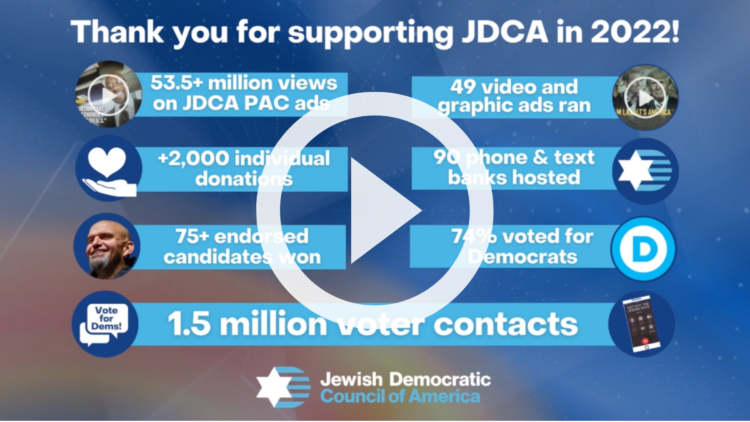 JEWISH DEMS UNOFFICIAL WHITE HOUSE HANUKKAH AFTER PARTY
See more pictures from our Hanukkah celebration here.
SPECIAL MOMENTS AT THE WHITE HOUSE HANUKKAH PARTY
Happy Hanukkah and thank you for your continued support.
Sincerely,
Halie Soifer
CEO, Jewish Democratic Council of America