Friends,
This week demonstrated just how much elections matter. Following the historic 2018 midterm elections, the Democratic majority in the House is moving our country forward. JDCA is at the forefront of this change as the principal voice of Jewish Democrats, helping to shape policy consistent with our values.
This week, JDCA was on Capitol Hill, where we presented our advocacy agenda for the 116th Congress to more than 40 members of the Senate and House, including Senate Democratic Leader Chuck Schumer, House Majority Leader Steny Hoyer, and Chairmen Eliot Engel, Jerry Nadler, Adam Schiff, and many more.
JDCA also celebrated our 84% success rate in the midterm elections with dozens of members of Congress, convened a meeting between the JDCA Board of Directors and Jewish lawmakers, met privately with Senator Schumer and numerous House members, hosted a seminar with foreign policy experts including former U.S. Ambassador to Israel Dan Shapiro, and celebrated the passage of gun safety legislation with House Democrats on the Capitol steps following this historic vote. Read on to learn more about our week and click here to support JDCA's critically important work.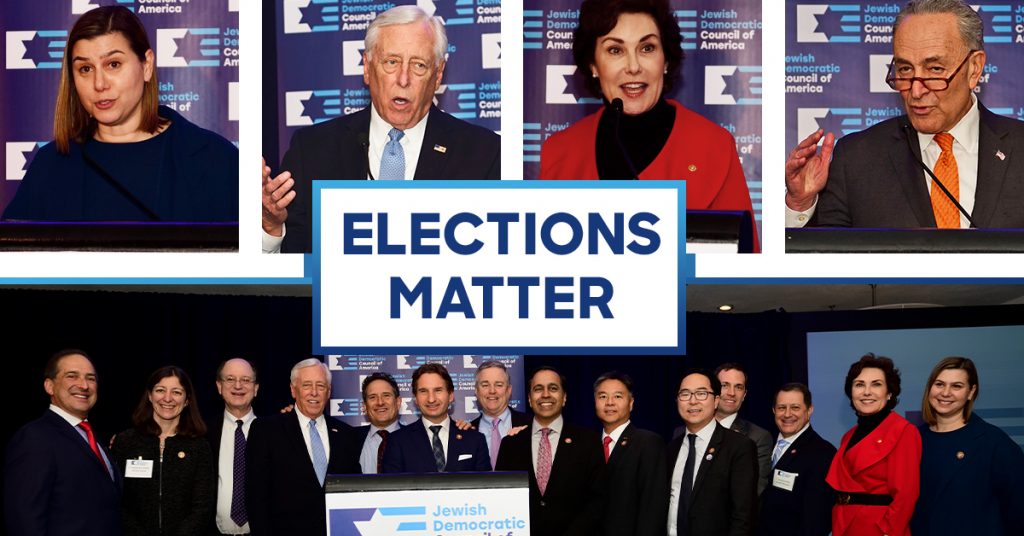 JDCA ON THE HILL
On Tuesday, JDCA hosted an event with more than 200 supporters and 25 members of Congress. Speakers such as Democratic Leaders Chuck Schumer and Steny Hoyer, Senator Jacky Rosen, and Representative Elissa Slotkin emphasized the critical role that JDCA plays not only in winning elections, but in advocating for Jewish and Democratic values on Capitol Hill.
House Majority Leader Hoyer told JDCA, "Without you, I'm not sure we would be in the majority. Your efforts were heroic. Ron [JDCA's Chairman], I want to thank you and everybody associated with this organization, not only in terms of generosity…but also in terms of your engagement because you were concerned about your country."
As Senator Schumer stated at the event, "[It is] so important that we not allow Israel to be a partisan issue, as some on the Republican side are trying to. I don't know of any group that is doing more to prevent that from happening than [JDCA], and to that I say todah rabbah (thank you)."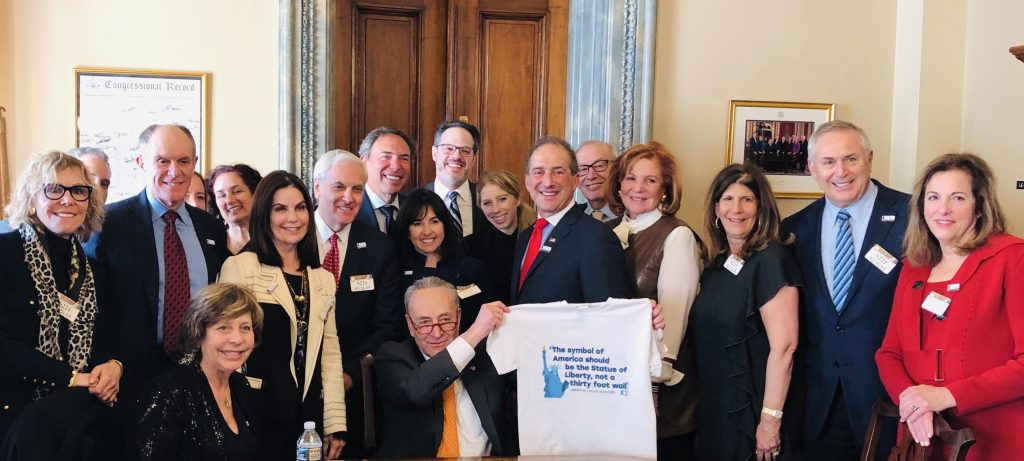 Senator Jacky Rosen of Nevada told JDCA supporters, "All of your voices, they are so needed today. We want to hear the voice of Jewish Democrats and socially-progressive and pro-Israel values. And thank you so much for making a difference for all of us and we're going to march forward together."
Congresswoman Elissa Slotkin, a newly-elected lawmaker from Michigan, affirmed to JDCA, "This organization is extremely needed at this specific moment in time. Rep. Slotkin continued, "…[JDCA] helps me express my Jewish values in the way that I was taught and the way that I know how, which means caring about other people."
Former U.S. Ambassador to Israel Dan Shapiro talked about the U.S.-Israel relationship and JDCA's role. He stated, "Israel also needs the United States itself to be united, to be just, to be a leading force in the international community, to live up to our own values. That is the partnership between two democracies that is the best way we can give our support to Israel. I want to thank JDCA for living out those values."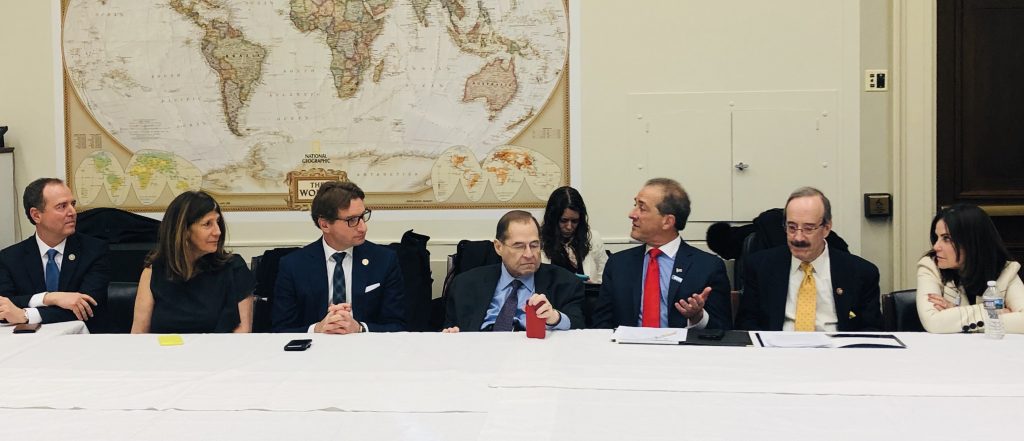 On Capitol Hill, JDCA also met with the Jewish House members, including Chairmen Engel, Nadler, and Schiff, to discuss matters such as combatting anti-Semitism, U.S. support of Israel, and a range of domestic policy issues consistent with our values. JDCA presented lawmakers with our advocacy agenda for the 116th Congress, which highlights our support for legislative action on eight key issues. Click below to see more.
THE WEEK IN REVIEW
On Tuesday, the House voted to block President Trump's unconstitutional emergency declaration on our southern border. The measure now moves to the Senate, where it is just one vote shy of passage. In response to the House's overwhelming rebuke, JDCA reiterated its call for the president to respect the separation of powers.
On Wednesday and Thursday, the House passed two pieces of legislation to confront an actual national emergency – the epidemic of gun violence that has plagued our communities and schools. These two bills strengthen background checks and their passage would never have been possible without Democratic control of the House.
Immediately following the vote, JDCA joined with House Democrats on the Capitol steps to celebrate our historic victory. JDCA's Atlanta-based Board Member Michael Rosenzweig and Executive Director Halie Soifer personally congratulated Georgia Congresswoman Lucy McBath, whose son was the tragic victim of gun violence. Rep. McBath campaigned on gun safety and is now in Congress making a difference on this issue, demonstrating just how much elections matter.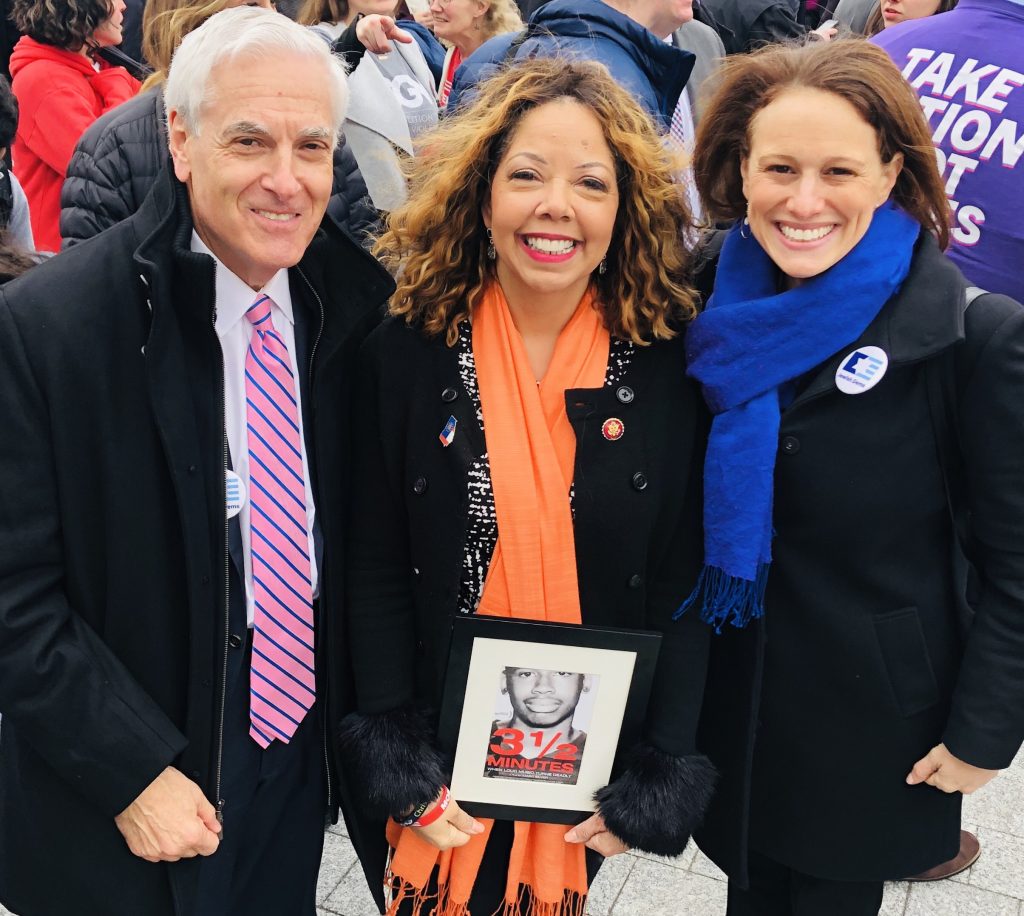 Also on Wednesday, the nation was captivated by Michael Cohen's testimony before Congress in which he asserted – with evidence – that Donald Trump is a racist, a conman, and a cheat. A Republican-controlled Congress would never have allowed such testimony, which JDCA responded to by calling for "moral and ethical leadership," that our country deserves.
On Thursday, we witnessed President Trump's failure to negotiate a nuclear arms control agreement with North Korea. While we were not surprised by the outcome of this summit, JDCA responded that "…we are appalled he [Trump] absolved North Korean dictator Kim Jong Un for the murder of American Otto Warmbier. Americans deserve a president who represents our values and interests at home and abroad and doesn't kowtow to dictators." Elections matter, and 2020 is just around the corner.
Democrats must continue to lead with our values in the 116th Congress in order to take our country in the right direction and win back control of the Senate and the White House. We at JDCA are playing a critical role on Capitol Hill and beyond to achieve these goals, which we know are possible to achieve with your ongoing support.
Shabbat Shalom,
Ron Klein
Chair, Jewish Democratic Council of America
Halie Soifer
Executive Director, Jewish Democratic Council of America