Article
Jewish Dems 2020 Year in Review & Video
December 30, 2020
Since its founding in 2017, the Jewish Democratic Council of America (JDCA) has established itself as the national voice of Jewish Democrats. While 2020 will be remembered as a year of immense challenges, it was also a year of great accomplishment, including for JDCA. Jewish Dems played a critical role in restoring the soul of our nation by helping to elect Joe Biden the 46th President of the United States. We're incredibly proud of what we accomplished with your help, building a movement that created change.
In the 2020 election, 77% of Jewish voters supported Joe Biden, and the Jewish Democratic vote proved decisive for securing wins in key swing states such as Georgia, Pennsylvania, Arizona, Nevada, Michigan, and Wisconsin. In addition to Biden-Harris, JDCA endorsed 120 House and Senate candidates. We contacted more than 636,000 voters and deployed over 500 digital ads for 73 Democratic candidates, which reached voters 45.1 million times. We held 267 events, including 26 community conversations, and more than 4,400 of you joined us as volunteers.
Our #JewishDemslnAction movement proved that our values can lead to victory, and we are incredibly grateful for your partnership and support in 2020. We look forward to working with you to advocate for Jewish Democratic values in 2021 and beyond.
Read and share our 2020 Year in Review by clicking the image below, and don't forget to check out our (short) 2020 year in review video featuring some of our favorite speakers from the past year.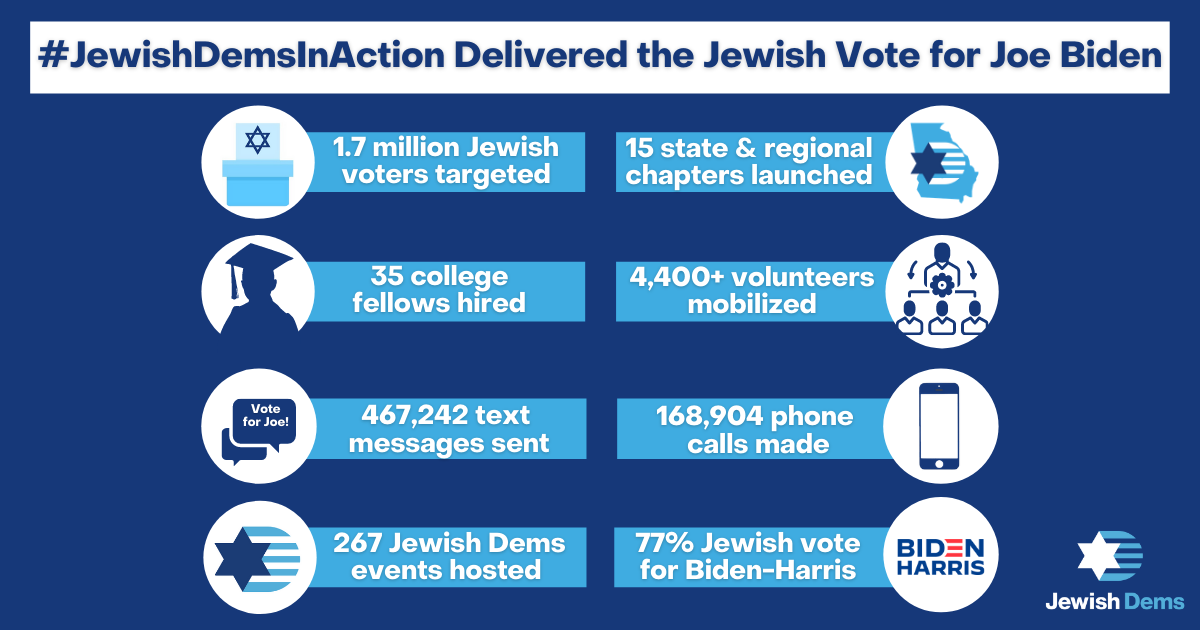 Wishing you health and happiness in 2021,
Ron Klein,
Chair, Jewish Democratic Council of America
Halie Soifer
Chief Executive Officer, Jewish Democratic Council of America