Article
How lighting your menorah can help flip the Senate blue
December 11, 2020
Happy Hanukkah! As we celebrate the Festival of Lights, we invite you to join us on the virtual (not quite midnight) train to Georgia to help elect Jon Ossoff and Rev. Raphael Warnock. #JewishDemsInAction have accomplished a lot in 2020 – as summarized in the menorah below! – but our election work isn't done. Together, we can shine a light on the vital work that remains to be done between now and January 5 to ensure Joe Biden and Dems are successful.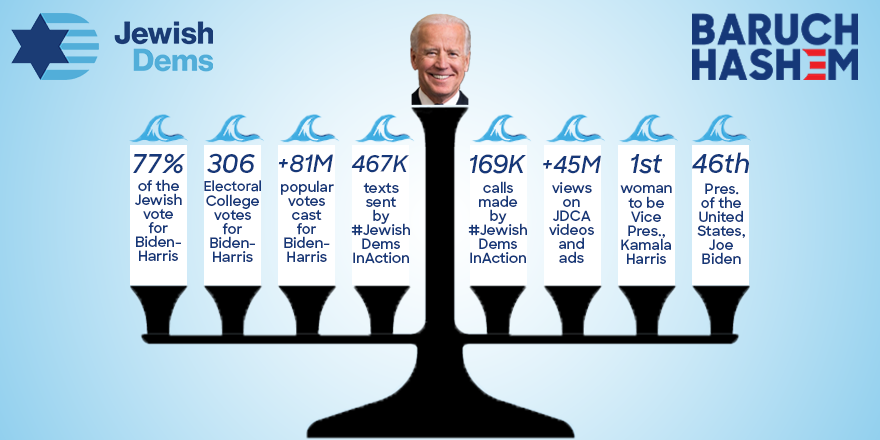 Join Jewish Dems from across the country on Sunday, December 13th at 6pm ET for a special Hanukkah program and candle-lighting ceremony featuring live performances by musicians David Broza and Peter Yarrow of Peter, Paul and Mary. Following their music and our menorah lighting, we will make calls to mobilize Jewish voters in Georgia in support of Senate candidates Jon Ossoff and Rev. Raphael Warnock! Sign up here.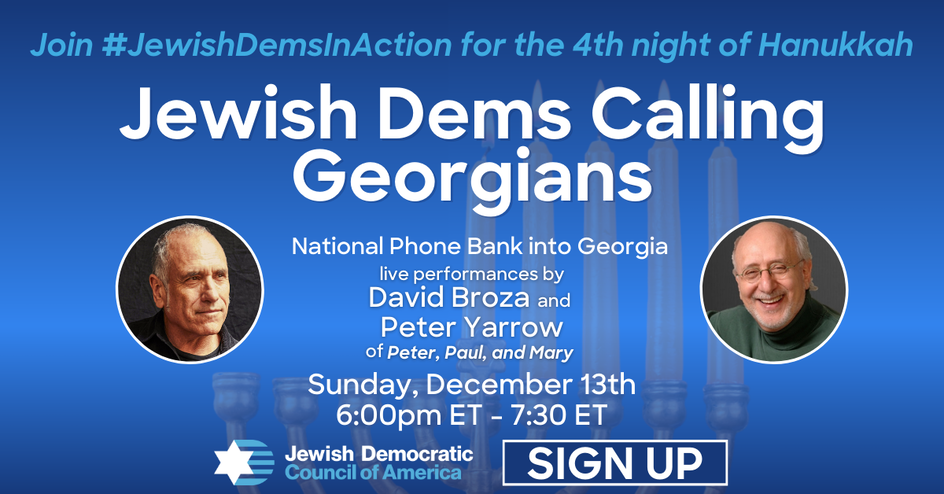 But just like the miracle of Hanukkah, our virtual midnight train to Georgia continues. Join us on Monday, December 14th at 6:00pm ET, we'll kick-off our fifth night of Hanukkah festivities and phone banking with some inspiring words from Atlanta community leader, Rabbi Joshua Lesser. Sign up here, and click on the calendar below to see our additional events throughout the month of December.
Our special event with Georgia Senate candidates Jon Ossoff and Rev. Raphael Warnock, moderated by former U.S. Ambassador to Israel Dan Shapiro, received national and international coverage, as it was the first and last major Jewish event of these special Georgia runoff elections.
Haaretz quoted JDCA Board member and Georgia Chapter leader Michael Rosenzweig, who noted that there are about 100,000 registered Jewish voters in Georgia, with some 36,000 identifying as Democrats and 50,000 as Independents. That's why our efforts to mobilize the Jewish vote with Georgia could prove to be crucial in these close elections. Read more in Haaretz about how the Jewish vote will decide control of the Senate below.
THE JEWISH VOTE WILL DECIDE GA
Finally, we're thrilled to announce that Halie Soifer has been elevated from Executive Director to Chief Executive Officer of JDCA, demonstrating our shared successes and the growth of our organization and movement in the past year. Read more about Halie's promotion in the Jerusalem Post.
Make sure to check out the Jewish Dems store, where you can find last-minute Hanukkah gifts like JDCA masks, and "Warnock Your Ossoff" and "Keep Georgia Blue" shirts and stickers! Click on the image below and use the code JDCA2020 at checkout for a 20% discount!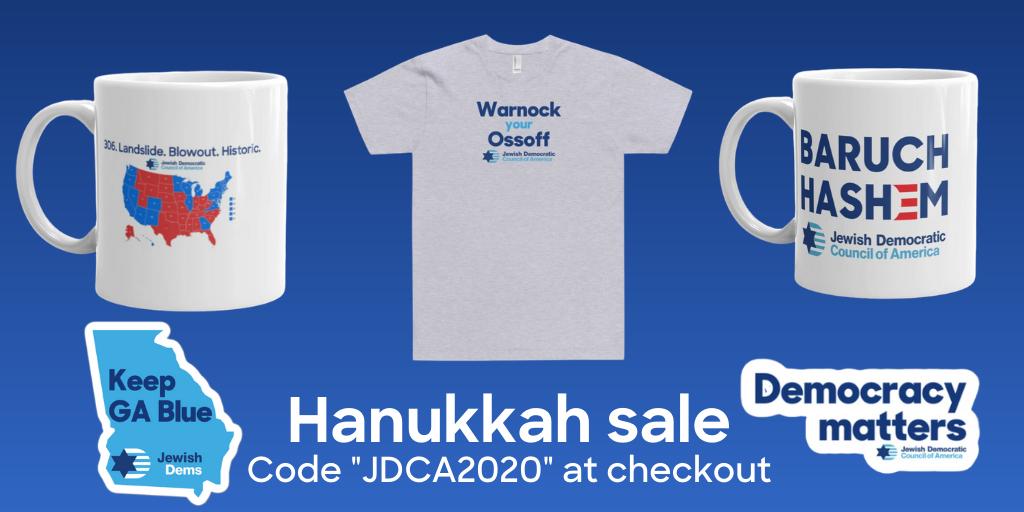 We have much work to do, and with your continued support, we will take back the Senate and continue to give voice to our values.
Shabbat Shalom and Happy Hanukkah,
Ron Klein,
Chair, Jewish Democratic Council of America
Halie Soifer
Chief Executive Officer, Jewish Democratic Council of America