Article
Grateful that Democrats Deliver & For Your Support
November 24, 2021
Jewish Dems have much to be grateful for this Thanksgiving. We're grateful for your continued support of JDCA and our crucial work delivering the Jewish vote for Democrats who share our values. We're grateful for the American Rescue Plan and the Bipartisan Infrastructure Deal, and we look forward to the Build Back Better Act passing in the Senate. And we're thankful for an administration that leads with Jewish and Democratic values. It has been incredibly meaningful to see Jewish traditions brought to the Vice President's Residence. Read more here about our conversation with Second Gentleman Douglas Emhoff and our shared values.
We're especially grateful that Democratic leadership helped ensure COVID-19 vaccines are readily available to all people over the age of five nationwide. One year after the 2020 election, it's clear that Democrats are delivering for the American people. Elections matter, and your hard work helped Dems take back Congress and the White House. Now, President Biden and Democrats are rebuilding our economy and leading us out of the pandemic. We are grateful.
Most of all, we are grateful to live in a country where we can continue to advocate for our values. Republicans are threatening our democracy with partisan gerrymandering, repetition of Trump's Big Lie, voter suppression, and obstruction of vital legislation and nominations in Congress. Everything is on the line in 2022, and with your help, we will continue to build on the progress we've made so far. But we can't become complacent or sit this election out. Click below to help us defeat the Republicans turkeys threatening our democracy.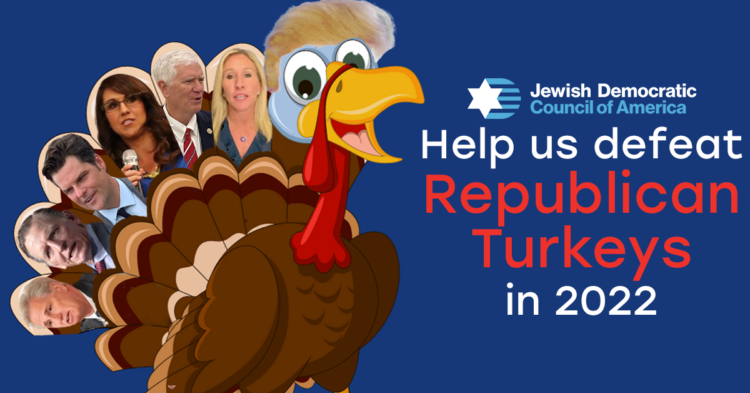 Many of us will be celebrating Thanksgiving in person with friends and family for the first time since the start of the pandemic. We're grateful for the scientists and doctors who have kept us safe and for the life saving work developing the COVID-19 vaccines. We wish you a safe and healthy holiday with family and friends, and we are grateful for you.
Happy Thanksgiving,
Hon. Ron Klein,
Board Chair, Jewish Democratic Council of America
Halie Soifer
CEO, Jewish Democratic Council of America