Article
GOP Hypocrisy is Bad for Jews
February 4, 2022
The GOP is not hiding its intention to sabotage President Biden's policy agenda, stall crucial nominations, align with extremists, attack our democracy, and suppress voting rights. What still may come as a surprise to some is the impact the GOP's political games have on America Jews. As the political home of Jewish Democrats, we refuse to stay silent in the face of Republicans' dangerous political agenda, which endangers our democracy and community. Read how JDCA took action this week, and join our movement to advance Jewish and Democratic values and elect those who align with our values. And if you haven't already, join us as a member of JDCA in 2022.
FINALLY – HEARING SCHEDULING FOR DR. LIPSTADT
Republican hypocrisy continues to impact Jews not just in the United States, but also around the world. It took 186 days and a recent rise in antisemitic incidents for Republican Senators to stop blocking Dr. Deborah Lipstadt's nomination to serve as Special Envoy to Monitor and Combat Antisemitism. As JDCA said in The Forward, "Dr. Lipstadt should have been in this role right after President Biden announced her nomination" nearly 200 days ago.
Instead, Dr. Lipstadt has a hearing next week, which will likely be politicized by Republican senators, and there is no guaranteed confirmation vote. According to Aaron Keyak, Deputy Envoy for Antisemitism who is currently  serving in this role at the State Department, "Every day that passes without that leadership in our office, our compelling – even lifesaving – work is hampered." He has personally witnessed "how much more we would be able to strengthen our efforts" to strengthen the security of Jews around the world if Lipstadt were confirmed.
You helped us put pressure on Republican Senators to schedule the hearing, and now we need your help to get Dr. Lipstadt confirmed. Read more about JDCA's response in Haaretz, and tell your Senators that you reject Republican obstruction and they must confirm Dr. Lipstadt.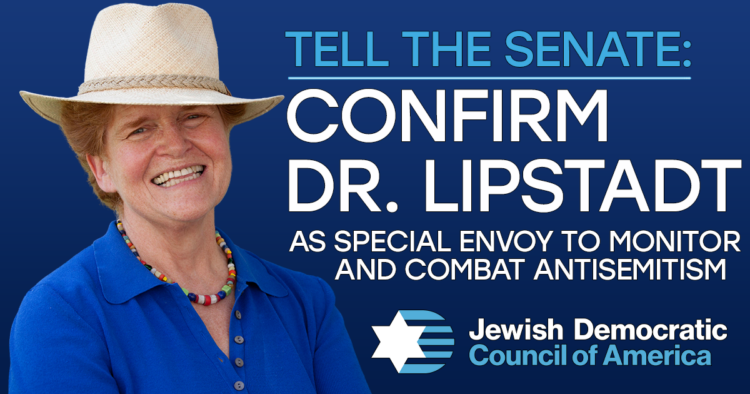 NAZIS IN FLORIDA AND GOP HYPOCRISY
Last weekend, Nazis took to the streets in Florida, waving swastikas alongside Trump flags, and chanting antisemitic slurs. In response, Republicans like Florida Governor Ron DeSantis put their hypocrisy on full display. Instead of standing with Jewish Americans and against right-wing extremism, DeSantis belittled the Nazi demonstrations and attacked Democrats. As JDCA said in Newsweek, this was "blatant hypocrisy and gaslighting here from Ron DeSantis, who refuses to acknowledge the extremism tolerated, amplified, and even embraced by his party at the highest level. The neo-Nazis chanting in the Florida streets weren't there because of Democrats, and DeSantis knows it." Read more about our response in the Cleveland Jewish News.
PROTECT OUR SYNAGOGUES
The recent attack on the Beth Israel Synagogue in Colleyville, Texas demonstrated the threats facing our community, and the need to ensure that our synagogues, schools, and community centers are secure. Jewish Dems support Senate Majority Leader Chuck Schumer's leadership in urging Congress to increase funding for the Non-Profit Security Grant Program to harden security at our places of worship and religious institutions. With rising threats, it is crucial for Congress to act now to protect all at-risk communities. JDCA supports efforts to increase this funding in the forthcoming government spending bill.
BIDEN ADMIN REJECTS 'ABSURD' REPORT
Earlier this week, the Biden Administration rejected egregious language used in a new report issued by Amnesty International UK accusing Israel of engaging in apartheid. Jewish Dems joined the Biden administration in unequivocally rejecting the report, and we agree with the administration that the report's language is "absurd." Read more about the administration's and JDCA's response in the Times of Israel.
WEAR YOUR PRIDE ON YOUR SLEEVE