Article
GOP Hypocrisy Fails Jewish Americans…Again
May 20, 2022
This week, the Republican Party continued its dangerous hypocrisy and failure to stand up for Jewish Americans. JDCA welcomed the passage of H.Res.1125, a resolution condemning rising antisemitism, and we're grateful for the leadership of Leader Steny Hoyer (MD), Reps. Debbie Wasserman Schultz (FL), Brad Schneider (IL), and other Democrats who fought for the passage of this resolution. Mere hours after nearly every member of the House voted to condemn rising antisemitism, and during Jewish American Heritage Month no less, nearly every House Republican voted against the Domestic Terrorism Prevention Act, which mandates essential steps to combat rising antisemitism and domestic extremism. As these two votes demonstrate, when it comes to standing up for Jewish Americans, Republicans are all talk and no action.
Last week, hundreds of Jewish Dems joined the second annual JDCA Week of Action, where we urged over 50 members of Congress to pass the Domestic Terrorism Prevention Act. This important bill has been a legislative priority for Jewish Dems for the past two years because it enacts actual steps to combat the dangerous scourge of white supremacy. We are thrilled it has now passed the House, despite 203 Republican votes against it. We now call on its swift passage in the Senate so it can be signed into law by President Biden, and urge you to join us.
DEMAND THE SENATE PASS THE DTPA
From expanding access to healthcare, ending gun violence, preserving our rights, and combating antisemitism and white supremacy, the Republican Party is failing Jewish Americans. Read JDCA's full statement from this week on the GOP's hypocrisy in failing to combat white supremacy, read about our support for the Domestic Terrorism Prevention Act in Jewish Insider, and tell your Senators to pass the Domestic Terrorism Prevention Act.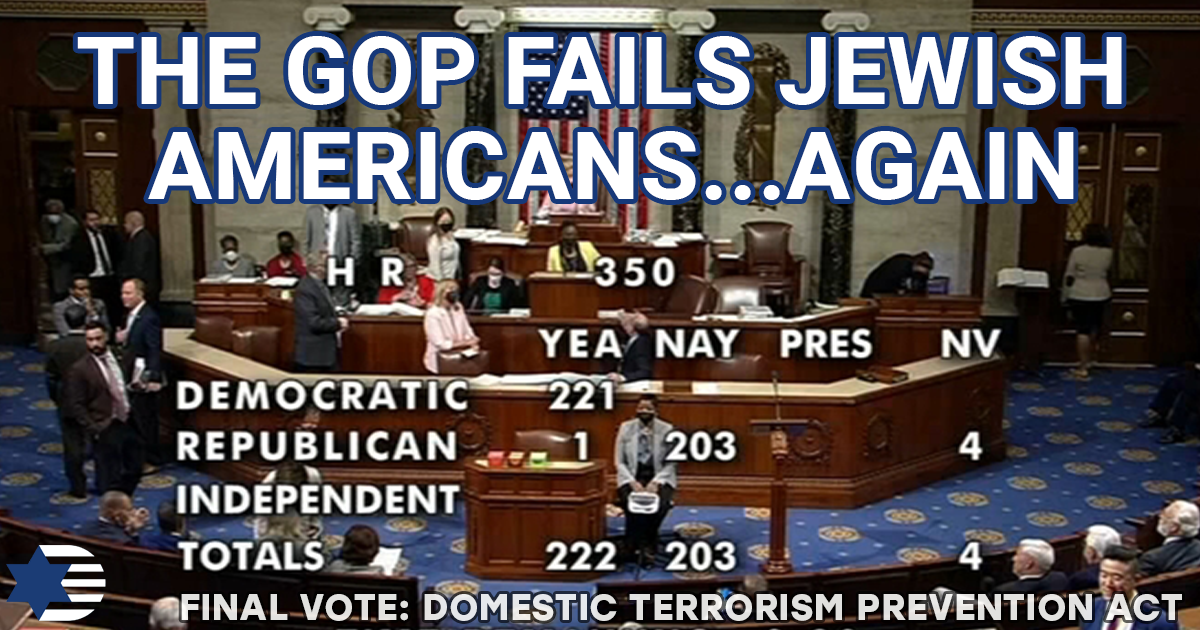 Republicans' outrageous hypocrisy this week included their refusal to take action to stop price gouging on gasoline and – unconscionably – to address the national shortage of baby formula. President Biden signed the Defense Production Act to speed up the production of baby formula and House Democrats passed $28 million for emergency funding to address the shortage. Astoundingly, 192 Republicans voted against the funding, despite their calls for action and attempts to blame Democrats for the shortage. In reality, Donald Trump made it nearly impossible for the U.S. to import baby formula from Canada, which could have eased this shortage.
Democrats also passed legislation in the House to stop oil companies from increasing gasoline and home energy fuel prices in an "excessive" manner that hurts Americans. Not a single Republican voted to hold oil companies accountable and to lower gas prices for Americans. The GOP's obstruction, hypocrisy, and bad policies are putting Americans in harm's way.
JEWISH DEMS HOST REPS. NADLER AND MALONEY IN NYC
At an event for JDCA supporters in New York, JDCA was honored to be joined by two champions of our Jewish and Democratic values in Congress — Reps. Jerry Nadler and Carolyn Maloney. Both discussed efforts to advance key priorities of Jewish voters, including protecting abortion access, combating antisemitism and extremism, and defending democracy amid unprecedented Republican attacks. We're grateful for their partnership and leadership in advancing the values of Jewish voters, and we're glad they could both join New York Jewish Dems.
JEWISH DEMS FOR ABORTION JUSTICE
Jewish Dems were proud to join thousands of other Jews and allies for the Jewish Rally for Abortion Justice. We were honored to co-sponsor this important rally and we're grateful for the leadership of our friends at the National Council of Jewish Women (NCJW).
If you are one of the 83% of Jewish Americans who support abortion rights, wear your pride on your sleeve. Check out JDCA's store for our 'Jewish Dems for Abortion Rights' signs, shirts, hats, and more.
Thank you for your continued support and partnership.
Shabbat Shalom,
Hon. Ron Klein,
Board Chair, Jewish Democratic Council of America
Halie Soifer
CEO, Jewish Democratic Council of America