Article
Good week for Dems
November 9, 2023
We have a lot to celebrate from this week's elections. Despite Republican attacks on reproductive freedom, Ohioans cemented abortion rights in the state constitution. Kentucky's Democratic Governor Andy Beshear won re-election in a state that Trump won by nearly 26%. Virginians flipped the House and kept their Senate majority, stopping Governor Glenn Youngkin and Virginia Republicans from imposing a 15-week abortion ban. In Pennsylvania, Democratic Supreme Court candidate Dan McCaffrey won by over 6%, giving Democrats a 5-2 majority.
Democrats did the hard work to win in 2023, and our work is not over. The 2024 election cycle is underway — one year away as of this week — and JDCA and JDCA PAC are taking action earlier than ever before to endorse candidates and engage Jewish voters through ads, grassroots activism, and engaging with candidates who share our values.
JDCA will be among dozens of organizations and tens of thousands of people attending the March for Israel next week, where we will march in support of Israel, against antisemitism, and demand the release of hostages. March with us in Washington, D.C. on Tuesday, November 14 to show our support of Israel at this difficult time. Get more information at www.marchforisrael.org, and if you are interested in meeting up with JDCA at the rally, click here or the image below and sign up, and we'll send you more info!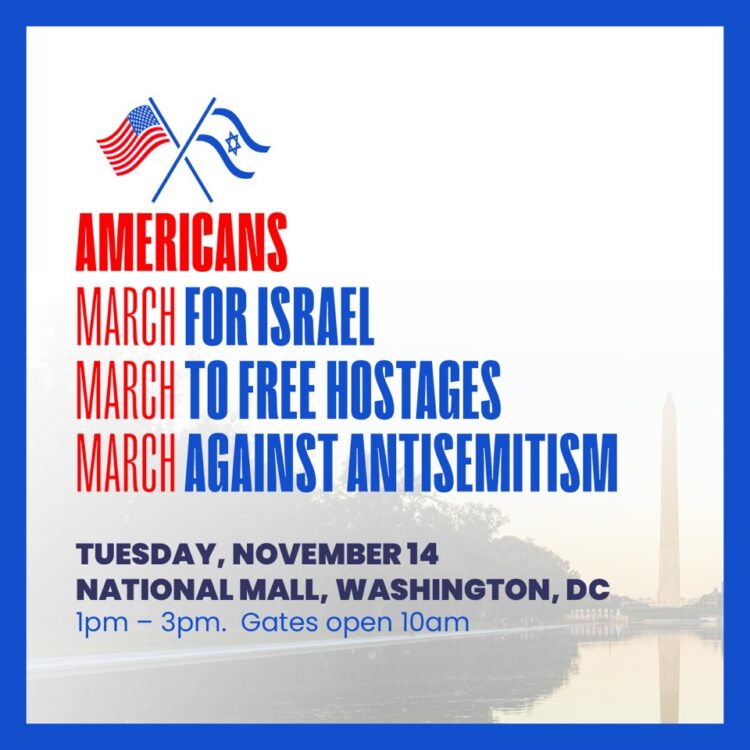 At last night's presidential primary debate, the Republican Party and the Republican Jewish Coalition (RJC) showed America why, for decades, nearly three-quarters of Jewish voters have supported Democrats. The Republican candidates on stage attacked immigrants, Muslims, and reproductive rights. Despite rising antisemitism, they again failed to condemn Donald Trump – the leader of the Republican Party – for emboldening white supremacists and antisemites. They also failed to condemn Trump and MAGA Republicans' election denialism, incessant attacks on our democracy, and incitement of an insurrection. The GOP debate last night proved that our work at JDCA as the political home and voice of Jewish voters in support of Democrats who share our core values has never been more important. The debate was another cynical attempt by Republicans to use Israel and Jewish Americans to score cheap political points, but the overwhelming majority of Jewish voters have been – and will remain – pro-Israel, pro-Biden, Democratic voters, whom we're proud to represent. Read and share our key facts on the crisis in Israel and how President Biden and Democrats are stepping up for Jewish Americans.
Thank you for your continued support of JDCA and our work to create a just and equitable society, safe and secure Jewish communities, and strong and vibrant democracies in the United States, Israel, and around the world. We hope to see you next week in Washington, D.C.
Sincerely,
Hon. Ron Klein
Board Chair, Jewish Democratic Council of America
Halie Soifer
CEO, Jewish Democratic Council of America