Article
Finish the Job
February 10, 2023
This week, in his State of the Union address, the President made clear what Jewish Dems have long known:
President Biden is a champion of the causes that matter most to a majority of Americans, including Jewish Americans, and he's delivering real results for the American people.
An overwhelming 77% of Jewish voters helped elect President Biden in 2020. Two years into his administration, he has achieved historic progress for the American people by growing the economy, creating a record 12 million jobs, and ensuring the lowest unemployment rate in decades. He's also taken meaningful action on climate change, gun violence, infrastructure, and prescription drug prices. He's worked to defend our democracy, promote equality, and restore the soul of our nation by taking action against the rise of antisemitism and right-wing extremism.
Are you and others not hearing enough about these achievements? Download and share our image summarizing President Biden's accomplishments during his first two years in office. Want to take action to help advance the President's and Democrats' policy agenda? Write to your member of Congress and call on them to expand healthcare for all Americans and restore the Child Tax Credit. Finally, read our statement on the State of the Union (SOTU), and keep reading for more, including a special message for Jewish Dems from Senator Jon Ossoff (GA).
EXPAND HEALTHCARE        EXPAND THE CHILD TAX CREDIT
Also this week, Halie represented JDCA at a high-level event at the United Nations on international efforts to combat antisemitism hosted by the United States. Speakers included Second Gentleman Douglas Emhoff, Ambassador to Monitor and Combat Global Antisemitism Deborah Lipstadt, and American Jewish Committee CEO Ted Deutch. The panel was moderated by Jewish Dems New Leadership Council Member Sarah Hurwitz. We strongly agree with the Second Gentleman's warning to the UN that "any threat to one community is a threat to all communities," and we're grateful for the Biden administration's leadership, rallying the international community to take action to combat the scourge of antisemitism.
MEET THE MEMBER: SEN. JON OSSOFF
This week, JDCA's 'Meet the Member' series features Georgia Senator Jon Ossoff. Sen. Ossoff's victory alongside Sen. Rev. Raphael Warnock in 2021 was historic, marking the first time Georgia elected a Jewish senator and a Black senator, delivering for Democrats control of the Senate. In the past two years, Sen. Ossoff has been a partner and leader in Congress on issues that matter to Jewish Dems and a phenomenal representative of the people of Georgia, and we look forward to continuing to work with him. Keep reading for his personal reflections on what motivates him to do this work as a Jewish Democrat.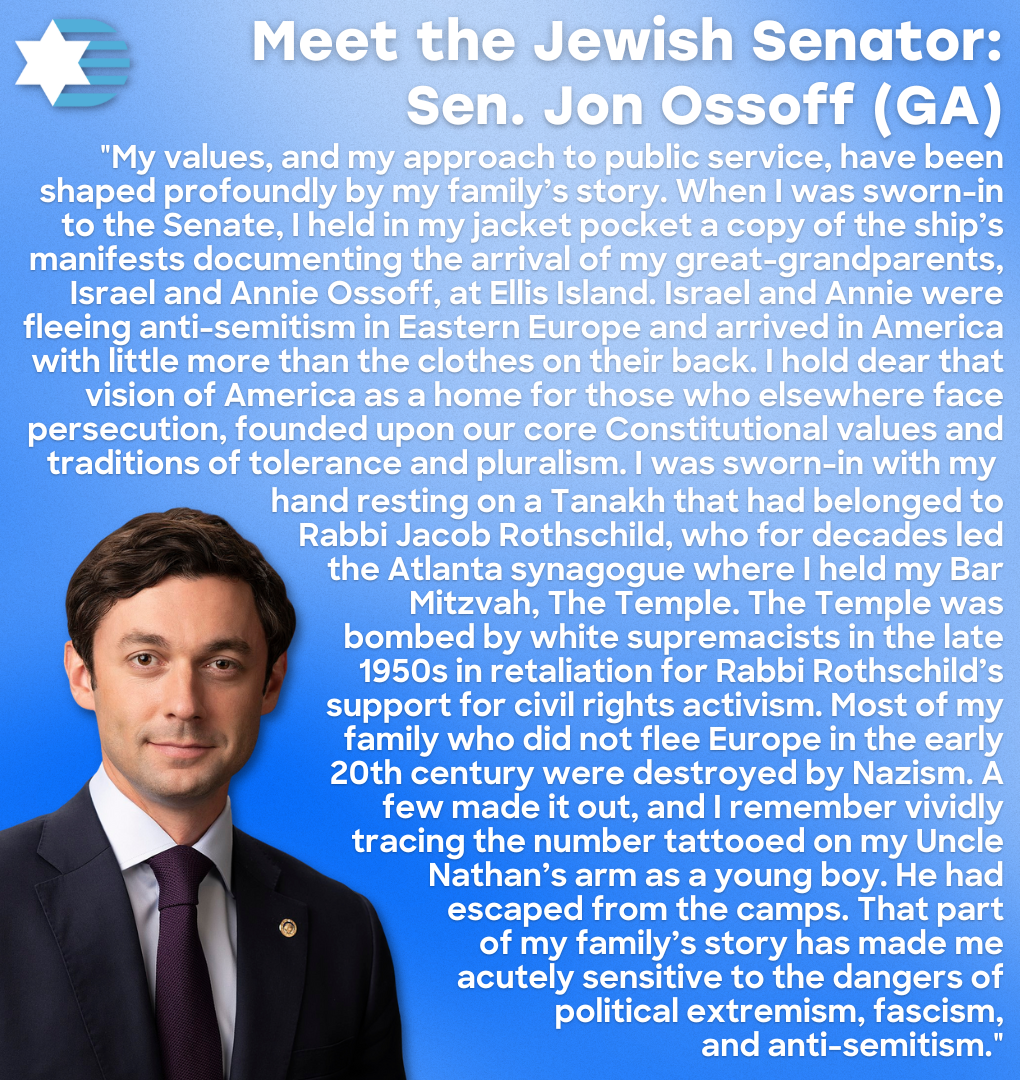 Thank you for your continued support and partnership. We're grateful to have you as a part of our movement.
Shabbat Shalom,
Hon. Ron Klein
Board Chair, Jewish Democratic Council of America
Halie Soifer
CEO, Jewish Democratic Council of America