Article
Fight Antisemitism on International Holocaust Remembrance Day
January 27, 2022
Today is International Holocaust Remembrance Day, a time to reflect on the immense tragedy of the Shoah and honor the six million Jews murdered at the hands of the Nazis. Today, we mourn for those lost and recommit to the promise of "never again."
Since the beginning of the pandemic, we have witnessed anti-mask and anti-vaccine conspiracy theorists making obscene comparisons to the Holocaust. Republican elected officials frequently accuse Biden administration officials of being 'Nazis' or 'Gestapo' for enforcing public health efforts. They share Holocaust images and distort the darkest moments of our history for their own political gain. At a time of rising antisemitism, including the third terrorist attack on a synagogue in just over three years, American Jews unequivocally reject these vile, inappropriate, and all-to-frequent exploitative Holocaust comparisons.
Make no mistake – the Republican Party is deliberately using language that emboldens antisemites and extremists. A new report by the ADL found that there are more than 100 extremists running for office, all of whom are Republicans. We have also recently learned that the National Republican Senatorial Committee (NRSC) has spent at least half a million dollars on 52 Facebook advertisements urging viewers to "reject" President Joe Biden's "authoritarian" vaccine mandates. Most of these ads feature pictures of President Biden in menacing poses. The ads have been viewed over 10 million times, and antisemitic comparisons of vaccines to the Holocaust have become entrenched in the Republican Party.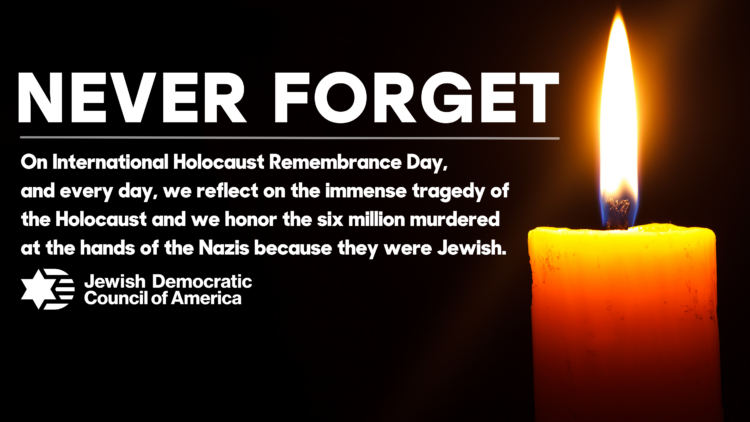 The United States Holocaust Memorial Museum explains that Holocaust distortion "misrepresents established facts about the Holocaust" and "minimizes its impact." That's exactly what Republicans are doing when they compare public health measures to the Holocaust.
President Biden commemorated this solemn day by announcing new nominees to the United States Holocaust Memorial Council, including JDCA Board Member Susie Stern. Susie has dedicated her life to serving the Jewish community, and we know she will serve in this role with great distinction. The current rise in antisemitism reinforces the importance of educating the next generation about the Holocaust.
As we honor the six million Jews lost in the Shoah, it has never been more urgent to combat and reject antisemitic conspiracy theories and Holocaust distortion. Dr. Deborah Lipstadt is one of the world's foremost experts at exactly that, yet Senate Republicans have blocked her nomination as Special Envoy to Monitor and Combat Antisemitism for nearly 200 days. On this International Holocaust Remembrance Day, take action by telling your senators that you reject the Republican obstruction of Dr. Lipstadt's nomination and urge them to work to ensure she is swiftly confirmed.
The fight against extremism and antisemitism is linked to the fight for our democracy. Join us TONIGHT at 7:30 p.m. ET/4:30 p.m. PT with JDCA's Students of New York for a National Conversation on Voting Rights and Redistricting at 7:30pm ET/4:30pm PT. We will hear from Harold Ekeh, Co-Founder of Every Vote Counts (EVC); Amanda Litman, Co-Founder and Co-Executive Director of Run for Something; and Jacob Carrel, Equal Justice Works Fellow at the National Redistricting Foundation.
Thank you for your continued partnership and support.
Sincerely,
Hon. Ron Klein,
Chair, Jewish Democratic Council of America
Halie Soifer,
CEO, Jewish Democratic Council of America