Article
Exciting Events To Flip the Senate Blue
November 30, 2020
We hope you had a peaceful and safe Thanksgiving. As we reflected on everything there is to be thankful for, we were reminded that there is still work to do, which starts with flipping the Senate blue. That's why we're doing everything we can to elect Georgia Democrats Jon Ossoff and Rev. Raphael Warnock to the U.S. Senate. Democrats need to win both seats to gain control of the Senate from Mitch McConnell, and with your help, we will once again be successful.
Join us TOMORROW, Tuesday, December 1 from 7:00-8:30 PM ET to kick off our Jewish Dems Georgia Senate campaign. We'll hear from Georgia Rep. Lucy McBath about the critical issues at stake in this election, and make calls to voters in Georgia. To sign-up, click here!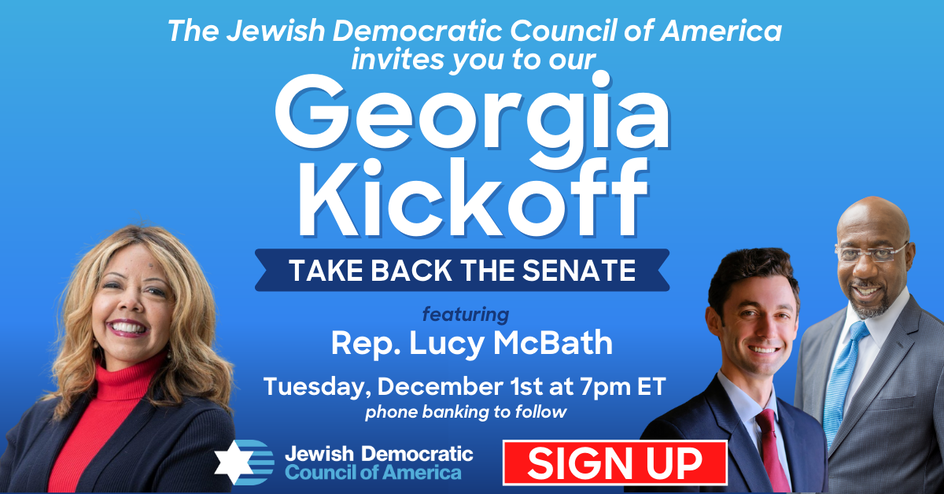 Join us for a special Jewish community forum with Georgia Senate candidates Jon Ossoff and Rev. Raphael Warnock on Tuesday, December 8 from 3:00-4:00 PM ET. The candidates will discuss issues of concern to the Jewish community with moderator Dan Shapiro, former U.S. ambassador to Israel. RSVP now to reserve your spot by clicking on the image below.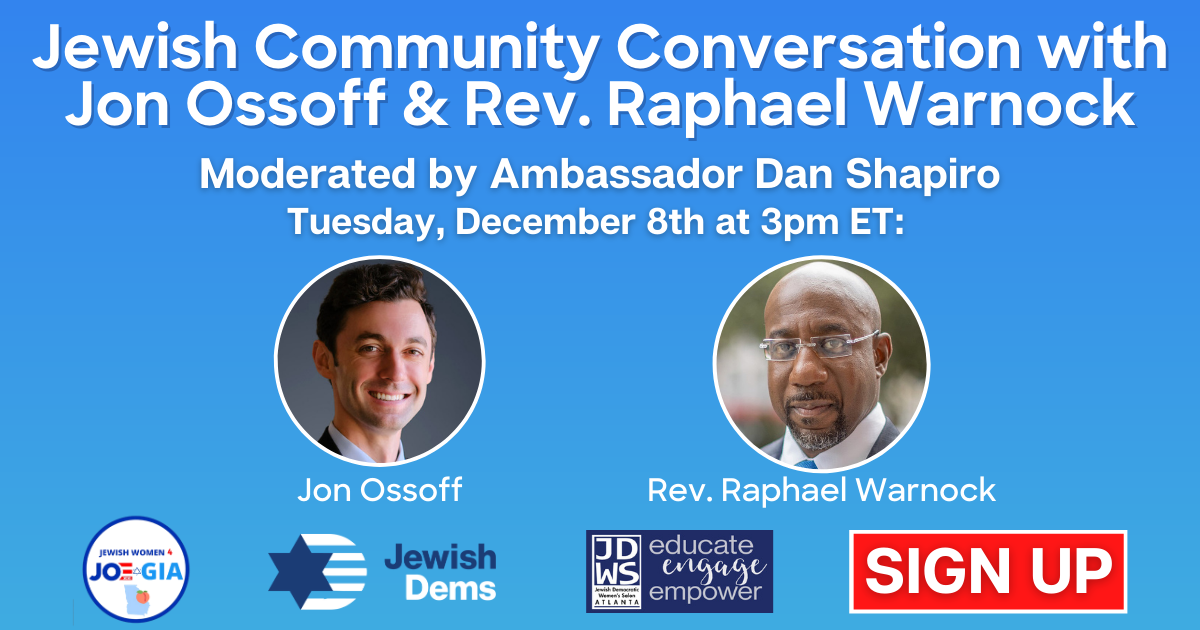 Starting Wednesday, December 2, join Jewish Dems for one of our 25 phone banking opportunities leading up to the January 5 election, and check out our Georgia Election Hub and the many opportunities to get involved.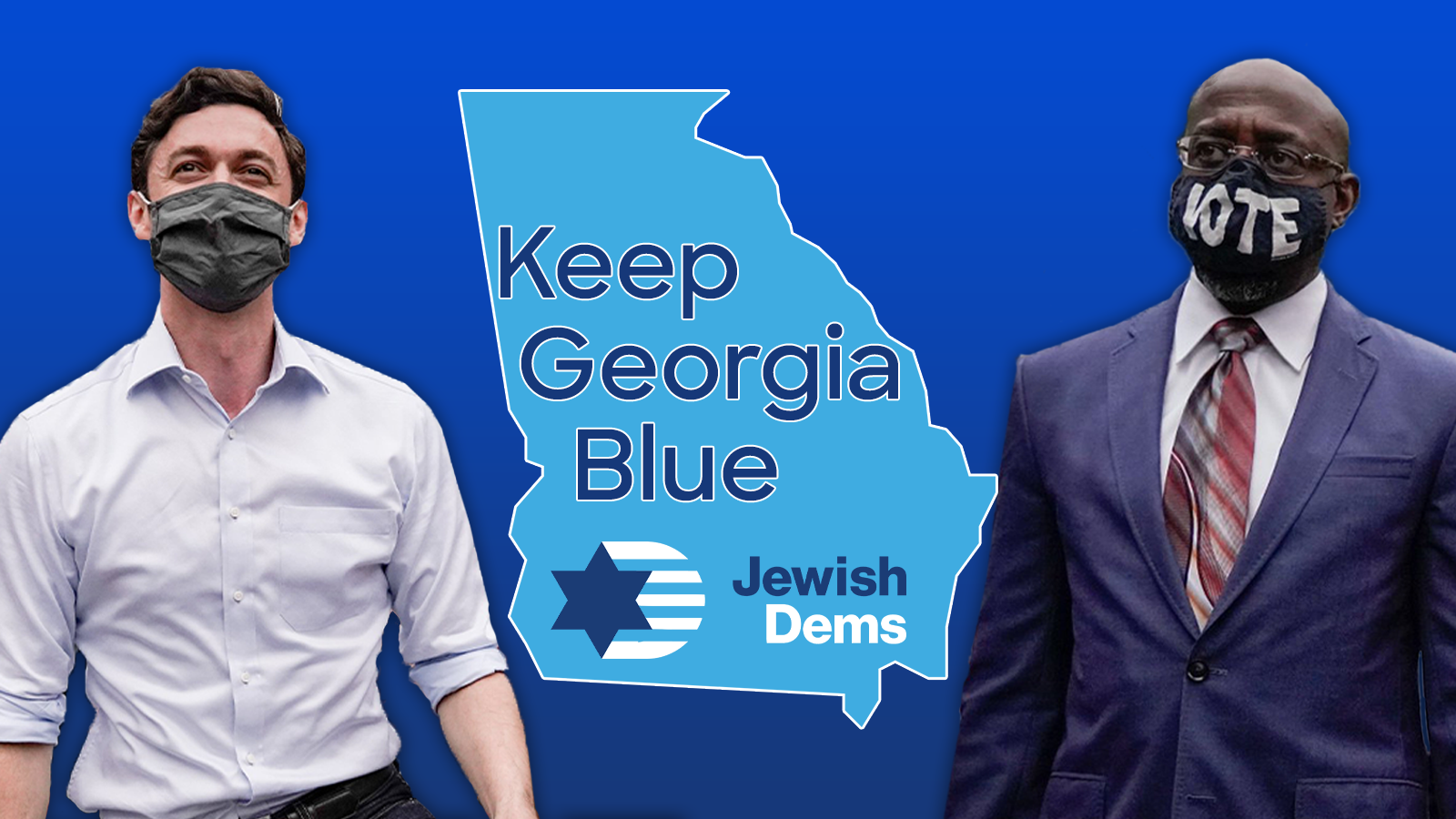 Tomorrow is Giving Tuesday. As you consider where you're investing your funds, consider supporting JDCA's Georgia campaign by clicking here or on the button below to donate. You can also text WIN-GA to 243725 to donate instantly. Every dollar counts.
With Hanukkah fast approaching, make sure to check out the Jewish Dems store, where you can find new items like JDCA masks, and "Warnock Your Ossoff" and "Keep Georgia Blue" shirts and stickers! And for Cyber Monday, nearly every item is 25% off. Click on the image below.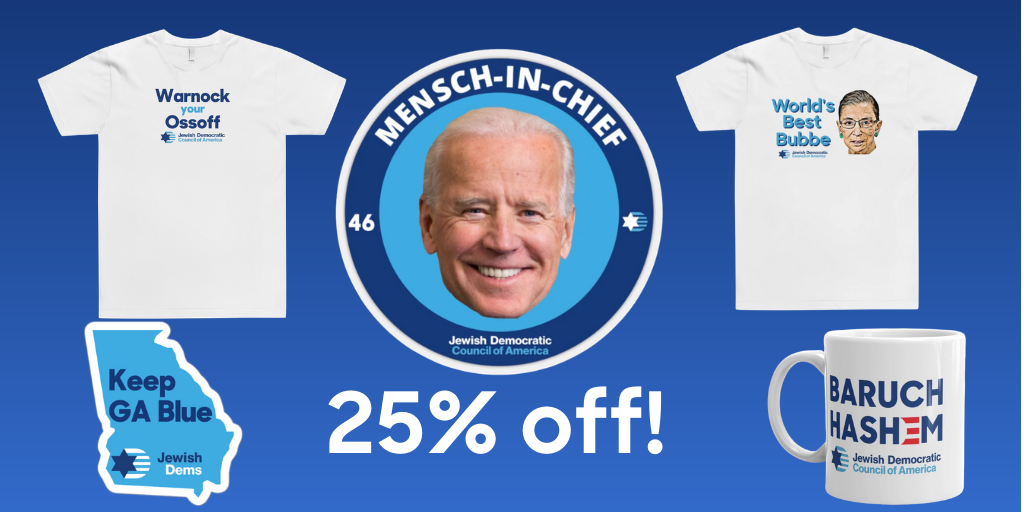 The time is now to take action. We have much work to do, and with your continued support, we will continue to prevail in the fight for our values.
Sincerely,
Ron Klein,
Chair, Jewish Democratic Council of America
Halie Soifer
Executive Director, Jewish Democratic Council of America