Article
Dr. King's Legacy & Responding to Terror in Colleyville
January 17, 2022
As we commemorate the enduring legacy of Martin Luther King Jr. today, the future of American democracy remains imperiled and voting rights are at risk. This week, Senate Democrats will vote on the Freedom to Vote: John R. Lewis Voting Rights Act. Due to Republican obstruction, however, the future of this critically important bill — which aims to combat Republican-led voter suppression and election subversion — remains in question. In an increasingly polarized political environment, the Jewish community is overwhelmingly united in defending democracy, protecting the right to vote, and continuing Dr. King's legacy of social and racial justice. 
As Senator Raphael Warnock (D-GA) said last week, the policies in the John Lewis Voting Rights Advancement Act and Freedom to Vote Act are "the legacy of Dr. King, and if you would give lip service to his name, you need to find yourself on the right side of history pushing to get these bills done." Jewish Dems Strongly Agree.
Dr. King's daughter, Dr. Bernice King, called on us all today to use our platforms "to do what Dr. King would do…Speak and act in a way to ensure that this nation lives up to its promise of democracy by putting pressure on our United States Senate to bypass the filibuster" and pass voting rights legislation. We urge you to heed her call by demanding your members of Congress take five measures to defend democracy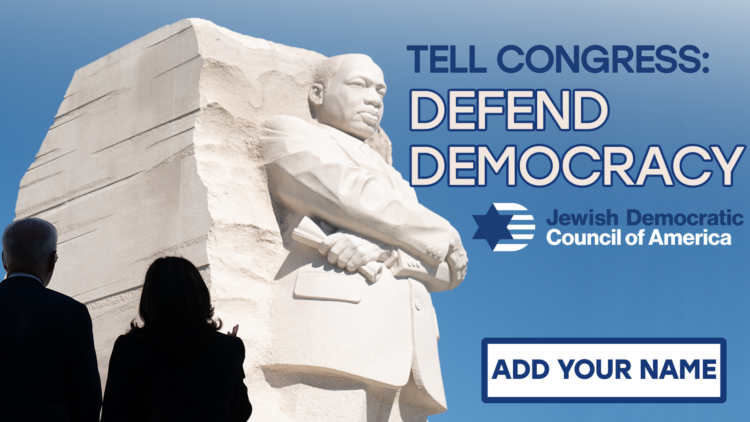 As we continue to reflect and process what occurred this weekend in Colleyville, we are incredibly grateful the attack miraculously ended with no Beth Israel clergy or congregants physically harmed. We deeply appreciate the strong and immediate response of federal, state, and local law enforcement during the 11-hour rescue, as well as the remarkable leadership and heroism of Rabbi Charlie Cyrtron-Walker.
READ: STATEMENT ON COLLEYVILLE    ACTION: CONFIRM DR. LIPSTADT
We are also calling on the Senate to immediately confirm Dr. Deborah Lipstadt to serve as U.S. Special Envoy for Monitoring and Combating Antisemitism. Each day that goes by without Dr. Lipstadt in this role hampers the U.S. response to global antisemitism, and Senate Republicans have now obstructed this nomination for 171 days. Read our statement responding to the attack and join us in calling on the Senate to confirm Dr. Lipstadt.
As we commemorate Martin Luther King Jr., Day, we are committed to advocating for policies that protect our democracy, honor Dr. King's legacy, and ensure racial and social justice. We are also committed to combating the dangerous antisemitism and hatred that has put our lives and communities at risk. Thank you for your continued partnership.
Sincerely,
Hon. Ron Klein,
Board Chair, Jewish Democratic Council of America
Halie Soifer
CEO, Jewish Democratic Council of America