Article
Don't Miss Tomorrow's 3pm ET Call on Annexation
June 29, 2020
Donald Trump is bad for Jewish Americans and he's bad for Israel. This weekend, he retweeted a video that featured chants of "white power," commenting it featured "great people." We came out strongly denouncing Trump's praise of such hateful ideology and noted it wasn't the first time he's praised and emboldened those perpetrating vile hatred targeting our community.
We're also deeply concerned that Donald Trump has given a green light to unilateral Israeli annexation of portions of the West Bank, which could permanently undermine prospects for a two-state solution to the Israeli-Palestinian conflict. For decades, support of two states has been U.S policy, supported by Republican and Democratic administrations, because it remains in Israel's best security interest.
Nearly 200 Democrats recently signed a letter spearheaded by Reps. Jan Schakowsky (D-IL), Brad Schneider (D-IL), Ted Deutch (D-FL), and David Price (D-NC), outlining the security implications of unilateral Israeli annexation. JDCA also released a statement earlier today on annexation, which you can read below.
Join a call with two of the authors of the House letter TOMORROW, Tuesday, June 30 at 3pm ET, for our next "Democrats Leading in Crisis" webinar with former U.S. Ambassador to Israel Dan Shapiro, as well as Reps. Schakowsky and Schneider, to discuss what annexation may mean for Israel and the U.S.-Israel relationship. You can sign-up by clicking on the image below, and read our full statement on annexation.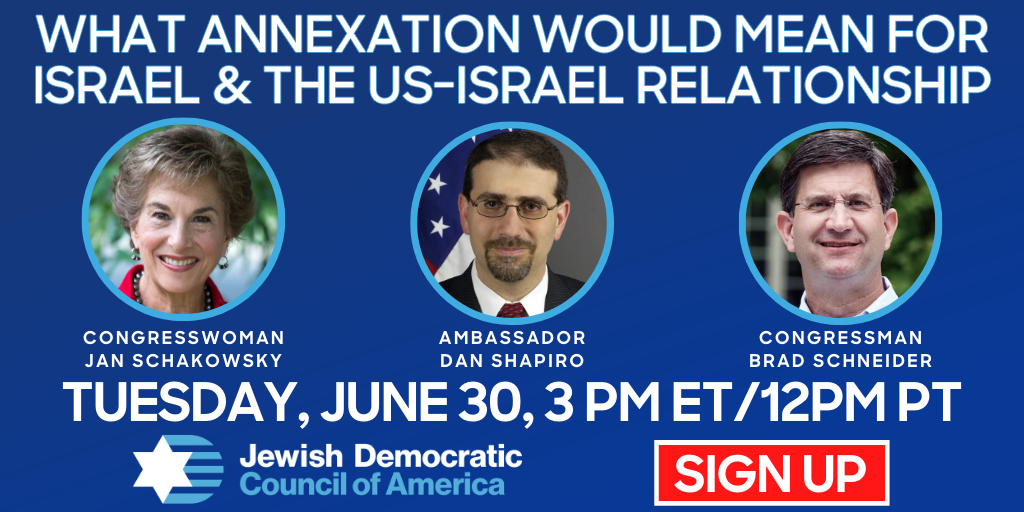 JDCA is mobilizing voters, and we encourage you to join us in these final months before this critically important election. Please become a part of our growing movement by joining in our efforts to ensure a better and brighter future for all Americans, joining a state chapter, and joining our Wednesday national phone bank to get involved today.