Article
Democrats govern, Republicans stand in the way
October 8, 2021
It was a busy week in Congress, marred by Republican obstructionism. From raising the debt ceiling to providing funding for Israel's Iron Dome, Republicans in Congress have repeatedly demonstrated they are unqualified to govern. Their irresponsibility highlights the importance of winning the governor's race in Virginia next month and expanding our House and Senate majorities in 2022.
This week, the GOP refused to find a long-term solution to the debt ceiling. By passing major tax breaks for the wealthiest Americans during the last administration, Donald Trump and congressional Republicans added $7.8 trillion to the national debt. As White House Press Secretary Jen Psaki said, Republicans spent like "drunken sailors," and are now refusing to deal with the consequences of their actions. Yesterday, Senate Minority Leader Mitch McConnell pushed the ball down the road until December, when we will once again face the same Republican-made crisis. Republicans are leaving it up to Democrats to clean up their mess and have essentially refused to govern.
Senate Republicans have also blocked two of the most popular policy agenda items in modern political history – the Bipartisan Infrastructure Bill and the Build Back Better Act, stalling Joe Biden and Democrats' agenda to deliver for the American people. Despite the fact that 66% of Americans support the President's Build Back Better Act, ZERO Republican Senators support the bill. These historic investments in infrastructure and the middle class will benefit all Americans. It is past time for the GOP to join the Democrats in Congress and help pass tangible solutions for the American people.
It doesn't stop there – in the past week, Senator Rand Paul has blocked Iron Dome funding from passing in the Senate by Unanimous Consent THREE TIMES. Paul's obstructionism, recklessness, and use of Israel for political grandstanding is delaying the passage of these life saving funds, and he's been met with little pressure from Republicans. Click below to tell Senator Paul to stop playing political games with Israel's security.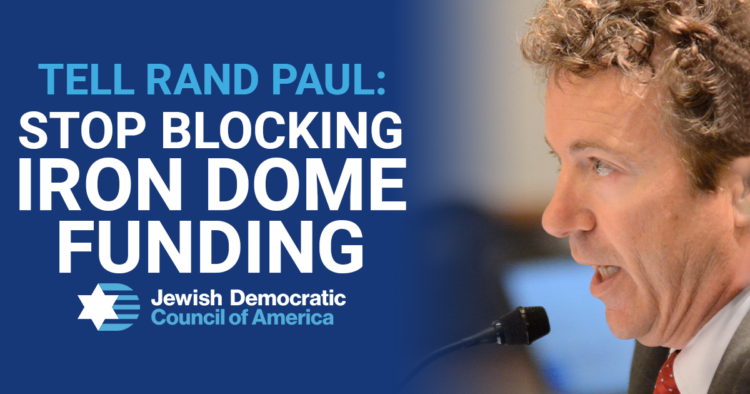 The majorities Democrats won in the House and Senate in 2020 were crucial, but we must expand these majorities next November in order to thwart Republican extremism and obstructionism, and ensure Democrats and Joe Biden can deliver for the American people. The next step in that effort is electing Terry McAuliffe Governor of Virginia. Winning in VA will build the momentum we need for the 2022 midterms.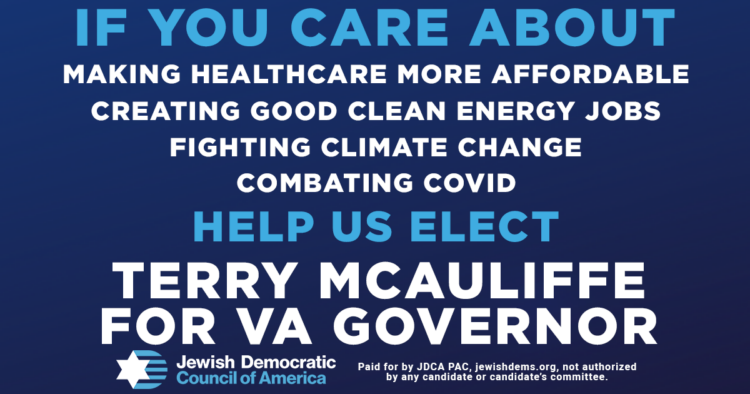 Election day is November 2 –  a little over three weeks away – and the race is currently tied. Join us in supporting Terry McAuliffe, support JDCA PAC's Virginia campaign, and join us for phone banks and text banks, including this Sunday, and join us with special guests Representative Don Beyer (VA-8) and Bill Kristol.