Article
Democrats are Delivering for Jewish Voters
March 18, 2022
This week was another example of why the overwhelming majority of Jewish voters are Democrats. When it comes to fighting antisemitism, defending democracy, and supporting our allies, including Israel, Democrats are aligned with and advancing our values. Democrats continue to deliver as Republicans continue to align with extremists, parrot Putin's propaganda, block legislation to fight antisemitism, and attack our democracy and values. Keep reading to see how, with the help of JDCA and all of you, Democrats are delivering for and aligned with Jewish American voters.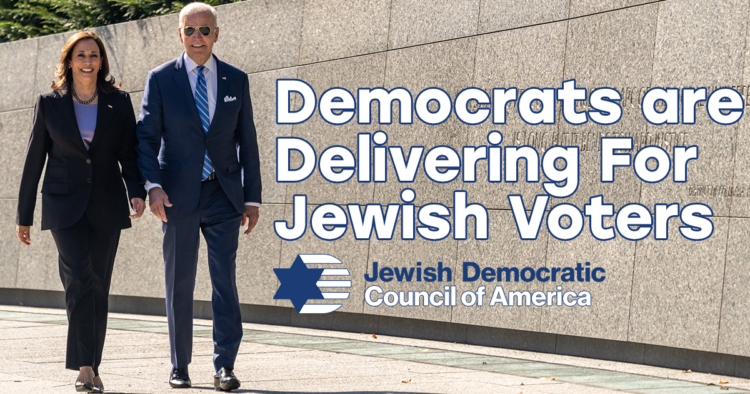 PRESS BIDEN SIGNS IRON DOME FUNDING
Earlier this week, President Biden signed the Democrats' government funding bill. The bill includes $4.8 billion in military assistance for Israel, including the additional $1 billion in funding for Iron Dome, as well as $16.8 billion in humanitarian and other critical assistance for Ukraine, which we strongly support. 
Let's be perfectly clear – this funding passed because President Biden committed to replenishing Israel's Iron Dome and because Democrats in Congress championed it. If it weren't for Rand Paul and Senate Republicans' hold following House Democrats' effort to expedite this funding in September, this critical and life-saving funding for Israel would have passed six months ago. After JDCA advocated for its passage for months – imploring Republicans to lift their hold – we were very glad to see President Biden sign it into law this week.
House Dems Condemn Antisemitism, GOP Emboldens It
Democrats are standing up to antisemitism, no matter where it occurs. This week, all 25 Jewish Democrats in the House of Representatives condemned deeply troubling remarks by the executive director of Amnesty International USA. We're grateful for Jewish House Dems' strong leadership, and JDCA joined them in condemning the patronizing claims about Israel and Jewish Americans. We will always stand for Israel's right to exist as a Jewish and democratic state, and against generalizations about Israel and Jewish Americans that are patently false. 
Meanwhile, Republicans in Congress are making it harder to fight antisemitism. During this week's House mark-up of the Domestic Terrorism Prevention Act, which provides resources to stop white supremacist violence, every single Republican on the House Judiciary Committee refused to support the bill, despite a bipartisan consensus on its passage last year. This year, Republicans are refusing to take this critical action to stop white supremacy and are willing to endanger American Jews and our democracy by doing so.
ICYMI: We Don't Have to Choose Between Support of Israel and American Democracy
Friends don't let friends support insurrectionists. We were deeply disappointed earlier this month when AIPAC PAC endorsed 37 Republicans who refused to certify the results of the 2020 election. ICYMI, read our important op-ed in Haaretz about why Jewish voters don't have to choose between support of Israel and American democracy, as well as an article about this issue in today's Jewish Insider. 
SIGN UP: MI-11 Candidate Forum
At JDCA, our job is to help Jewish voters make informed decisions before they vote. As we prepare to expand Democrats' congressional majority in the midterm elections, every race has national implications. That's why we're excited to invite you to our first candidate forum of the 2022 midterm elections in the MI-11 Democratic Primary, and the first candidate forum in this close race. Join us for this forum to hear directly from Reps. Andy Levin and Haley Stevens about their views on issues of importance to Jewish voters on Thursday, March 24 at 3:00 p.m. ET/12:00 p.m. PT. 
Stand With Ukraine
Join Jewish Dems in standing with Ukraine by reading about how you can help those in need and by purchasing a 'Jewish Dems Stand with Ukraine' item. Proceeds will go to HIAS's work supporting refugees in Ukraine and around the world.
Thank you for your continued support.
Shabbat Shalom,
Hon. Ron Klein,
JDCA Board Chair
Halie Soifer,
JDCA CEO