Article
Democracy Should Not be a Partisan Issue
January 14, 2022
This week, Jewish Dems joined President Biden in urging the Senate to immediately pass the Freedom to Vote: John R. Lewis Act, and to reform or abolish the filibuster in order to do so. This historic bill would protect our democracy by combating ongoing Republican-led election subversion and voter suppression efforts.
A bipartisan majority of Jewish American voters strongly support enacting federal voting rights reforms. According to a national survey conducted last year by the Jewish Electorate Institute, 83% of Jewish voters — including 50% of Jewish Republicans — are concerned about Republican-led voter suppression efforts in states like Florida and Georgia. More than three-quarters, 76%, of Jewish voters support passing federal legislation to protect voting rights. Finally, 62% support eliminating the filibuster to pass a voting rights bill.
While this issue is bipartisan in our community, it is anything but on Capitol Hill. Despite near unanimity among Democrats about the path forward, there is no support among Republicans for defending our democracy.
Democracy should not be a partisan issue. Tell your members of Congress to support five measures to defend our democracy, and keep reading to see our upcoming events and Jewish Dems in the news.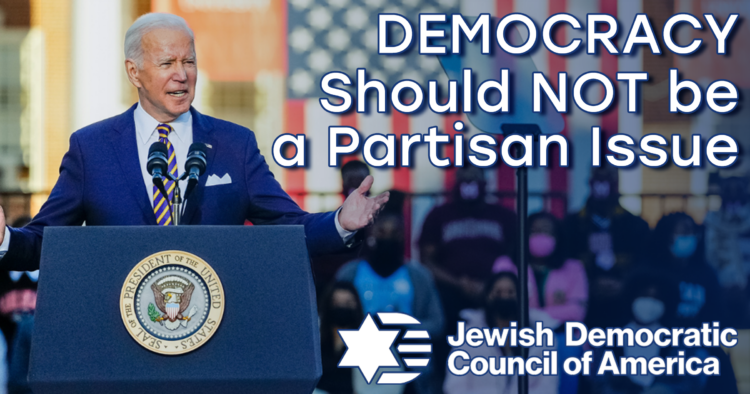 IN THE NEWS
Last week, Jewish Dems marked one year since the January 6th insurrection by hosting eight members of Congress. IN CASE YOU MISSED IT – watch the event here and read about the event in the Washington Jewish Week.
Senate Republicans are refusing to consider the nomination of Dr. Deborah Lipstadt to serve as Special Envoy to Monitor and Combat Antisemitism. Read JDCA in The Forward calling out the GOP's hypocrisy and why "Republicans can no longer feign concern about the safety and security of Jews while refusing to grant Deborah a vote, let alone a hearing." Take action and tell your Senators to confirm Dr. Lipstadt.
UPCOMING EVENTS
Join us Thursday, January 27th at 7:30 p.m. ET/4:30 p.m. PT as JDCA's Students of New York host a National Conversation on Voting Rights and Redistricting. We will hear from Harold Ekeh, Co-Founder of Every Vote Counts (EVC); Amanda Litman, Co-founder and Co-executive Director of Run for Something; and Jacob Carrell, Equal Justice Works Fellow at the National Redistricting Foundation.
As Republicans continue to attack our democracy and right to vote, we must make our voices heard. Let everyone know that you stand for democracy by supporting JDCA and by ordering your Jews Against Coups shirts, mugs, and stickers today.

Thank you for your continued partnership and support as we work together to defend our democracy and right to vote.
Shabbat Shalom,
Hon. Ron Klein,
Board Chair, Jewish Democratic Council of America
Halie Soifer
CEO, Jewish Democratic Council of America