Article
Changing the State of the Union with Our Vote
February 5, 2020
Last night, we witnessed a State of the Union address delivered by a president whose egregious wrongdoings are clear to the American people and whose policies, rhetoric and behavior are antithetical to Jewish and American values.
Today, following an impeachment trial with no witnesses, Senate Republicans will vote to acquit President Trump despite his impeachment in the House. Our democracy is being tested and it's never been more evident that every vote matters.
The votes that matter the most are those we'll cast in November at the polls. Those are the votes that will determine the composition of Congress, the occupant of the White House, the character of our nation, and the trajectory of our country's future.
The Jewish Democratic Council of America (JDCA) is responding to these developments with a renewed determination to elect Democrats who share our values. We are focused on changing the state of our union by laying the groundwork for Democratic victories in November. That is why we announced our first round of 25 endorsements in the 2020 election cycle. Together, we can shape the state of our union at the polls in November.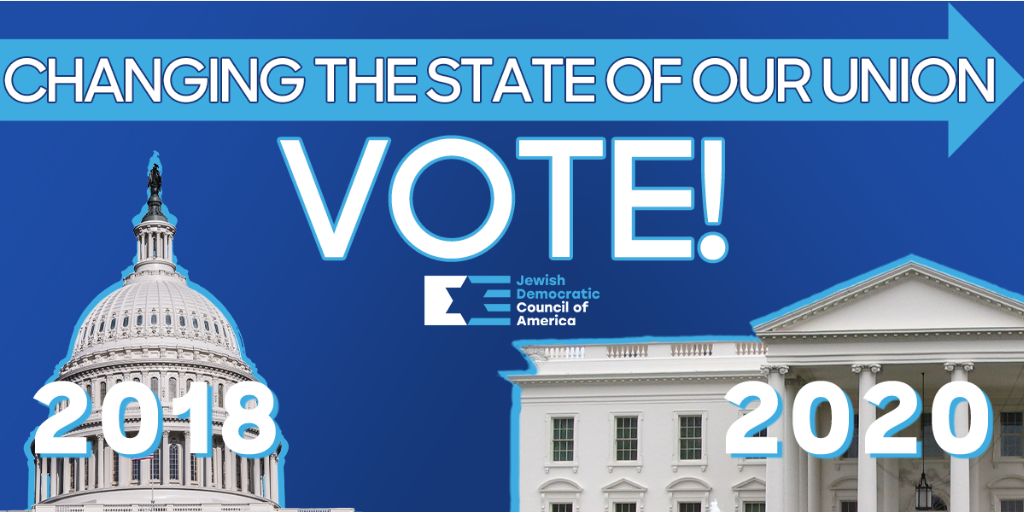 Were it not for the remarkable Democrats who flipped the House in 2018, Congress would have had no ability to conduct oversight of an increasingly dangerous president. That is why JDCA's first wave of endorsements focuses on maintaining Democratic control of the House. This first wave of endorsements from JDCA includes House freshmen who flipped their districts in 2018, and we're proud to stand with the following remarkable candidates:
JDCA Endorsees: Colin Allred (TX-32); Cindy Axne (IA-3); Sean Casten (IL-6); Jason Crow (CO-6); Joe Cunningham (SC-1); Antonio Delgado (NY-19); Chrissy Houlahan (PA-06); Andy Kim (NJ-3); Ann Kirkpatrick (AZ-02); Mike Levin (CA-49); Elaine Luria (VA-2); Tom Malinowski (NJ-7); Lucy McBath (GA-6); Debbie Mucarsel-Powell (FL-26); Dean Phillips (MN-3); Katie Porter (CA-45); Max Rose (NY-11); Harley Rouda (CA-48); Mary Gay Scanlon (PA-5); Kim Schrier (WA-8); Donna Shalala (FL-27); Mikie Sherrill (NJ-11); Elissa Slotkin (MI-8); Haley Stevens (MI-11); and Jennifer Wexton (VA-10).
These endorsements – and the many more to come – are just one part of JDCA's overall 2020 strategy, which has already included releasing two hard-hitting ads calling President Trump the biggest threat to American Jews.
Throughout the year, we will continue to expand our efforts to mobilize Jewish American voters. Through JDCA's endorsements in key districts and states – and by harnessing the power of our newly-formed state chapters, Next Generation Leadership Council, and college campus fellows – JDCA is creating political change in 2020 that's consistent with Jewish American values.
Our country is at a pivotal moment. Now is the time to stand for the values that we hold dear, and to act on those values. Please consider supporting JDCA today. Our mission has never been more critical. With your help, we can continue to expand our work and ensure we're successful. We are incredibly grateful for your partnership and support.
Warmly,
Ron Klein,
Chair, Jewish Democratic Council of America
Halie Soifer
Executive Director, Jewish Democratic Council of America