Article
Celebrate Black-Jewish Coalitions with JDCA
December 18, 2020
We hope that everyone had a safe and meaningful Festival of Lights. Jewish Dems had a busy Hanukkah with phone banks, and even a game show, to flip the Senate blue. We've hosted 11 events to get out the Jewish vote for Jon Ossoff and Reverend Raphael Warnock, and we have 18 more. Thanks to the thousands of you who have joined us in recent weeks. Check out our events calendar to join us between now and the GA election on January 5.
The Jewish struggle for freedom and living our values in America is intertwined with experience of Black Americans. Our history demands we pursue justice and equality, and raise our voice against discrimination, inequity, and racism. We hold a deep appreciation for the historical ties between Black and Jewish Americans, the fight for civil rights, and strongly reject Republican-led efforts to divide our communities, as we've seen in the Georgia Senate runoff.
Join us on Tuesday, December 22, at 3 pm ET for an in-depth conversation exploring Black-Jewish coalitions and the Civil Rights Movement from leaders who helped cultivate the relationships between our communities, and led the fight for equity, equality, and justice that continues to this day.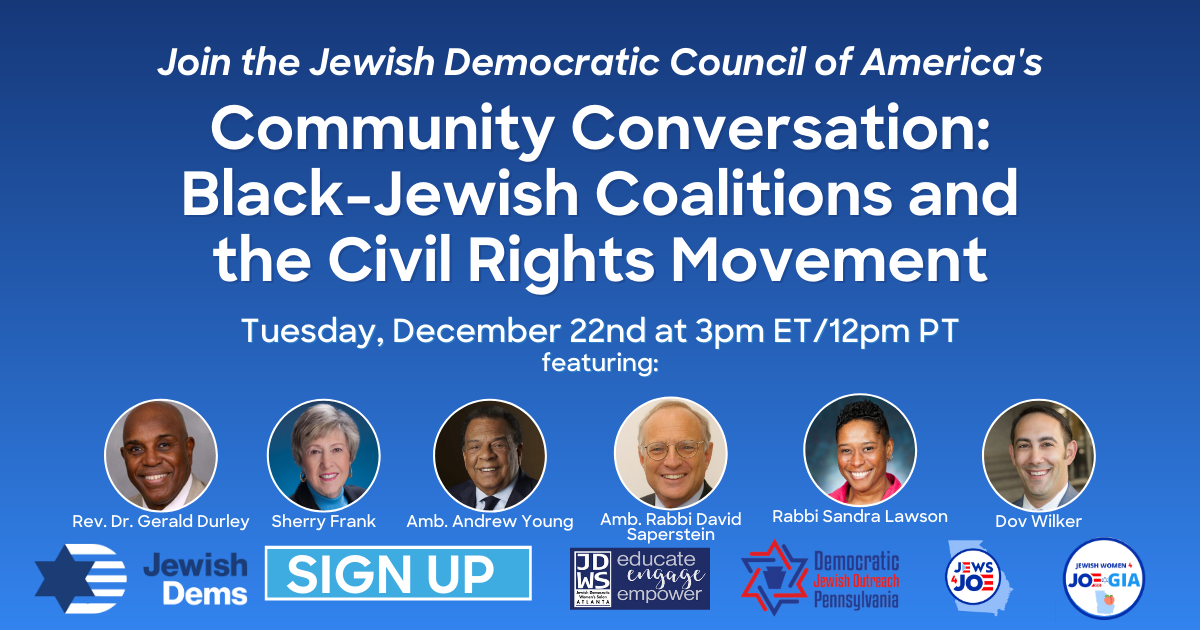 The program will open with a preview of Dr. Shari Rogers' documentary film, 
Shared Legacies
, and will be followed by a discussion featuring former U.S. Ambassador to the U.N. and Atlanta Mayor Andrew Young; civil and human rights activist Rev. Dr. Gerald Durley; Rabbi Sandra Lawson; activist and founder of the Atlanta Black-Jewish Coalition, Sherry Frank; and American Jewish Committee Atlanta Regional Director Dov Wilker. The discussion will be moderated by former U.S. Ambassador-at-Large for International Religious Freedom Rabbi David Saperstein. 
Sign up here
 or by clicking on the image above.
JDCA rejects efforts to divide our communities for partisan gain in Georgia or anywhere else in America. We stand with Jon Ossoff and Rev. Raphael Warnock in the Georgia Senate runoffs for many reasons, not the least of which is their commitment to the ties that bind our communities together. That's why we made the following ad, which has already been seen nearly 100,000 times on Twitter. Take 30 seconds to watch and please share.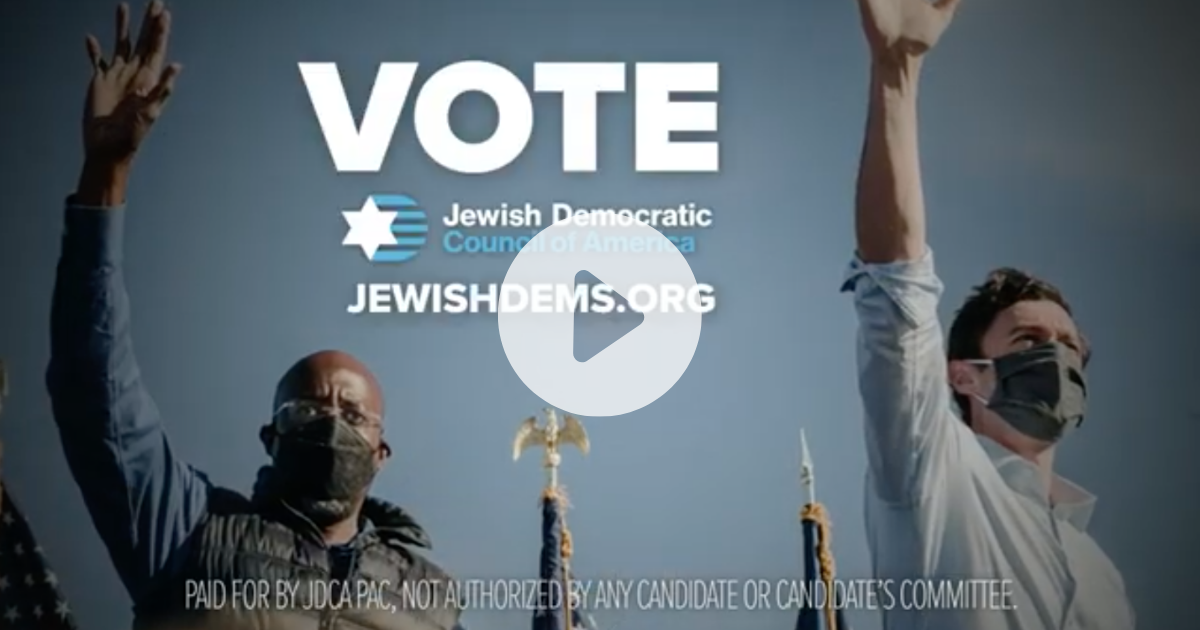 Thank you for your partnership and role in our growing movement for political change consistent with our Jewish American values. 
Please support our Georgia campaign
 today by making a contribution to JDCA PAC so we can further expand our critically important work. All donations will be spent in the Georgia runoff, sending our 
newest ad
 to Jewish voters in Georgia. We deeply appreciate your 
support
.
Ron Klein,
Chair, Jewish Democratic Council of America
Halie Soifer
Chief Executive Officer, Jewish Democratic Council of America