Article
A year of COVID – what we did and where we're going
March 19, 2021
This week marked one year since our lives were forever changed by the COVID-19 pandemic. During this past year, our nation suffered over 500,000 deaths, and millions have suffered from loss. But while darkness took hold in 2020, fortunately it ended with light — we elected Joe Biden and Kamala Harris, and less than two months later, flipped the Senate blue. The changes brought about by these elections are clear — Democrats are now ensuring Americans have the support they need to overcome this pandemic.
With 77% of Jewish American supporting Biden, we know Jewish Dems played a vital role in electing Democrats who share our values, including President Biden, and we're grateful that you've chosen the Jewish Democratic Council of America (JDCA) as your as your political home.
As we look back at all we accomplished over the past year, we're also looking to the next election, and hope you can
join JDCA as a member
and take action with us, defending our right to vote, and advocating for our values. Keep reading for a summary of our work in 2021, and join us today.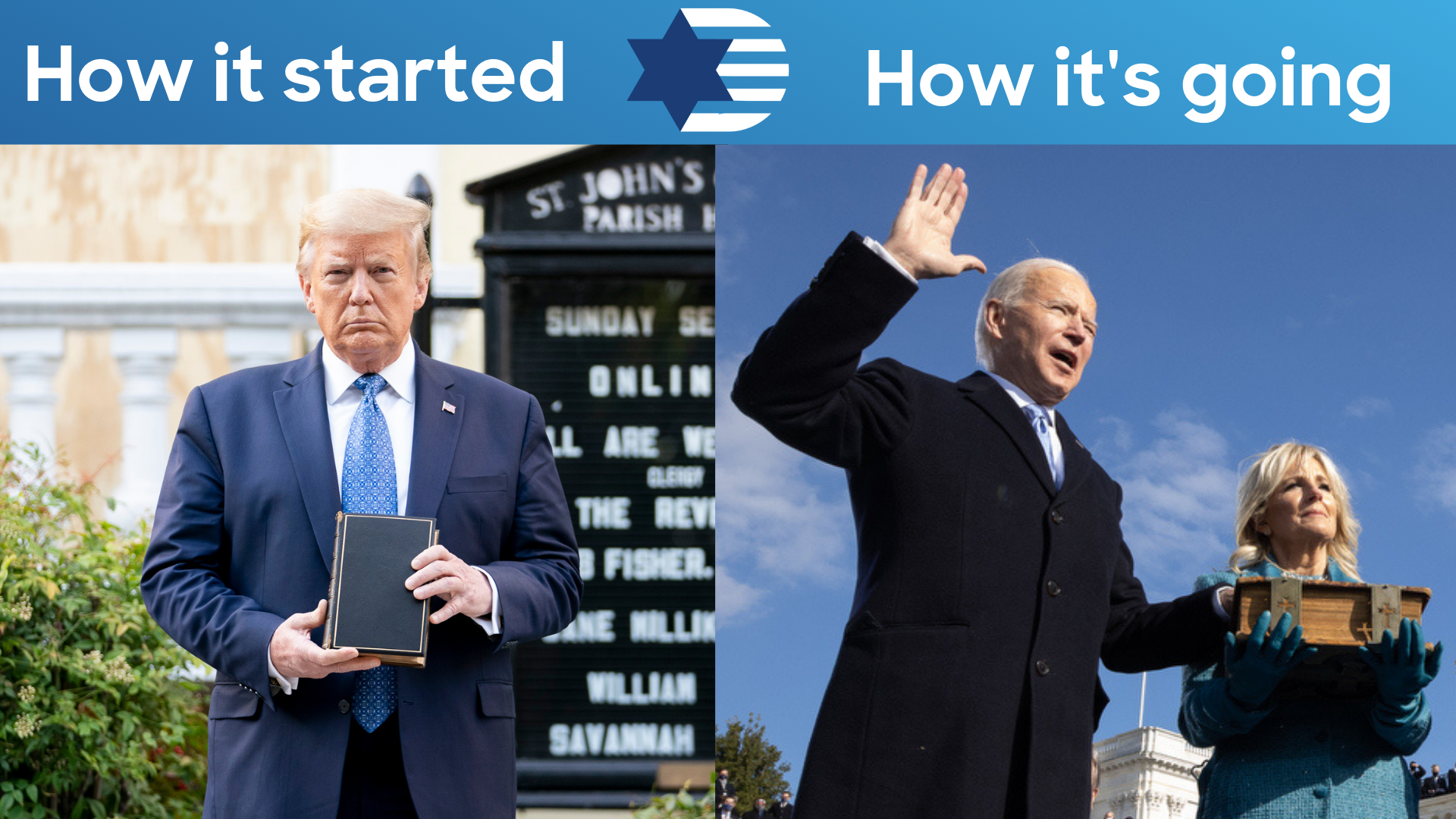 HOW WE DELIVERED THE JEWISH VOTE FOR DEMOCRATS
The 2020 election was like no other, as campaigning went fully virtual. Despite the challenges, Jewish Dems mobilized thousands of people across the country to target 1.7 million Jewish voters in swing states with 278 events and community conversations. JDCA launched 15 chapters and organized over 4,400 volunteers, including 35 college fellows. We also gained wide praise for our hard-hitting ads in the 2020 election cycle, which were featured on Jimmy Kimmel Live! and MSNBC's Morning Joe. In addition to over 500 digital ads for 73 candidates, JDCA ran 16 print ads, including in state and local media, and were viewed by voters over 45 million times.
We delivered in 2020, and we're grateful to all of you for playing a role.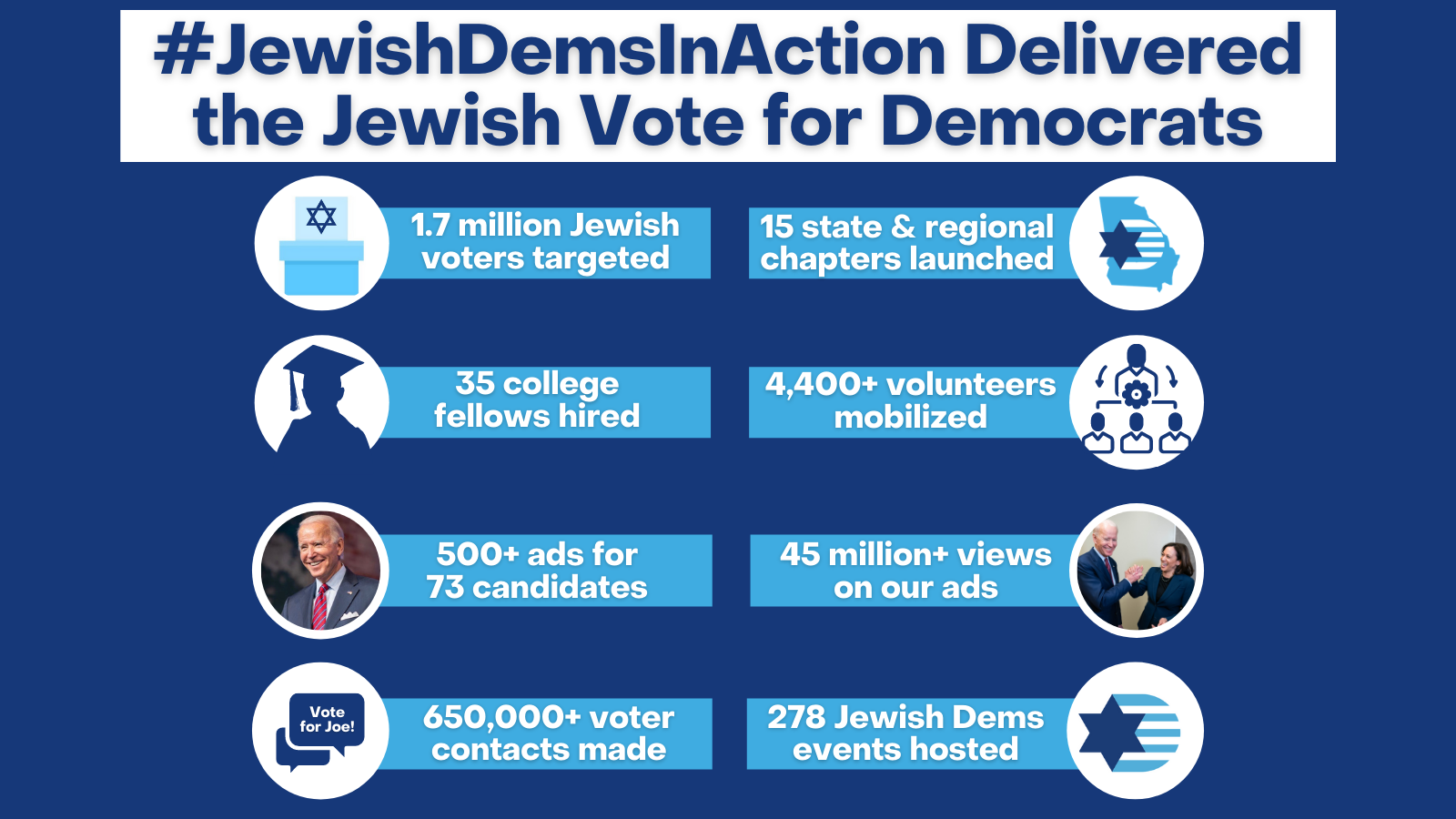 WHAT'S NEXT: KEEPING THE MOMENTUM GOING
Despite our election victories, our work continues, including
endorsing
legislation and
speaking out
in support of our values. This week, we expressed our support for President Biden's "
compliance for compliance
" approach to Iran,
led an effort to confirm
a critically important Biden national security nominee, and expressed outrage and sorrow for the victims of
gun violence in the Asian American community
. We decried the nexus between white supremacy and guns that has targeted our community and others, and are calling on Congress to take action. That's just the past few days. There is much work to be done, and we can't do it without you.
In 2021, JDCA is focused on:
Combating voter suppression.
Convening educational policy forums.
Launching a new targeted digital ad program.
Creating a voter registration effort in swing states.
Empowering Jewish Democrats to take action on policy.
Hosting Democratic candidate forums in special elections.
JDCA is calling on you to take action with us, and we're pleased to bring you an opportunity to become a member of JDCA. Membership will provide you with more access to exclusive events, as well as regular political analysis and briefings. Becoming a member also allows JDCA to continue to expand our efforts to advocate for Jewish and Democratic values, and support candidates and elected officials who share these values. Click the image below to learn more about becoming a member today.