Article
A week of GOP antisemitism
October 15, 2021
Antisemitic rhetoric is spiking in the Republican Party. In Virginia, Republican candidate Glenn Youngkin is using antisemitism to raise money, alleging that two Jews "bankroll" Democratic campaigns. This comes after months of blatant antisemitism from the Virginia GOP, and, as JDCA CEO Halie Soifer pointed out in The Forward, "Youngkin is not disassociating himself from it."
The appalling Youngkin rally this week, which featured Donald Trump, Steve Bannon, and a flag from the deadly insurrection on the Capitol, was an ode to January 6 and Trumpism. Glenn Youngkin is Trump's handpicked candidate. He has embraced Trump's vision of America, aligned with GOP extremism, and would bring that dangerous agenda to Virginia. Support JDCA PAC's campaign to keep Virginia blue and elect Terry McAuliffe, and read more in The Forward about why "the choice should not be hard for Jewish voters" in this race. 
That's why Jewish Dems are exposing the Republican Party's extremism. This week we released a 30-second ad created in partnership with the Lincoln Project that has reached over 850,000 people online.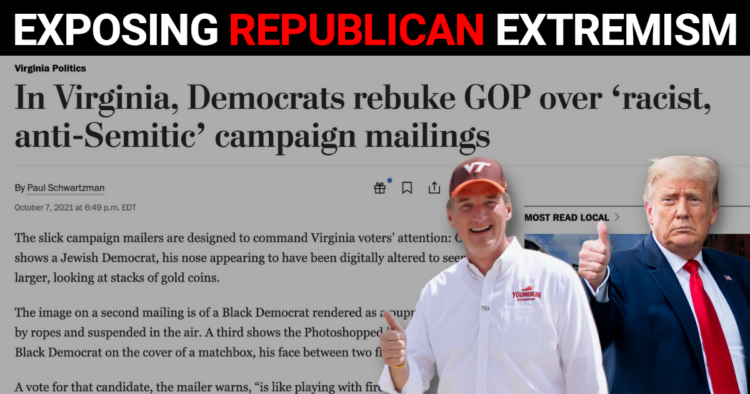 Glenn Youngkin wasn't the only Republican using bigotry to further their political agenda this week. Herschel Walker, a Trump-endorsed Republican in Georgia who is dangerously unqualified to serve in the U.S. Senate, scheduled an event with a fundraiser who proudly displayed a swastika in her Twitter profile picture. When the Walker campaign was confronted, they justified its usage and failed to acknowledge that all swastika imagery is inherently antisemitic.
Holocaust denial and distortion has become rampant during the pandemic among right-wing extremists. In Texas, a new law passed by the Republican-controlled legislature could require Texas schools to teach the Nazi perspective as a part of Holocaust education. When Republican leaders use antisemitism and the Holocaust for political purposes, Holocaust denial and distortion spread. It's getting worse, and it's a direct threat to our community. It's up to us to reject this form of antisemitism at the polls.
You are invited to join JDCA next Wednesday, October 20 at 4:15 p.m. ET for a candidate forum for Florida's 20th Congressional District's Democratic Primary. Sign up to hear from all ten of the Democratic candidates running to win the seat formerly held by our friend, Rep. Alcee Hastings z"l.
As we saw in OH-11, Democratic primaries are critical. This is your chance to hear directly from the candidates on the issues that matter most to Jewish Democrats.