Article
A New Dawn in America
January 19, 2021
Tomorrow at 12:00 p.m. ET, Joe Biden will be sworn in as the 46th President of the United States, and Kamala Harris will become the first woman to serve as Vice President. It's a historic moment, and it can't come soon enough. Donald Trump will leave the White House with the worst record of any president in American history. He failed to curb the spread of COVID-19, he pushed our economy to the brink, he emboldened the forces of antisemitism and racism, and he incited violent right-wing extremists and white supremacists to stage an insurrection against our democracy.
Tomorrow marks a new dawn in America. With the Inauguration of Joe Biden and Kamala Harris, we have a return to competent and moral leadership. This administration will promote decency over division, truth over lies, and science over fiction. Few presidents in our history have entered office facing greater challenges than Joe Biden, but few have been better prepared. We look forward to working with the Biden administration to meet those challenges and continue to fight for our Jewish and Democratic values, in partnership with a Democratic-controlled House and Senate, and all of you.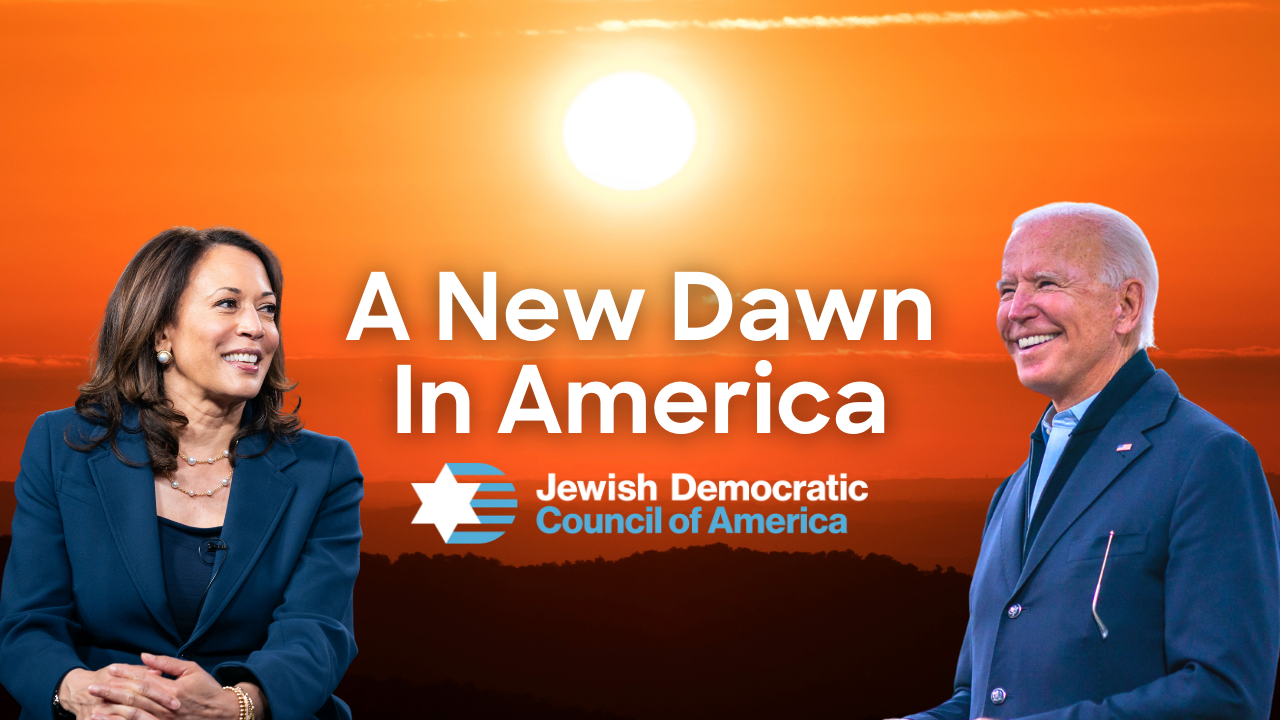 This past Sunday, JDCA celebrated democracy and the Inauguration of Joe Biden and Kamala Harris with 3,000 of our supporters. Thanks to you who attended 
Democracy Wins: Celebrating the Inauguration of Joe Biden and Kamala Harris
 featuring special guests
Senator Chris Coons, Georgia Senators-elect Jon Ossoff
and
Rev. Raphael Warnock,
comedian
Sarah Silverman, Rabbi Sharon Brous, Rabbi Lauren Holtzblatt,
and musical performances from
David Broza
and
Elana Arian
.
Jewish Dems were also honored to present esteemed voting rights attorney Marc Elias with JDCA's first Ruth Bader Ginsburg Justice award. Marc and his team led the legal fight against Donald Trump's attacks on the 2020 election, defeating Trump's team in 59 out of 60 court cases. Marc's efforts were heroic, and he reminded us that fighting for the rights of others is an essential part of our Jewish values. Watch the full celebration by clicking here or on the image below, and share the event on Facebook and Twitter.
As Joe Biden and Kamala Harris take office, there is still plenty of work to do advocating for our Jewish and Democratic values. Stay tuned for more information about how you can become a member of and take action with
#JewishDemsInAction
in 2021, and
support
our work today.
Warmly,
Halie Soifer,
CEO, Jewish Democratic Council of America