Article
13 House Races to Watch
August 31, 2022
Yesterday, House Republicans admitted that they plan to impeach President Biden if they win back the House majority this November. For the sake of American democracy, we cannot allow Kevin McCarthy to become Speaker of the House. 
There is only one way to maintain Democratic control of the House: winning elections in crucial swing districts across the nation. The DCCC's Red to Blue list ranks some of the most important races for Democrats to focus their efforts to make a difference. JDCA has endorsed Democrats in many of these races, where mobilizing the Jewish vote will help make the difference. Let's take a look at 13 of the races I'm following most closely.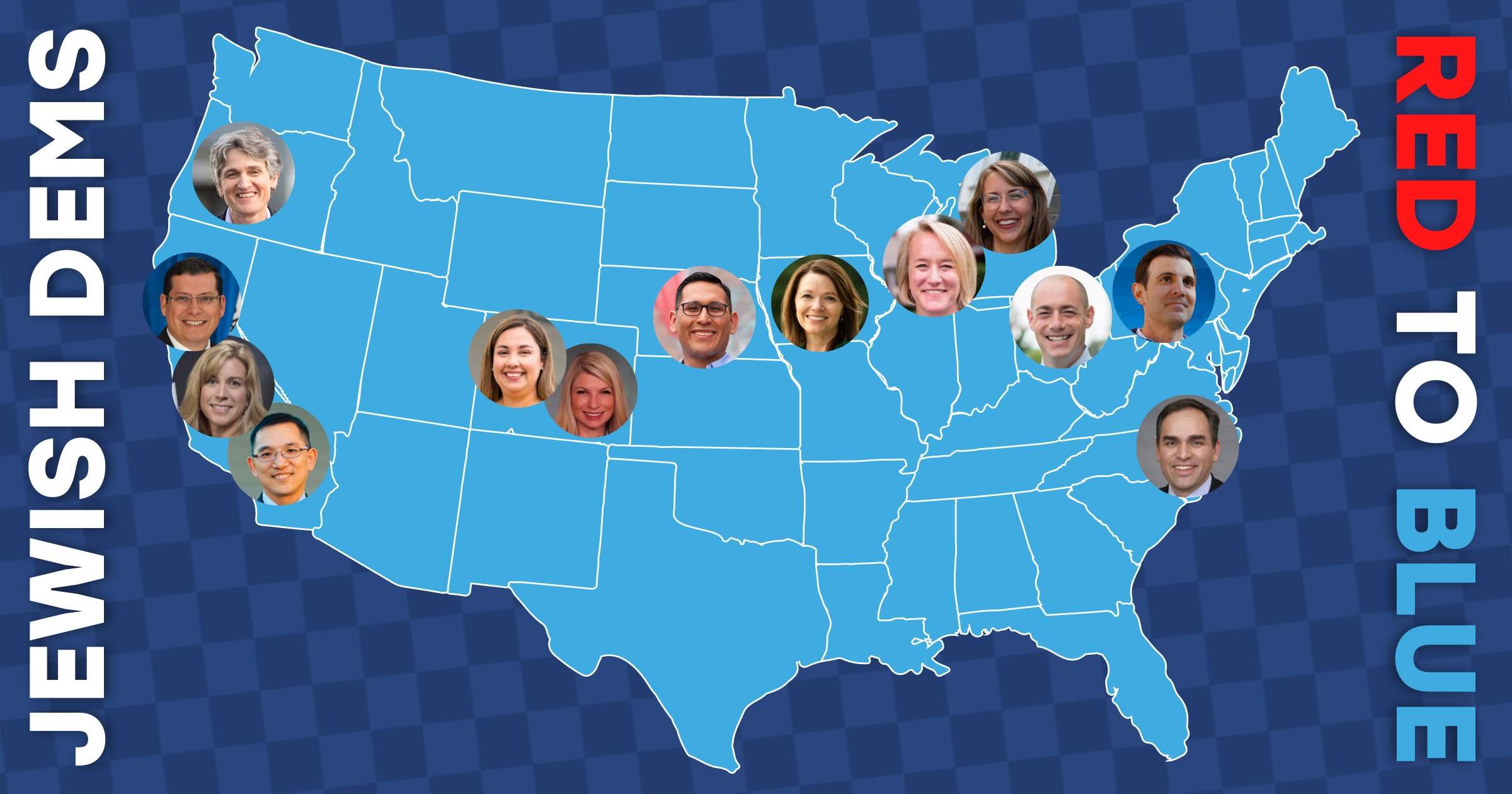 Rudy Salas (CA-22)
Rudy Salas is a five-term California state assembly member and was the first Latino on the Bakersfield City Council. Salas prioritized public safety, clean drinking water, small business success, healthcare, workforce development, and expanding educational opportunities in the state assembly. Due to redistricting, this seat is more favorable to Democrats and is one of the top opportunities for Democrats to flip a seat blue in 2022.
Christy Smith (CA-27)
Christy Smith is a former State Assembly Member who previously worked as a Department of Education policy analyst in the Clinton administration. This election is the third time that Smith faces Rep. Mike Garcia, an extremist Republican who voted to decertify the 2020 election. Their past two elections were close and the district has become slightly more Democratic in redistricting, making this race one of the top pick-up opportunities for Democrats.
Jay Chen (CA-45)
Jay Chen is the President of the Board of Trustees for Mt. San Antonio Community College, a Lieutenant Commander in the US Naval Reserves, and a small business owner. Chen is challenging Michelle Steel (R), who flipped this seat in 2020. Steel is informally part of a far-right extremist group in the GOP Caucus known as the "freedom force." This district became slightly bluer in redistricting and is expected to be incredibly competitive. It is one of Democrats' best chances to flip a seat in November.
Brittany Pettersen (CO-07)
Brittany Pettersen has served in both the Colorado State House and Senate. Prior, she worked at New Era Colorado, a non-profit progressive political advocacy group that works to increase youth participation in politics. This district was previously held by Democratic Rep. Ed Perlmutter. When he announced his retirement, it became a high-profile race that will be crucial for Democrats to hold and is very competitive after redistricting.
Yadira Caraveo (CO-08)
Yadira Caraveo has served in the Colorado House of Representatives since 2018. Prior, she worked as a physician, where, in addition to her medical work, she organized a union with her fellow residents. Caraveo is a first-generation American and the child of undocumented immigrants and has focused on healthcare for immigrants, an issue that is at the intersection of her identity. CO-08 is a new district with no incumbent and will be a closely contested seat this year.
Christina Bohannan (IA-01)
Christina Bohannan is a member of the Iowa House and a law professor at the University of Iowa. Before entering elected office, she worked as an engineer and clerked for the United States Court of Appeals. State Rep. Bohannan has worked to pass legislation addressing elder abuse and cracking down on human trafficking. Bohannan is challenging incumbent Mariannette Miller-Meeks, who had the smallest margin of victory (6 votes) of any congressional candidate in the 2020 election.
Nikki Budzinski (IL-13)
Nikki Budzinski began her career in the labor movement, working for unions supporting first responders and grocery workers. She worked for Governor JB Pritzker as a senior advisor and was a strong advocate for raising the minimum wage to $15 an hour, which took place during her tenure. IL-13 is a newly created district and, as such, has no incumbent. It will likely be a close race and is a strong opportunity for Democrats to pick up a seat.
Hillary Scholten (MI-03)
Hillary Scholten began her career working as a social worker for AIDS Action Committee and served members of the LGBTQI+ community who faced housing discrimination. She went on to join the Michigan Immigrant Rights Center as an attorney and volunteered with the Times Up Legal Defense Fund, providing legal services to women facing sexual harassment in the workplace. Trump's handpicked candidate in this race, who believes the 2020 election was stolen, accuses prominent Democrats of participating in "satanic rituals," and supports a blanket abortion ban.
Wiley Nickel (NC-13)
Wiley Nickel is a North Carolina State Senator and previously worked in the Obama administration. He is especially passionate about democracy reform — as a member of both the North Carolina Judiciary Committee and the Redistricting Committee, Nickel worked daily on defending our democracy. Nickel faces extremist Bo Hines (R) in the general election. The seat is currently held by Ted Budd, now running for Senate. This will be a closely contested seat and is a must-win seat for Democrats.
Tony Vargas (NE-02)
Tony Vargas has served in the Nebraska Legislature since 2016 and helped pass legislation strengthening public schools, improving access to health care, and improving consumer protections. His opponent, Don Bacon, regularly claims that Jewish values support his radical right-wing agenda. We must have a strong message that no one can use our community to promote an anti-democratic, anti-worker, and anti-abortion agenda.
Greg Landsman (OH-01)
Greg Landsman is a Cincinnati City Councilman who has dedicated his life to making sure every student can get a quality education. Landsman, a Jewish Democrat himself, has been an active supporter of Israeli civil society organizations that aim to support marginalized Israeli youth. Landsman is running against Steve Chabot, who voted to overturn the 2020 election and has been in office for almost 3 decades.
Jamie McLeod-Skinner (OR-05)
Jamie McLeod-Skinner has devoted her life to public service, serving abroad to rebuild schools and coordinating emergency responses throughout the state of Oregon. She is running a campaign that centers on the needs of working families by proposing real solutions to help workers and get more money into people's pockets. Her opponent backs banning abortion, repealing the Affordable Care Act, and questions the results of the 2020 election.
Chris Deluzio (PA-17)
Navy veteran Chris Deluzio served in Iraq. Since then, he has worked as a lawyer focused on voting rights with high-profile civil liberties organizations such as the Brennan Center for Justice. This district was previously held by Rep. Conor Lamb and remains among the most competitive districts in the country.
These 13 candidates are an important piece of the greater puzzle of winning in November.
PATH TO VICTORY: DEMOCRACY DEPENDS ON US
To celebrate Democrats' successes and energize Jewish voters across the country to get out the vote for Democrats who share our values, join JDCA and an amazing list of guest speakers at our national virtual rally, Path to Victory: Democracy Depends on Us, on Tuesday, September 20 at 5:00 p.m. ET/2:00 p.m. PT.
Thank you for your support and partnership,
Izzy Klein
Political Committee Chair, Jewish Democratic Council of America